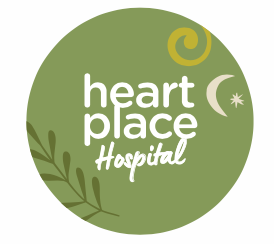 Heart Place Charity Hospital
Centre for Healers , future Healers and others to replenish recharge reconnect, resource and remember
Contribute
---
Become a financial contributor.
Projects
Support the following initiatives from Heart Place Charity Hospital.
Support Heart Place Charity Hospital - centre for healing healers and future healers
Top financial contributors
The Poi Room
$1,320 NZD since Sep 2021
Tash
$150 NZD since Aug 2022
Navi Goddess
$150 NZD since Sep 2022
Anna Witten
$25 NZD since Dec 2021
Jane Catherine Severn
$20 NZD since Nov 2021
Lesley
$20 NZD since Sep 2022
Alice Tabak
$18 NZD since Nov 2021
Heart Place Charity Hospital is all of us
Our contributors
9
Thank you for supporting Heart Place Charity Hospital.
Anna Witten
Care-full Assurance
$25 NZD
Jane Catherin...
Care-full Assurance
$20 NZD
Alice Tabak
Care-full Assurance
$18 NZD
Budget
---
Transparent and open finances.
About
---
 Heart Place Hospital
My coaching days are FULL with frontline workers who are either depleted and can't see their way forward all the way to health visionaries looking for the light to guide them through the fog to create great change from this chaos.  As well as parents concerned for their kids experiencing anxiety - our future visionaries - something I know so well. 
I get it because for so much of my life and most of my career as a Nurse I was left feeling my femininity - particularly my empathy, my intuition and my emotions were a liability I needed to "fix" if I wanted to be a successful medicine women and human. I didn't realise at the time that these feminine qualities are exactly what a true healer must embody to help another human being heal. They're also the traits all of us - men and women included - need to balance within ourselves if we are to become forces for healing, not only within our professions, also for our culture and planet.


I am here to support humanity, guide, offer tools from my expertise, and hold space for the process, however I will not "fix" anyone - for I do not believe anyone is broken and I hold the vision for all our wholeness.
Heart Place Hospital is on the mission to feminize the broken, outdated, patriarchal health and education system reclaim love as a healing practice, bring spirituality back to medicine, encourage people/healer collaboration, empower patients to heal themselves, and change how we deliver and receive health care.
Of all the creative babies I've birthed Heart Place Hospital and the physical Heart Place Charity Hospital are the ones that land me smack dab in the centre of my purpose, and I hold them near and dear to my heart. Heart Place Hospital offers everything I wish had been available to me when I first looked for support and felt lost and alone, having jumped off the Mother Ship of conventional medicine but feeling adrift in a vast ocean of uncertainty. I have spent the past six years researching the cutting edge of what really makes people sick and what really makes our bodies ripe for miracles, and everything I've learned-everything I wish they had taught me in nursing and life but didn't-I offer to Healers and future Healers. This is my  offering to the transformation of consciousness that is currently underway on our planet, and I offer it with my whole cracked open heart .
Funding available for Southern Cross members, Auckland Businesses, GUMBOOT FRIDAY for under 25, Employee Assistance Programmes, Oranga Tamariki 
It was 1974.  I landed somewhere between the 'Age of Aquarius' (think sexual revolution, earth mothers & LSD), and 'disco'. 


Born into a loving family in Auckland, New Zealand, I enjoyed a wonderful childhood typical of the kiwi experience alongside my older brother. However, I also spent much of my childhood being told about my 'defects' and my broken parts.  I was born with a serious heart condition for which I underwent two major surgeries, and my mis-understood spiritual connection which would eventually be diagnosed as epilepsy. 


For as long as I can remember I have felt an other-worldly connection to all of life's vibrations.   Being an empath, I am a deeply spiritual person, strongly connected to my inner knowing or 'spirit'.  This allows me to manifest things into my life very quickly, and sense things occurring before others are aware.  As a child this was the source of a lot of fear, confusion, and shame.  It would be a long time before I could embrace and use the super-powers of being an empath.  


My childhood traumas steered my career decisions, and in 1993 I graduated from Unitec with a degree in Being An Angel (Nursing).  I then spent the next 26 years poking around the wards of Auckland's Starship Hospital, London's Great Ormond Street and St Mary's Hospitals, followed by Greenlane, Auckland and Waitakere Hospitals back in New Zealand. 


Much of my life has been spent parading around in sexy grey-green scrubs and face masks, surviving on coffee, cake, wine, and gossip (anything to cope and make it through, none of it particularly helpful…although the gossip was fun).  But the job isn't without its lighter moments… seeing a doctor run to the emergency department upon hearing a nurse yelling "We need the fallopian tube from ED, stat!" was pretty amusing. 


After marrying and having much fun creating two incredible daughters (of who I am very proud!), I continued my career in nursing - putting my own needs aside once again to care for our most vulnerable citizens.  


And gradually, my 'tank' was getting emptier and emptier with no real, relevant support to help me identify the problems, or keep it full.   


Then in 2016, I came face-to-face with my first childhood trauma with a new procedure at the same hospital.  This started a chain reaction of PTSD that would take a long time to heal from – psychologically and spiritually.  My typical coping mechanisms were gone, and in the still void that remained, I began the journey to heal from my traumas.   And it was here that my journey to Heart Place began. 


Fast forward to July 2021, I have made the decision to honour my whole being and discontinue burning myself trying to keep others warm.  I also answered my soul's call - to care for the carers. 


Which brings us here.  It's why you are reading this.  


'Heart Place with Nurse Jacqui' is a holistic Whole-Health practice.   This is a safe space for the carers and empaths of the world to be uplifted and supported with the tools and information required to function – feeling healed, heart-full, and empowered.