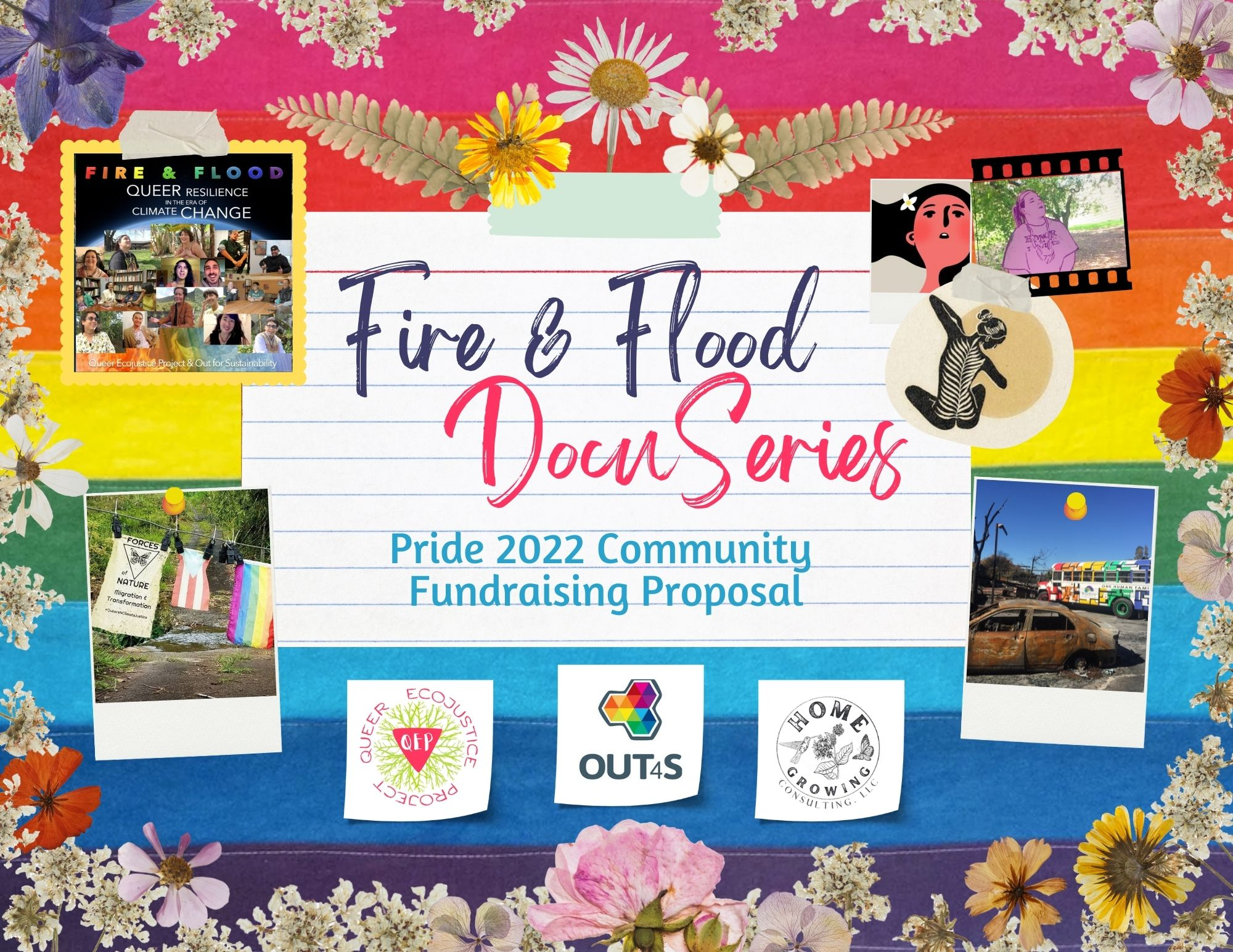 Fire & Flood Film Fund
Supports the creation of the Fire & Flood Film and provides mutual aid funds for Queer Resilience projects in California and Puerto Rico
About
---
FIRE & FLOOD: QUEER RESILIENCE IN THE ERA OF CLIMATE CHANGE tells the story of Hurricane Maria in Puerto Rico and the fires in Santa Rosa, California, two-near simultaneous climate-related disasters in the fall of 2017, through the voices of LGBTQ people who lived through them and were part of the community response. The film explores the vulnerability of LGBTQ communities to climate disasters and also lifts up queer and trans strategies for resilience, transition, and survival.

This film is still in production. "Fire and Flood" was initially piloted during a workshop at the National LGBTQ Task Force's Creating Change Conference in January, 2018, with positive feedback on the need for these stories in the LGBTQ movement. In Fall 2019, a sneak-peek of Fire & Flood was screened at 10 public events and over a dozen grassroots neighborhood screenings. Since then, Queer Ecojustice Project and their fiscal host Out For Sustainability have continued to host sneak-peek screenings of the Fire & Flood Film to spread climate change awareness and resilience preparedness in  LGBTQ+ communities, and to raise funds for the completion of this grassroots media project.

Find out more & sign-up to host a sneak-peek screening: www.queerecoproject.org/firefloodfilm  
Contribute
---
Become a financial contributor.
Projects
Support the following initiatives from Fire & Flood Film Fund.
Fund to support queer and trans organizers responding to climate change impacts
Finishing production on Fire & Flood: Queer Resilience in the era of Climate Change
Budget
---
Transparent and open finances.
Total disbursed
$8,083.08 USD
Connect
---
Let's get the ball rolling!
News from Fire & Flood Film Fund
Updates on our activities and progress.
Gratitude
Thank you for supporting this project. The vision for the Fire & Flood film began almost four years ago, during my experience in the Tubbs fire in Sonoma County, California in Fall 2017, but it was not until March 4, 2019 that I launche...
Read more