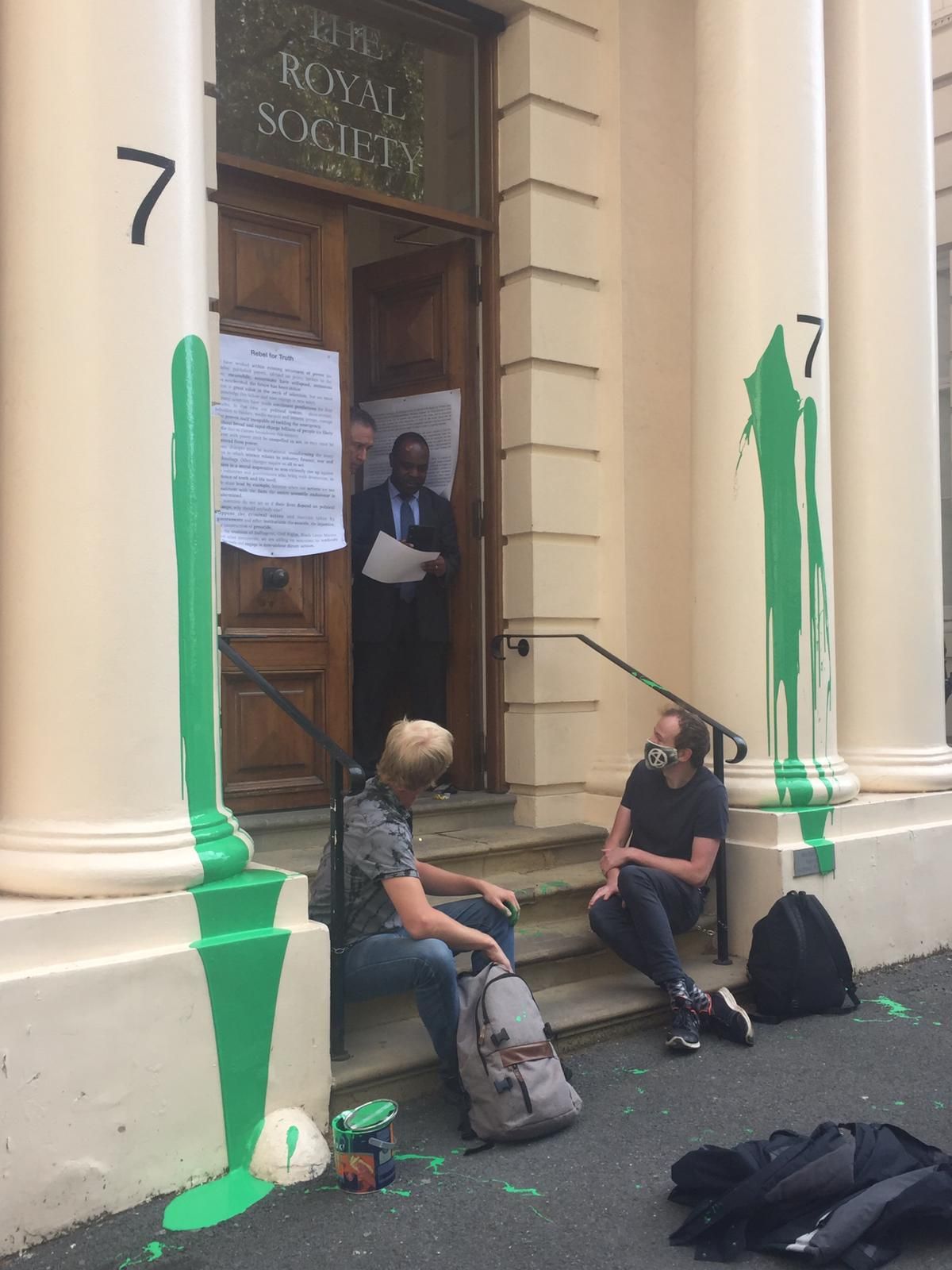 London trials
The Royal Society and Shell are prosecuting SR co-founders Mike and Tim for two non-violent actions. The trials start 13th Feb and they need financial support.
Budget
---
Transparent and open finances.
Total disbursed
€473.95 EUR
About
---
On the 10th of September 2020, Scientist Rebellion co-founders Mike Lynch-White, a theoretical physicist turned climate activist and Dr. Tim Hewlett, a post-doctoral astrophysics researcher at that time, threw paint and delivered a letter at the doors of the prestigious Royal Society in London, asking them to act in the face of the climate crisis.

It was the first time that they directly addressed fellow scientists to engage in civil disobedience and non-violent direct action, to respond proportionately to their own warnings of catastrophe. As Mike puts it, "If I tell you the room's on fire, and then just calmly sit down and drink a cup of tea, you're not going to believe me, are you?"

The Royal Society is prosecuting Tim and Mike for the action and they face a trial next Monday, 13th of February. You can show your support by donating what you can to help them cover their travel and accommodation in London during the days of the trial (the leftover money will be donated to Scientist Rebellion).

On the same week, Tim faces a second trial in which he is prosecuted for throwing paint to Shell headquarters. He was the only scientist arrested in a protest of a dozen UK Scientist Rebellion activists at the big oil company HQ in London on April 6th 2022, as part of a worldwide civil disobedience action in more than 25 countries involving more than 1000 scientists. As he puts it, "When food and water starts running out, what do you think the human cost is?"
Contribute
---
Become a financial contributor.
London trials is all of us
Our contributors
27
Thank you for supporting London trials.