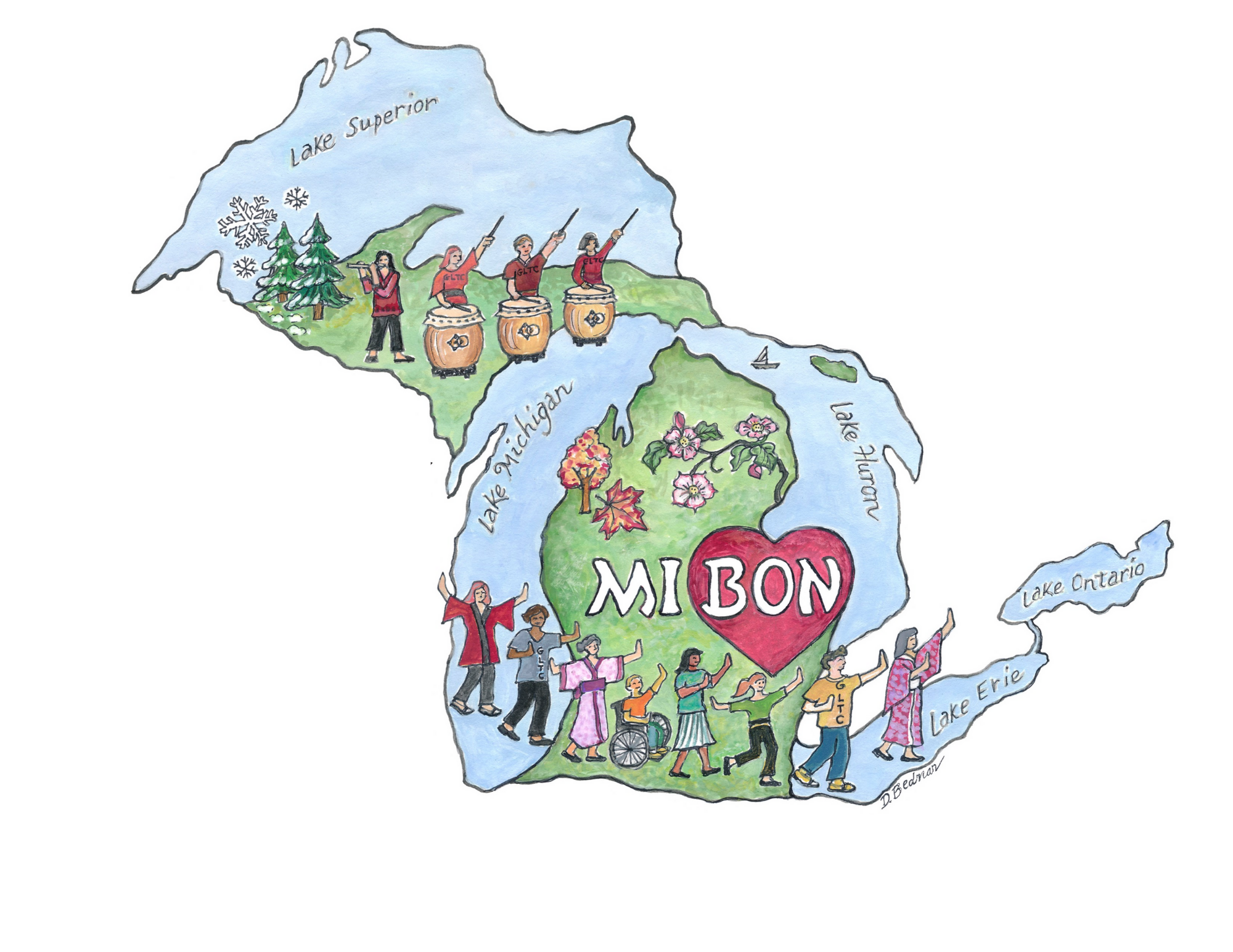 MI Bon Summer Festival #MIBON2023
A Michigan celebration of the Japanese Bon Festival with Taiko drumming and community connection through song and dance. #MIBON2023 is a community project of the Great Lakes Taiko Center @GLTC
About
---
OUR PROJECT –
Great Lakes Taiko Center
community event: 3rd Annual MI Bon Summer Festival 2023 #MIBON2023, a celebration of the art of Taiko and traditions of Japanese Bon festivals with our local communities in SE Michigan.
OUR #MIBON JOURNEY – The Great Lakes Taiko Center (GLTC) celebrated our first annual MI Bon ("My" or Michigan Bon) Summer Festival on August 7th 2021 with Taiko performances by groups in our
GLTC Collective
: Tanoshii Taiko Tai (T3), Godaiko Drummers, and Raion Taiko. We premiered the new Michigan Ondo (original song and dance) by Kyoko Johnson & Noriko Maidens, our MI Bon project creators. At this inaugural event, we celebrated our past year of Taiko connections, like our Bondaiko Bondance Kane (BBK) online class and our wintry outdoor group practices, and we honored the people and places of our Taiko community as we gathered to share our Michigan Ondo along with other folk songs and dances of the Japanese Bon Festival, or Obon, a summer festival tradition from Japan which continues to evolve around the world as a time to honor the spirits of our ancestors and to gather in celebration of life as a community. Participation was limited in 2021 to GLTC members and their guests, for COVID safety reasons, but the 2022 MI Bon planning committee worked in partnership with the Novi (MI) Public Library to host our 2nd annual
MI Bon Summer Festival 2022
for a wider audience in celebration of community connection with Taiko drumming and folk dancing (including pre-event MI Bon drum and dance workshops, free and open to the public). Despite an initial stormy weather cancellation in August, we were finally able to celebrate #MIBON2022 on our rain date this last weekend on September 24th.
What a joyous occasion it was to share MI Bon 2022
with a couple hundred folks who joined us for the event this year to enjoy our presentations of traditional Japanese festival pieces, contemporary Midwest compositions, and interactive Bon dance activities. We are now dreaming of #MIBON2023.
OUR CONNECTIONS – While we are based in SE Michigan, we aim to share Taiko arts with our local communities and partners (e.g. cities of Novi and Ann Arbor, Consulate General of Japan in Detroit) as well as develop our artistic & fiscal relationships and networks with the Midwest Taiko community of individuals, groups and organizations (including: 
Michigan Hiryu Daiko
and
Sakura Japanese Instrumental Group
in Michigan,
Kazenodaichi Taiko
in Ohio,
Ho Etsu Taiko
in Chicago,
Taiko Arts Midwest
in Minnesota). We hope that future #MIBON festivals can grow to include engagement through all our connections, and we welcome GLTC members and supporters to join our #MIBON2023 Planning Team to help make our dreams come true!
As we drum, dance and dream together, we are resisting and building towards the world we want to live in...through the empowering art of Taiko!
[Our #MIBON2022 graphic was created by artist Deanne Bednar with GLTC member Ronna Fisher.]
Connect
---
Let's get the ball rolling!
News from MI Bon Summer Festival #MIBON2023
Updates on our activities and progress.
#MIBON2023 1st planning meeting of the year!
Yesterday we held our first #MIBON2023 planning meeting of the year! After a brief review of our MI Bon 2022 Summer Festival (an archived project of our GLTC collective here on the Open Collective platform), we selected members for our vari...
Read more
Contribute
---
Become a financial contributor.
MI Bon Summer Festival #MIBON2023 is all of us
Our contributors
1
Thank you for supporting MI Bon Summer Festival #MIBON2023.
Budget
---
Transparent and open finances.