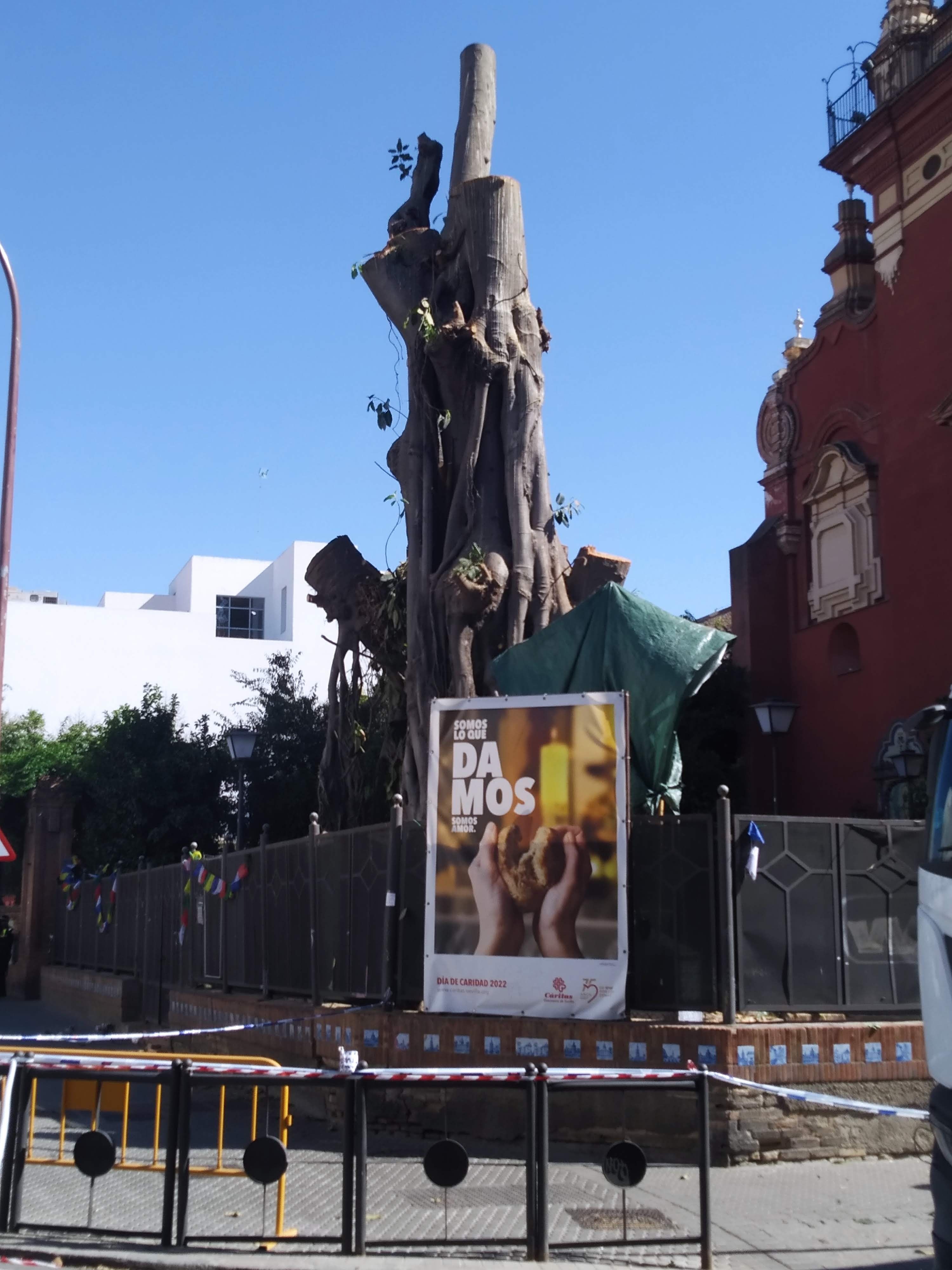 PLATAFORMA EN DEFENSA DEL FICUS DE SAN JACINTO
Defensa del arbolado y la biodiversidad en la ciudad de Sevilla
About
---
La plataforma en defensa del ficus de San Jacinto es una asamblea ciudadana, reunida en torno a la figura de un árbol singular y centenario que forma parte de la memoria colectiva de la ciudad de Sevilla.
La parroquia de San Jacinto, en cuyas inmediaciones se localiza el ficus, y el gobierno de la ciudad,  decidieron talarlo alegando problemas de seguridad de las personas y de la infraestructura de la iglesia, cuando la realidad era que la propia iglesia había incurrido en una dejadez de los cuidados que este ser vivo necesita.
Desde mayo de 2022, cuando el Ayuntamiento concede esta singular licencia para matar, algunas organizaciones ciudadanas con acreditada autoridad, recorren los pasillos, los registros y los plenos municipales, tratando de evidenciar el despropósito de esta decisión y pidiendo cordura.
Y es en agosto del mismo año, cuando la ciudadanía reaccionó realizando concentraciones diarias en torno al ficus y, cuando la tala era inminente, se encaramó a sus ramas y se encadenó en las rejas que circundan al árbol para evitar la mortal decisión.
Mientras tanto, solicitaron medidas cautelares al juzgado para detener las perversas intenciones eclesiásticas y municipales, medidas que fueron concedidas en última instancia, no antes de que el árbol quedara reducido a su mínima expresión. 
La buena noticia es que el FICUS VIVE! y con los cuidados necesarios puede resistir y reverdecer.
Aquí seguiremos defendiendo su derecho a existir y protegiéndolo como él hace con nosotras capturando CO2, aportando salud y frescor a la ciudad que cobija.
Pero, es más, esta experiencia nos ha empoderado, y ahora no nos detendremos en la defensa de la vida del ficus de San Jacinto, además haremos lo propio con cada árbol de nuestro municipio al que las instituciones pretendan tumbar. Por todos ellos, seguiremos dando la pelea.
EL FICUS VIVE!!
Contribute
---
Become a financial contributor.
Events
PLATAFORMA EN DEFENSA DEL FICUS DE SAN JACINTO is hosting the following events.
PLATAFORMA EN DEFENSA DEL FICUS DE SAN JACINTO is all of us
Our contributors
8
Thank you for supporting PLATAFORMA EN DEFENSA DEL FICUS DE SAN JACINTO.
Budget
---
Transparent and open finances.
Connect
---
Let's get the ball rolling!
Conversations
Let's get the discussion going! This is a space for the community to converse, ask questions, say thank you, and get things done together.