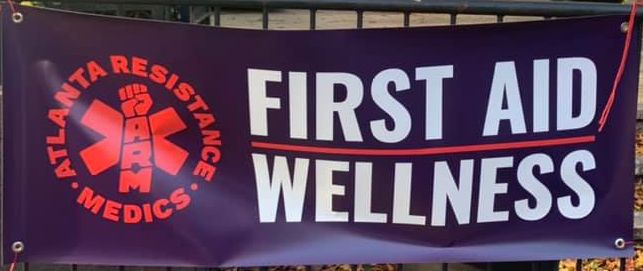 Atlanta Resistance Medics (Community Care)
Providing first aid supplies & skills to communities
Contribute
---
Become a financial contributor.
Budget
---
Transparent and open finances.
Total disbursed
$1,913.53 USD
Connect
---
Let's get the ball rolling!
Conversations
Let's get the discussion going! This is a space for the community to converse, ask questions, say thank you, and get things done together.
About
---
 ABOUT US: Liberation of Medicine, Medicine for Liberation
Atlanta Resistance Medics is a non-hierarchical affinity group--a group of individuals coming to work together for common goals and principles without top-down leadership--dedicated to bringing the tools and knowledge of medicine into the hands of the people. We believe that the barriers to healthcare (social, economic, and legislative) are unacceptable, and that effective change can be brought NOW through education and community action. Our foundational activities are providing medic support at protests and free training in skills from advanced first-aid to day-to-day community health. You can learn more about us and how to get involved on our website, www.atlantaresistancemedics.org, and on our Facebook page (Atlanta Resistance Medics) and Instagram (@ATLresistancemedics).

THE CLINIC:
Started in the winter of 2021, we host two free clinics and health/hygiene supply distros every month--on the first Saturday of every month 11am-2pm at Woodruff park downtown, and the third Saturday 12pm-2:30pm on the corner of Jonesboro and Rhodesia in Lakewood. Items and care are given to anyone who asks, without means testing or invasive data collection.

Our clinics are in continual need of financial support. In order to provide accessible care twice a month, we spend close to a hundred dollars on every clinic-- imagine how much we could do with $300, $400, $500!

Our current offerings are:
Distro items:
Toothbrushes and toothpaste
Tampons and pads
Condoms
Vitamin supplements
OTC medicines
Bandages, antibiotic ointment & other wound care items
Body wipes
Soap
Hand sanitizer 
Masks
& more! We take requests. 
Services:
Herbalist consultation and herbal remedies
Overdose reversal instruction & naloxone kits 
Wound care 
Blood pressure reading & information
Blood glucose reading & information
Blood oxygen reading & information
Our goal is to expand to offer weekly clinics with more health and hygiene items, a wider range of herbal remedies, and free MARTA cards for those who need help getting to practitioners for higher care. All the money you give to ARM goes directly back to the community: there's no one on a payroll, no overhead, just individuals coming together to provide care.