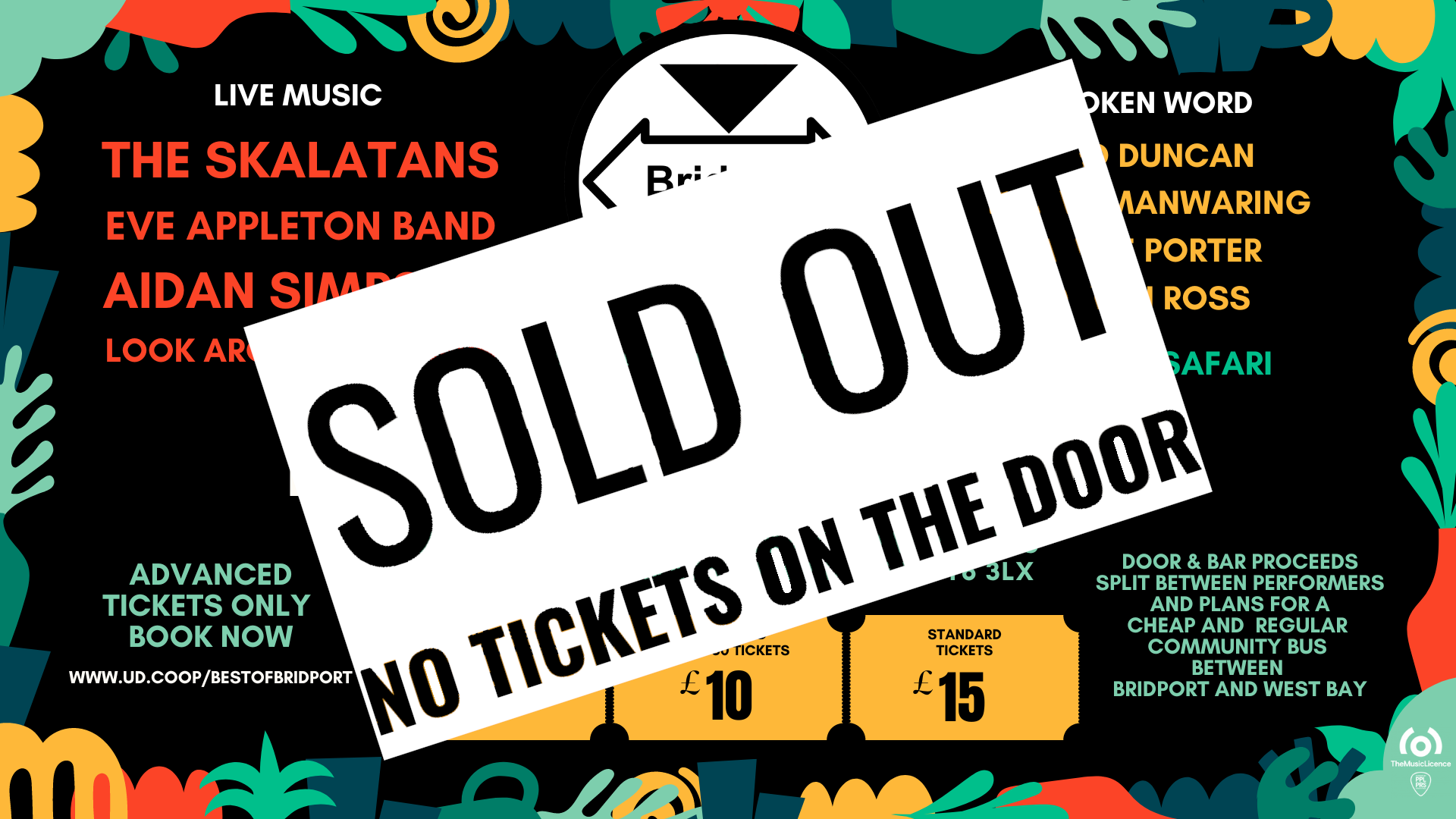 Best of Bridport
Spoken word, acoustic music, live bands and a DJ. Proceeds split between performers and plans for a cheap and regular community bus between Bridport and West Bay.
Saturday, May 13, 2023, 7:00 PM - Sunday, May 14, 2023, 12:30 AM (UTC+00:00)
Connect
---
Let's get the ball rolling!
News from Best of Bridport
Updates on our activities and progress.
Last Minute Covid Update
We're very sorry to say that Josef has tested positive for Covid :( Josef says: I'm gutted. Had a good cry earlier. Aside from all the stuff about wanting to make "rapid, far-reaching and unprecedented changes in all aspects of society" a r...
Read more
About
---
SOLD OUT

Best of Bridport

Spoken word, acoustic music, live bands and a DJ. 

Door and bar proceeds split between performers and plans for a cheap and regular community bus between Bridport and West Bay.


Live music:

The Skalatans
Bridport based Ska & Rocksteady band with a little Latin infusion. 7 piece band guaranteed to get you moving.

Eve Appleton Band
Eve is a 21yr old songwriter and poet of modern progressive folk music. She is based in Bristol, but born, raised and steeped in the waters, woods and hills of West Dorset. Her songs give voice to the stories of betrayed lovers, tragic heroines and the lost children of the past. Bible-black parables, nursery rhymes and ballads, played against an avant-garde acoustic. Having gathered together a group of like-minded and talented friends, Eve performs with a full band. Expect to hear echoes of 60s Folk Revival, Americana, and Alternative Folk.

Aidan Simpson
Superbly talented singer songwriter singer-songwriter from Bridport in Dorset. His 'Night Falls with Rosemary' EP was produced by John Parish (PJ Harvey).


"A bright future ahead for this young singer songwriter" -- Steve Lamacq, BBC Radio 2

Look Around Corners
A kickass band from the depths of Dorset. Playing fantastic originals and covers in their inimitable style, Alex fronts the band with her rich, powerful voice whilst singing barefoot. To her side is Jack, an ace guitar shredder, if ever I've seen one, capable of all sorts of classy licks on his Fender Jaguar as well as adding backing vocals as required. In the engine room is Dingo, laying down a thunderous bottom end bass whilst looking cool as, with Mel's drumming crisp, deep and spot on always.


Spoken word:

Ged Duncan
Ged Duncan's words are sometimes absurd, sometimes poignant and sometimes hilarious. And quite often all three. He writes both for performance and the page, but particularly enjoys the craic of a live audience. He's a prize-winning poet and flash fiction writer, but also a storyteller and the author of six books for children and adults. He's a familiar face around Bridport, both as a performer and co-founder of the spoken word community, Apothecary.

Kevan Manwaring
Kevan is a writer and academic. He lives in Bridport. 
"I believe in imagination & creativity as tools for empowering individuals and transforming communities. Let's dance!"
Angie Porter

Angie is a local poet, performer and painter. Her monthly "
She Speaks
" poetry slams are hugely popular and Angie is actively involved in promoting new poetry work. Originally from Melbourne Australia, Angie is currently researching her local roots and the immigration experience from rural Somerset to outback Australia in the early 1800's.


Dylan Ross

Dylan has been gigging extensively as a performance poet since 2018 and has built up a reputation for high energy and inclusive punk-tinged sets. His rhythmic spoken-word attempts to wrap the most serious subjects in soft and humourous blankets and the silliest of things are often treated to a cold hard stare. Like a punk Paddington Bear. Dylan firmly believes that 'Love is the answer' but has long forgotten what the original question was.
Plus
DJ Beat Safari
Would you like to perform at the next Best of Bridport event? Email
[email protected]
Budget
---
Transparent and open finances.
Total disbursed
£1,415.22 GBP