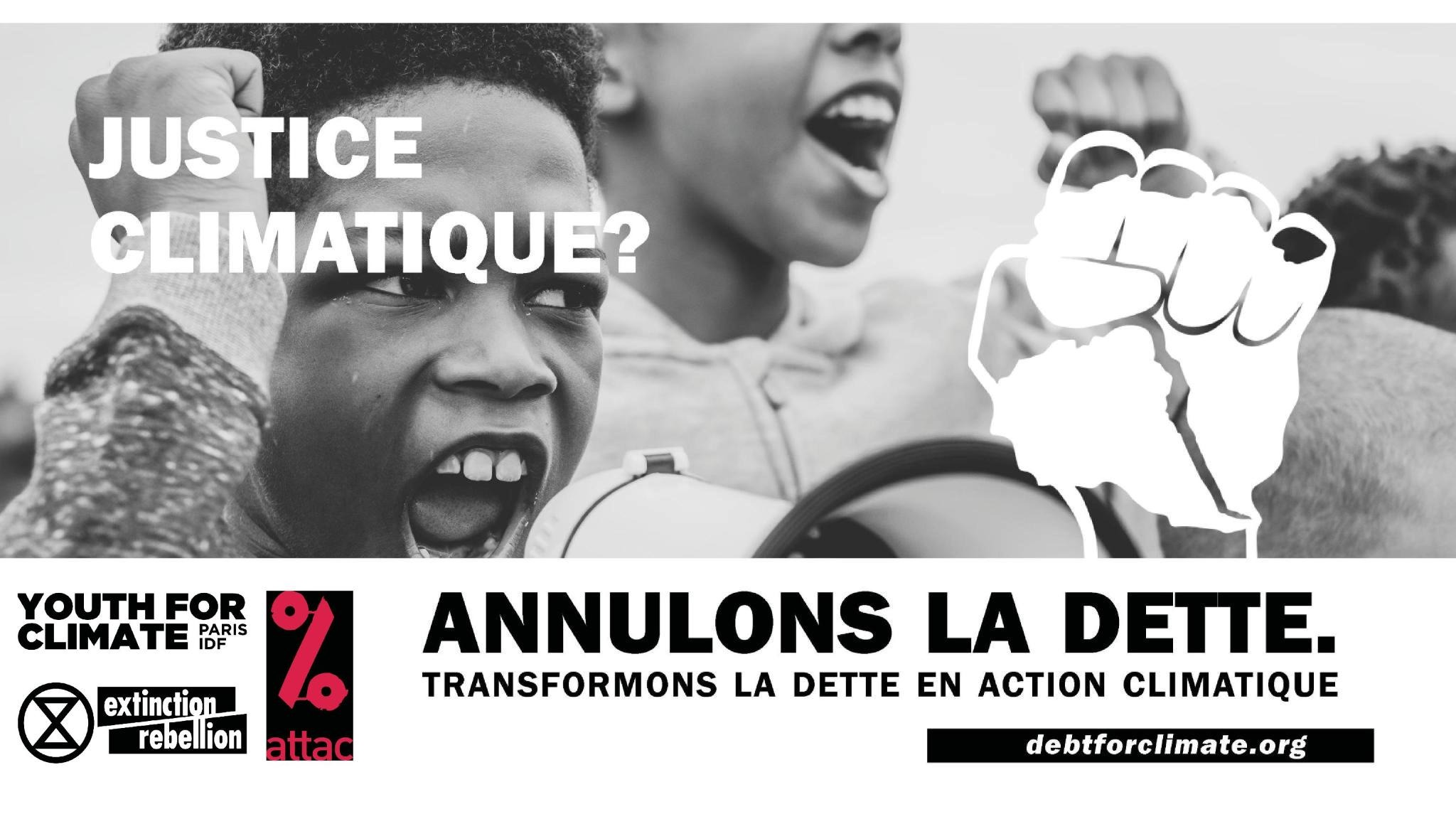 Debt For Climate
Action de désobéissance civile non-violente, bloquante et artiviste à Paris le lundi 27 juin : Pour la justice climatique et sociale, exigeons l'annulation de la dette !
Saturday, June 11, 2022, 7:00 PM - Sunday, December 11, 2022, 8:00 PM (UTC+02:00)
Get Involved
---
Support the event or buy tickets.
About
---

A l'occasion du G7 qui aura lieu en Allemagne entre le 26 et le 28 juin, une coalition internationale se mobilise pour des actions coordonnées dans une vingtaine de pays ciblant des entreprises et institutions financières

En France, une action de désobéissance civile non-violente, bloquante et artiviste est prévue à Paris le lundi 27 juin

Cette mobilisation fait suite à l'appel des pays du Sud et de XR MAPAs (Most Affected People and Areas), acculés par des dettes astronomiques détenues en grande partie par les pays du Nord dont sont issus les membres du G7. Or, l'extraction des ressources naturelles présentes sur leurs sols, dont bénéficient en premier lieu les multinationales privées et les populations privilégiées des pays du Nord, constitue pour la plupart des pays du Sud le principal moyen d'honorer ces dettes. La poursuite de ce colonialisme des ressources naturelles, ajouté à la responsabilité des pays développés dans les émissions de gaz à effet de serre mondiales, rendent ces derniers redevables d'une dette climatique bien plus colossale et destructrice envers les populations victimes. 


Budget
---
Transparent and open finances.
Total disbursed
€220.80 EUR