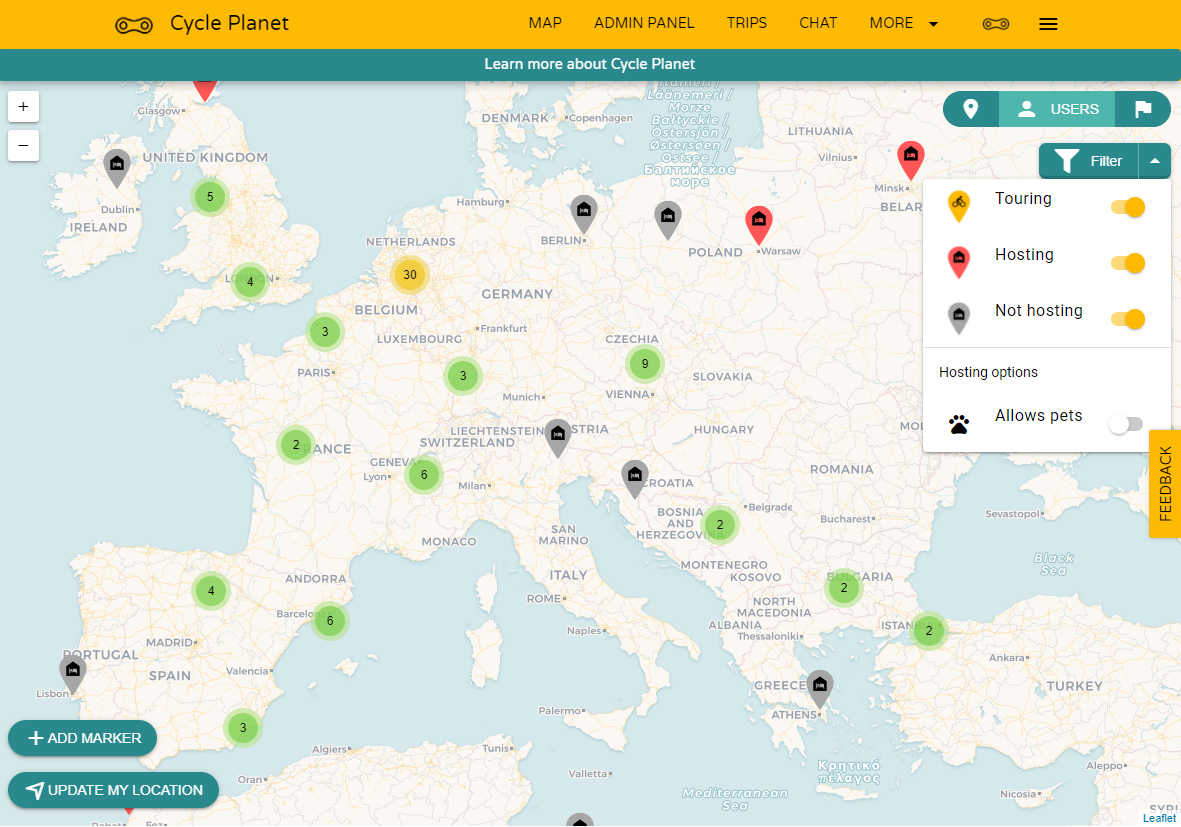 Cycle Planet
A platform for long distance cyclers to find hosts and country information.
Contribute
---
Become a financial contributor.
Cycle Planet is all of us
Our contributors
3
Thank you for supporting Cycle Planet.
About
---
Hello Cycle-planetarians,
Welcome to our Opencollective page.
Cycle Planet
is a platform for all long-distance cyclists and those who like to host them. Through our platform, people can find both information and come in touch with other biketourers and hosts with a passion for this type of travel.
Cycle Planet has been part of our solar system since 2020, when the pandemic hit your globe and when human Bas Idsinga had to stop his cycling adventures through Africa. During his trip, he created the idea to build this platform: An all-in-one bicycle touring platform only for and made by bicycle tourists themselves. Our own planet.
More and more of us are taking the bicycle as a method for traveling. The slow, intensive and sometimes failing device that moves us over mountains and deserts gives us the ultimate freedom. It's (relatively) cheap, you can go where ever you want to go, you come in touch with locals in a truly unique way and you will feel nature closer than ever.
The idea of the platform is very simple. All users can add and edit information about each country, like safety, routes, border crossings, visas, what to see and do and much more. Also, there is a map that shows the location of all users, and you can filter out those who would like to host your smelly belly. The community is build on trust, the one time you give and the other time you take. You host for free, and the other day you get hosted.
With your contribution, we can maintain Cycle Planet and improve it to the demands of our users. Here are a few of our costs:
Domain+email - 16,60  €/m
Apple app - 6,92  €/m
Automatic Email plugin -  3,35  €/m 
Statistics plugin -  7,00  €/m 
Firebase database - between 7,- and 35,-  €/m (increases over time)
Sometimes we need to hire a proffesional developer to build a specific feature. Most work is done by volunteers. 
Sometimes we're experimenting with marketing gadgets like stickers.
So yes, it's not much, but it's not free. These costs are based on the usage of only 600 users in June 2021. Our aim to grow to 100.000+ users in a few years. 

We will send many backwinds to those who like to contribute and who help growing this community.

Bas Idsinga
Budget
---
Transparent and open finances.
Connect
---
Let's get the ball rolling!
News from Cycle Planet
Updates on our activities and progress.
We've gone Open Source!
Hi Cycleplanetarians, We've gone open source as of today! What this basically means, is that we have nothing to hide, and we want to build a community of trust. All bike touring enthusiasts who also know a little bit of coding, are free to...
Read more