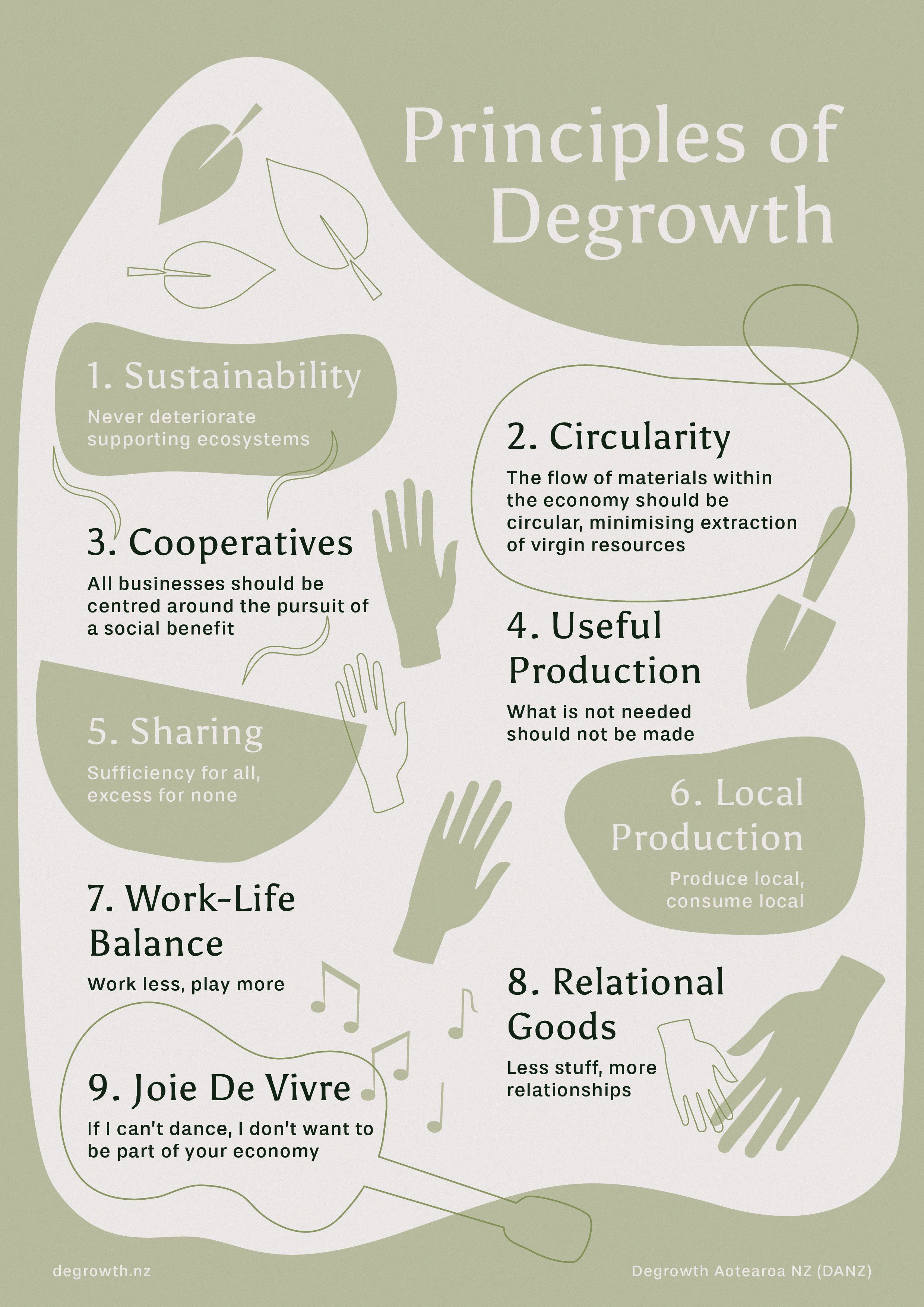 Degrowth Aotearoa
We are a group working towards ecological wellbeing within planetary constraints.
About
---
We support economic Degrowth via education and storytelling, networking amongst local resiliency approaches to empower communities to face the upcoming climate and energy crisis.

We will advance education around living within planetary boundaries, foster local resilience in the face of the climate and energy crisis.
Contribute
---
Become a financial contributor.
Projects
Support the following initiatives from Degrowth Aotearoa.
Education, advocacy, and networking event, focusing on cohesion and collaboration among degrowth ...
Top financial contributors
Individuals
Richard Suggate
$100 NZD since Jan 2023
LN
$100 NZD since May 2023
Jane Shearer
$100 NZD since May 2023
Claire McClintock
$100 NZD since May 2023
Jose Gay Cano
$100 NZD since May 2023
Ger Tew
$100 NZD since May 2023
Paul
$100 NZD since May 2023
S&B
$100 NZD since May 2023
Raoul Verhaegen
$100 NZD since May 2023
AB
$100 NZD since May 2023
John Scarlett
$100 NZD since Jun 2023
Degrowth Aotearoa is all of us
Our contributors
48
Thank you for supporting Degrowth Aotearoa.
Budget
---
Transparent and open finances.
Total disbursed
$1,051.77 NZD
Connect
---
Let's get the ball rolling!
News from Degrowth Aotearoa
Updates on our activities and progress.
Update 3 November 2022
Kia Ora the Facebook group now has over 500 members ... in just a few months since July, there's been such wonderful engagement and enthusiasm. Thank you for all your contributions and thoughtful debate. It's fantastic to weave our explorat...
Read more
Published on November 4, 2022 by
Anja
Conversations
Let's get the discussion going! This is a space for the community to converse, ask questions, say thank you, and get things done together.
System shift from ETS to TEQs (tradable energy quotas)
Published on October 29, 2022 by Paul Bruce
I would like to see a conversation discussing the cons of shifting from ETS in its present form here in NZ, to a TEQs system. 1: The one thing that should remain the same is the cap and the targets. 2: Instead of having a price on carbon, t...