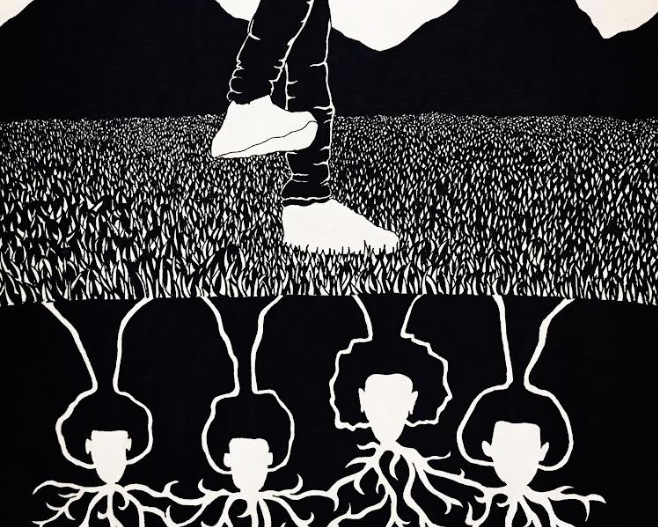 Join the Reckoning
JTR is a collective of POC and White therapists/activists/trainees invested in using direct action to undo/eliminate/obliterate racism in the mental health field and repair the harm that the mental health field has caused. (fundraising below)
About
---
Join the Reckoning (JTR) is a collective of POC and White therapists, activists, trainees invested in using direct action to eliminate racism in the mental health field and repair the harm that the mental health field has caused. 




Racism, anti-Blackness and White supremacy have affected all of us as therapists. All too often, the foundation of our training occurred within institutions that are racist and privilege whiteness, which influenced and informed the ways we learned to show up and provide healing/treatment for all of our clients, in particular our clients of color. 
Image courtesy of HC Christina. Find more of HC's art on Instagram at @cassiusmonet @6lack6rilliant
This idea that the white model is the standard and the definition of being a good therapist is not acceptable to us. 
"As a Black, queer, gender non-conforming therapist, I feel enraged and, until this moment, have not had the courage or audacity to imagine taking on this system." - Bukky Kolawole, Psy.D



"As a White, straight, CIS-gendered therapist, I feel shame to have been complicit in a system that did not equip me morally to serve the clients I work with, and have not had the courage to tell and act on the truth" - Courtney Rennicke, Ph.D.



These have been our experiences - what have been yours? 
Many of our training programs have been unapologetic in promoting Whiteness--on one hand, elevating therapy models and ways of being that utterly disregard how much race matters, and on the other hand, dismissing and failing to teach models that are racially conscious and/or hold a multicultural lens. Despite the presence of counternarratives, there has been an inadequate interrogation of who these models are designed for and by whom. 



As if that is not bad enough, our programs continuously perpetuate micro/macro aggressions against trainees of color, especially those that have the audacity to challenge the system. Trainees have limited exposure to professors of color, who are undervalued and face racism on multiple fronts themselves. Our training institutions place a low value in recruiting and retaining professors of color, and maintain the racism inherent in the tenure process.  All of these failings not only directly harm trainees of color, they have stunted all of our education.  



Furthermore, as our country begins to reckon with the pervasive pandemic of racism, and holds up mental health as part of the solution, most of us have not been trained to recognize and assess racial trauma, let alone facilitate the healing necessary for our clients (and ourselves). 
It is time for us to have real conversations about what all of our experiences have been, and what collectively we, as a field, want to do about it. 



We can no longer be bystanders and continue to watch this racial violence happen to the next generation of therapists.  We believe it is time for a reckoning in the field of mental health. Will you join us? 



We hope to begin this movement with listening sessions focused on hearing your pain and outrage about these issues and begin to build our coalition to organize our demands and take action.  



We recognize that there are folx out there that have been doing this work and that there are people who have been thinking about these issues alone or in small groups. Our hope is to find each other and do this together so we can strengthen our voices.
Contribute
---
Become a financial contributor.
Top financial contributors
Rachel
$342.4 USD since Jul 2023
Lukas
$342.4 USD since Sep 2023
Brian
$20 USD since Oct 2023
Join the Reckoning is all of us
Our contributors
12
Thank you for supporting Join the Reckoning.
Budget
---
Transparent and open finances.
Total disbursed
$1,158.31 USD