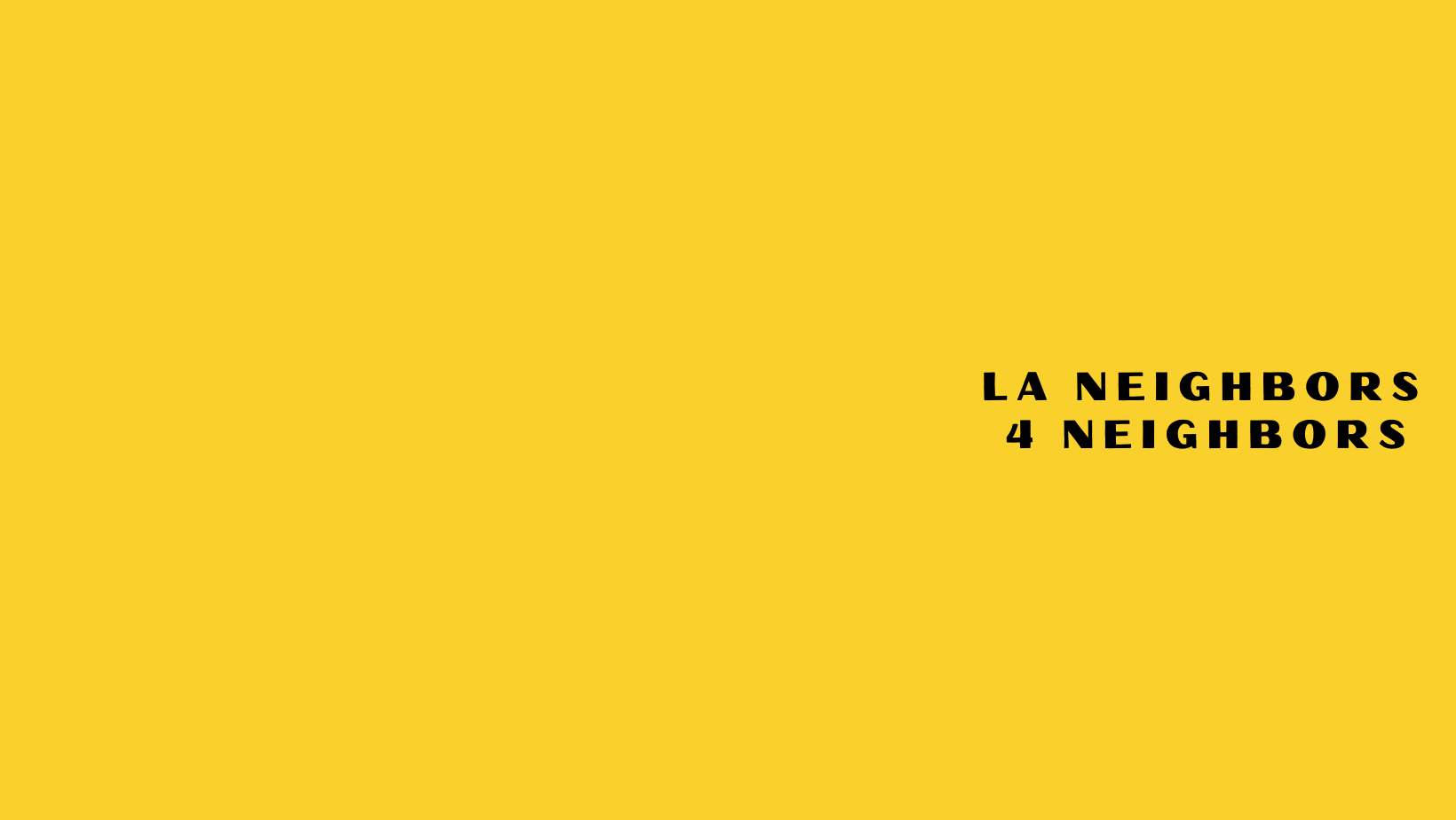 LA Neighbors 4 Neighbors
We host a monthly Resource Center for unhoused Angelenos in West LA. Email [email protected] to get involved!
Contribute
---
Become a financial contributor.
Top financial contributors
Daniel A Perez
$1,000 USD since Jan 2022
Brian
$500 USD since Mar 2022
Jerry Hornof
$250 USD since Jan 2022
Guest
$200 USD since Dec 2021
Oriana Shea
$200 USD since Jan 2022
Sascha
$175 USD since Dec 2021
Lily H Myhra
$175 USD since Jan 2022
Bess O'Brien
$150 USD since Dec 2021
Kamilah Willingham
$150 USD since Jan 2022
Nina Frazier Hansen
$150 USD since Mar 2022
RC
$120 USD since Jan 2022
Guest
$100 USD since Dec 2021
David Levitus
$100 USD since Dec 2021
Guest
$100 USD since Jan 2022
Casey Wilson
$100 USD since Jan 2022
Gregory Chinn
$100 USD since Jan 2022
Kim Jansma
$100 USD since Jan 2022
Boback & Sarah
$100 USD since Jan 2022
joanne casey
$100 USD since Jan 2022
LA Neighbors 4 Neighbors is all of us
Our contributors
54
Thank you for supporting LA Neighbors 4 Neighbors.
Brian
Clothing Fundraiser
$500 USD
About
---
Welcome to LA Neighbors for Neighbors. 
We are a volunteer-led organization fighting for housing justice in LA.
Our work.
Unhoused Angelenos live disconnected from basic survival needs, and the city of LA constantly displaces our unhoused neighbors through violent sweeps. We work to bring folks back together through a once-a-month resource center that provides folks with basic survival needs. Since transportation is a huge hurdle for unhoused folks, we also provide direct transportation to and from encampments for all our guests.
At our past resource centers we were able to provide the following services and supplies for our guests: IDs, phones, sign-ups for CalFresh, mental health support, medical check-ups, vaccines, haircuts, showers, laundry services, meals, groceries, clothing, blankets, pet supplies, harm reduction supplies, art supplies, & much more. It is our goal to get as many services and resources as possible in one place. 
Our unhoused neighbors experience a lot of trauma at the hands of the state and even fellow neighbors. As we grow our resource center, we plan to provide resources that promote self-love and healing. We want to build power with our neighbors by connecting them with organizations that uplift and fight for the rights of unhoused Angelenos. In the future, we hope to create spaces for skill shares and focus on building community.
If you have a skill, resource, or supply that you think would help our efforts, please reach out to us via email at
[email protected]
.
Lastly, our work includes a lot of thoughtful outreach. This includes visiting encampments to do check-ins and provide supplies, following up with folks that have received housing, making appointments, taking people to their doctors' appointments, monitoring the city of LA's brutal sweeps, and much more. 
We are always looking for volunteers to join our Outreach Team or Resource Center Team. Please email us to get connected.
Mission.
Our ultimate goal is fair and free housing for all. On a short term basis, we work to connect people to the things they need and build power.
How we plan to use our funds.
1. Paying for service providers.
Some of the service providers we work with require payment. Your financial contribution will help get those service providers there.
2. Purchasing survival supplies.
We hand out survival supplies at our resource center and while doing outreach. These include, but are not limited to the following: tents, sleeping bags, clothing, food, water, hygiene supplies, harm reduction supplies, cooking supplies, etc.
3. Maintaining our current work & supporting our volunteers.
We need storage space for our items, rental vans, software that helps to make our work easier, gas money, etc. 
Connect
---
Let's get the ball rolling!
News from LA Neighbors 4 Neighbors
Updates on our activities and progress.
March Resource Center Highlights
Hello friends! Our March volunteer-led Resource Center was a total success and tons of fun! We welcomed over 70 guests & about 35 volunteers, and we had approximately 15 different resources/services available! Guests had access to much...
Read more
First Resource Center of 2022 was a Success!
Hello friends! After making the difficult decision to cancel our January resource center date due to a surge of covid-19 cases, we were back in action in February with one of our most popular resource centers to date. On February 19th, we c...
Read more
Budget
---
Transparent and open finances.
Total disbursed
$4,112.82 USD