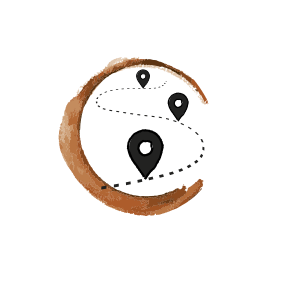 Les Chemins de la Transition
Une université ouverte, nomade et décentralisée autour des enjeux et des métiers de la transition
Contribute
---
Become a financial contributor.
Projects
Support the following initiatives from Les Chemins de la Transition.
Référencer les acteurs de la transition le long de la scandibérique, une véloroute allant de Tron...
Partir à la rencontre des écolieux de France et d'ailleurs, qui souhaitent partager leurs expérie...
Events
Les Chemins de la Transition is hosting the following events.
A la rencontre des acteurs qui réinventent le petit et magnifique territoire de la Suisse Normande !
Budget
---
Transparent and open finances.
About
---
Les Chemins de la Transition sont nés il y a quelques années sur les Chemins de Saint Jacques. L'idée initiale fut d'en reprendre le concept, mais d'en changer l'imaginaire : Sur les Chemins de la Transition, les voyageurs se déplacent, non pas de monastères en monastères, mais de lieux en transition en lieux en transition.
Aujourd'hui, le projet se développe autour de la création d'une université ouverte, nomade et décentralisée autour des enjeux et des métiers de la transition, à destination de tous les publics : citoyen.ne.s, entreprises et collectivités.
Inspirés du compagnonnage, les Chemins de la Transition souhaitent favoriser la transmission "en pair à pair" des connaissances, des expériences et savoirs-faire liés aux enjeux écologiques, énergétiques, culturels, sociaux, économiques, technologiques de notre temps.
Sur les Chemins de la Transition, une thématique ou un périmètre géographique peuvent donner lieu à un chemin. On peut en imaginer une infinité :
Chemin des Low Tech, chemin des poêles de masse, chemin de l'éco-construction, chemin des tiers-lieux, des villes et territoires en transition, de la reprise de ferme en collectif, des sols vivants, des énergies citoyennes, des épiceries libres, du biomimétisme, des ZAD, du fediverse (...), du bocage en transition, de la mobilité bas-carbone, de la somme à vélo ... 
Les chemins peuvent être empruntés selon 3 modalités de voyage : 
Voyage apprenant : Rencontrer le temps de quelques heures ou quelques jours des acteurs de la transition afin de se nourrir de leurs pratiques. 
Voyage immersif : Vivre, apprendre et travailler auprès d'acteurs de la transition sur des périodes allant de quelques semaines à plusieurs mois.
Compagnonnage : Formations itinérantes, certifiées et qualifiantes en immersion auprès d'acteurs experts dans leurs domaines.