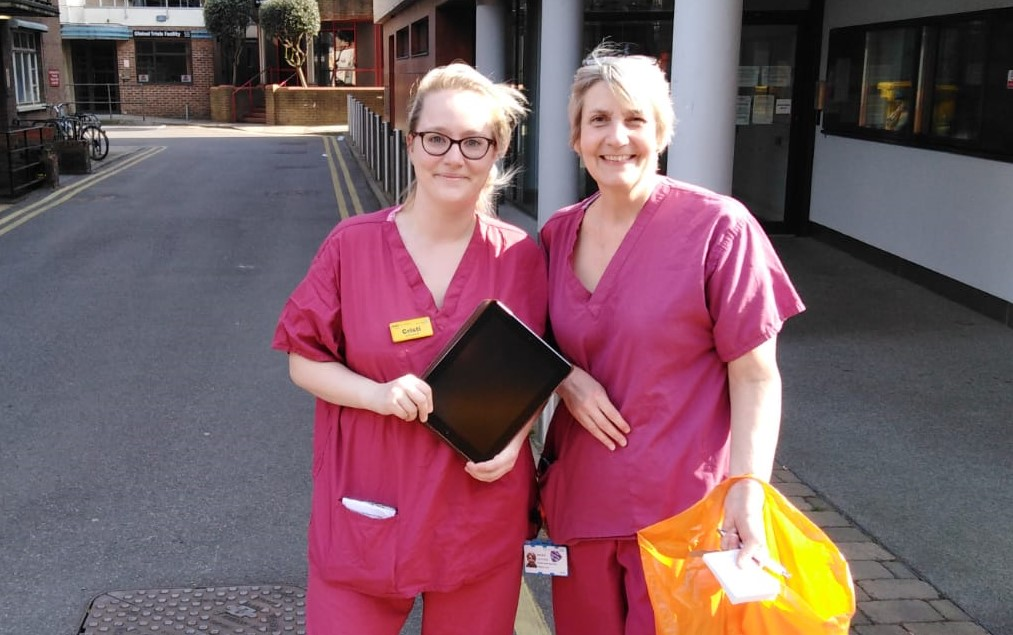 London Rainbow 🌈
We collect donated phones/tablets and distribute through health and care services to people isolated by Covid-19 without access to their own devices.
Become a contributor
Monthly SIM sponsor
£500 GBP / month goal
£10 GBP / month raised (2%)
At £10/month, you'll ensure a recycled phone has its monthly bill covered during the Covid-19 cri... Read more
Top financial contributors
Individuals
Incognito
£50 GBP since May 2020
Beth
£30 GBP since Apr 2020
What's new with London Rainbow 🌈
Stay up to dates with our latest activities and progress.
Budget
See how money openly circulates through London Rainbow 🌈. All contributions and all expenses are published in our transparent public ledger. Learn who is donating, how much, where is that money going, submit expenses, get reimbursed and more!
Giffgaff monthly payments for LR32,48,52,53,127,142,147,156
by Jonathan • 10/21/2020
Receipt #26660
communications
Monthly financial contribution to London Rainbow 🌈 (Month...
from James burrows • 10/1/2020
Today's balance
£105.33 GBP
Estimated annual budget
~ £1,884.91 GBP
London Rainbow 🌈 is all of us
Our contributors
46
Everyone who has supported London Rainbow 🌈. Individuals and organizations that believe in –and take ownership of– our purpose.
About
We are a local community organisation, formed in response to hospitals having to stop in-person visits due to Covid-19. Many patients arrive at hospital without a phone or tablet to stay in touch with their families. In some cases, doctors and nurses have resorted to lending patients their own phones to call home during their last moments. We work directly with doctors, nurses, carers and community workers to deliver repurposed donated devices (from the public) to where the need is greatest across our London health and care services.  
We've connected hundreds of patients to their loved ones, often during their last moments, across six London hospitals. And we have recently provided devices to support a
COVID-19 recovery trial
. As shown on our
tracker
,
London Rainbow has delivered 88 phones and tablets
(
see map
). Doctors, nurses, care and community workers lend them to patients in need at:
+ Barons Court Project (1)
+ Charing Cross Hospital (4)
+ Conrad Court Extra Care (3)
+ Elgin Close Extra Care (1)
+ Elmgrove House Extra Care (2)
+ Hammersmith Hospital (5)
+ King's College Hospital (13)
+ Lewisham Hospital (15)
+ Lewisham NHS Community Falls Service (1)
+ Lingham Court Extra Care (3)
+ Princess Royal Hospital - Bromley (4)
+ Queen Elizabeth Hospital - Woolwich (5)
+ St.Christopher's Hospice (17)
+ Third Age Project - Camden (4)
+ Turnberry Court Extra Care (3)

As the pressure is now easing on hospital wards, we are redeploying phones and tablets originally dispatcehd to hospitals to care homes and community services where isolation is still hindering services.
Devices are donated by members of the community.
Volunteers (including the administrators above) assign them new IDs and SIM cards and deliver them ready to use. The costs incurred, most significantly monthly plans on mobile networks, are reclaimed by volunteers and transparently recorded here on Open Collective.
Financial contributions
from the community allow this to be completely free and admin-free for hospitals, care homes and community services that need our help.
How do I donate a phone/tablet?
We are currently only accepting tablets that are compatible with SIM cards. These are in high demand, and we have sufficient stocks of other devices. It is important that you perform a factory reset on your device before donating. Tell us about your tablet-compatible SIM and we'll get in touch and make a plan to receive it - use the
South London form
or the
West London form
.
Any donated devices which can't be easily redeployed into hospitals will be recycled, and any unspent funds will be donated to relevant NHS charities at the hospitals we are supporting. Read our
Overview and Finance Policy
for more details.

FAQ 
I work with patients who would benefit from a phone/tablet. Can you help?

Yes, we are keen to work with any London hospital, care home or community service and have resources to support additional devices being deployed.
Contact us
and tell us
+ where you work,
+ your role,
+ what devices you think you need.
We will respond to coordinate on a plan to provide devices.
I want to volunteer to help London Rainbow make this happen.

There are several different tasks that need doing, some remotely.
Contact
us
and we will find a way to use your skills and time to help.

I want to donate my phone but...

For all FAQ related to donating devices, click here