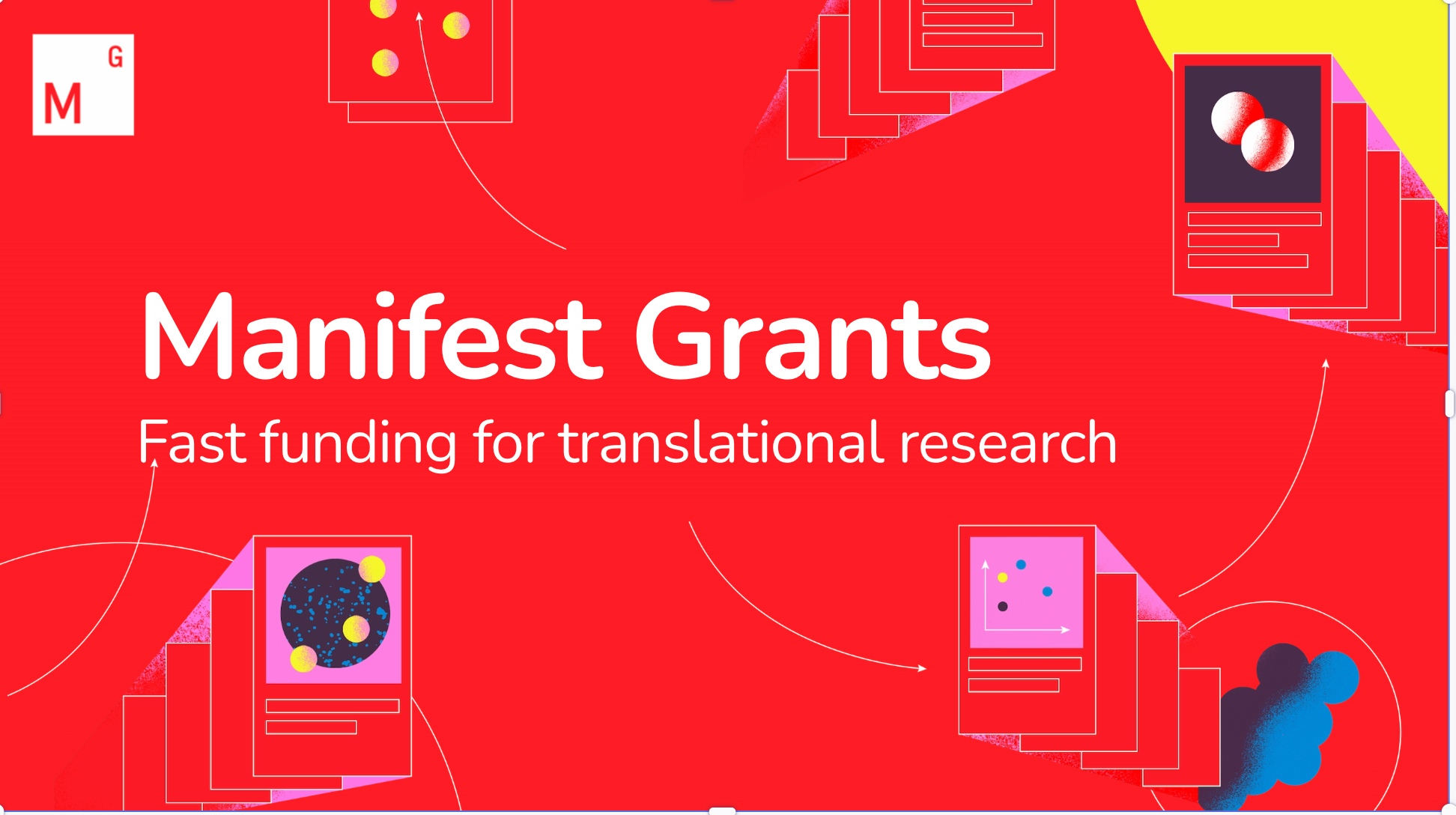 Manifest Grants
Fast funding for translation research.
Contribute
---
Become a financial contributor.
Projects
Support the following initiatives from Manifest Grants.
Fast funding for bio x climate science
Fast funding for female reproductive science
Budget
---
Transparent and open finances.
Total disbursed
$760,885.93 USD
Connect
---
Let's get the ball rolling!
News from Manifest Grants
Updates on our activities and progress.
About
---
What causes endometriosis?  We don't know.
Why do women go through menopause?  We don't know.
Why are women 2x more at risk for Alzheimer's Disease?  We don't know.
What is the long-term impact of hormonal contraceptives?  We don't know.


'We don't know' isn't good enough.

Repro Grants is a "fast grants" program that awards $10K-$100K to ambitious research projects aiming to deepen our understanding of the female* reproductive system. We are motivated to learn how our bodies work, so we can develop better diagnostics and interventions to improve women's health outcomes and longevity. The application form takes ~30 minutes to complete and the applicant will get a decision within 21 days of applying. 



We're embarrassingly late.
Since the Hippocratic oath, the male body has been the "medical norm". Only in 1993 did the NIH, the primary federal agency for supporting medical science, first mandate that clinical trials should be run on
both men and women
. Unfortunately, this law only applied to NIH grantees and not the pharma industry which is responsible for more than
90% of trials
. This means that modern medicine is based on research almost exclusively done on male bodies, with severe implications on women's health outcomes: 
⇨
We overmedicate women.
Most drugs have a 'one-size-fits-all' dosage despite obvious sex differences e.g. body fat composition. A
study
found that over 96% of common drugs (like aspirin) are prescribed to women in too high doses leading to excess side effects.
⇨
We ignore female anatomy.
It was only in 1998 that Helen O'Connell discovered that the clitoris is not just a tiny bulb at the top of the vulva but about
a 10-cm long internal structure
. That's almost 30 years after humans landed on Mars! Apparently, the vulva is more inaccessible than Mars.
Although progress is evident, female-specific conditions remain secondary research subjects. Nowhere is this as clear as in the field of reproductive health. As of 2022, it takes
on average 10 years to get diagnosed with endometriosis
, an excruciatingly painful condition where tissue similar to the lining of the uterus (endometrium) starts to grow outside of the uterus. The cause and cure for endometriosis remain a mystery to modern medicine. 
And if you aren't convinced yet, in the last two decades we have churned
5.5x more studies about male infertility than female infertility
. Not to mention that in 2019 alone, the number of publications on male erectile dysfunction surpassed studies on female fertility by nearly 6-fold. We have centuries worth of research to catch on to properly understand how the bodies of half of the world's population work.
Why do we need Repro Grants? 

Relatively small sums of capital are directed towards supporting fundamental research for women's reproductive health. About 15% of all NIH funding goes to women's health (2018 data). This capital allocation does not take into consideration or intend to correct the hundreds of years lag in women's health research. 

Beyond the capital dilemma, the mechanisms for accessing funding are too slow. It is estimated that leading researchers spend up to 50% of their time writing grant applications. We want to offer an alternative; a fast and efficient process for getting access to crucial funding, so scientists can focus on what matters the most — doing the science. We are starting with a quick experiment; deploying $1M in Fast Grant Round 1. We will take the learnings and hope to increase the scale and velocity of the funding in future rounds.