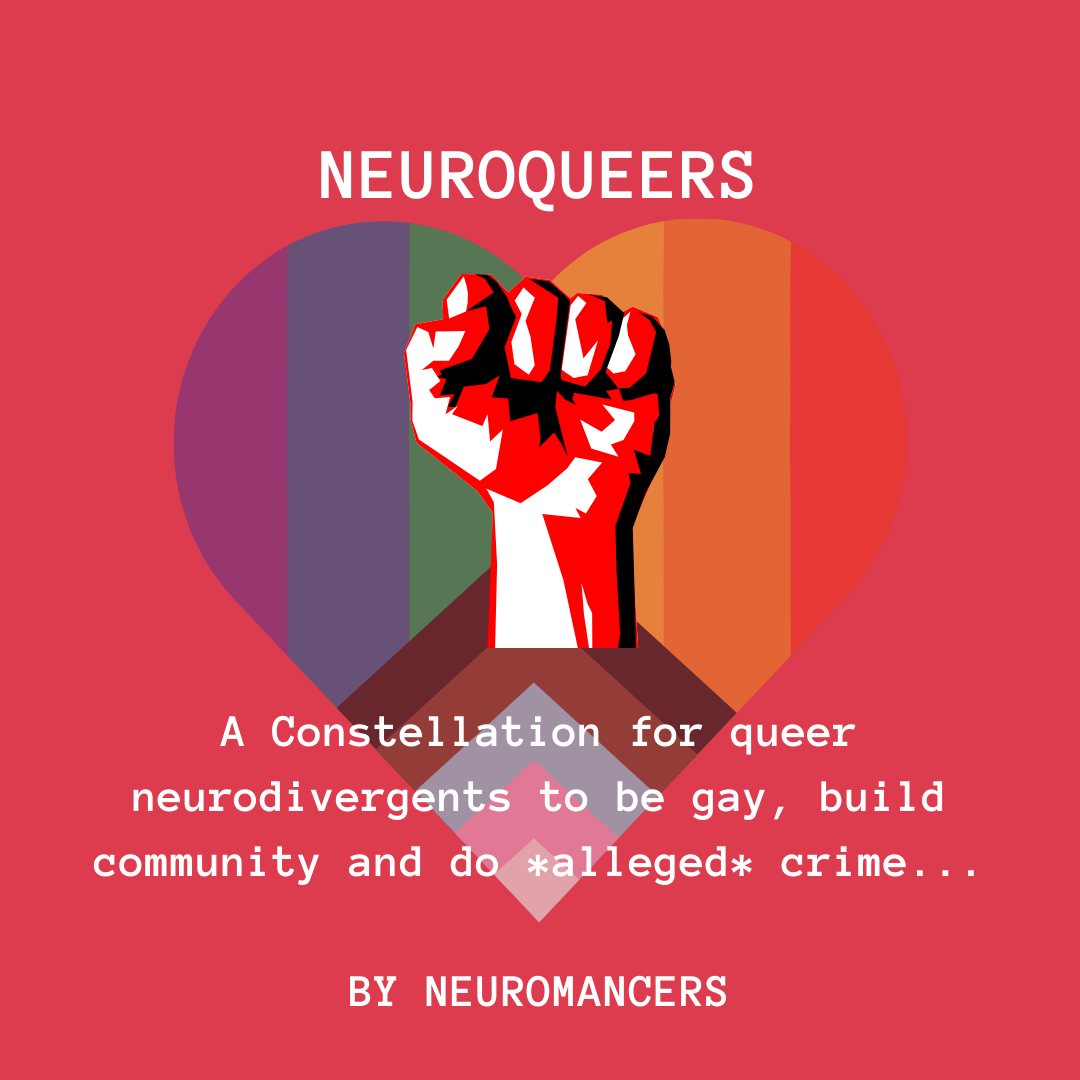 Neuroqueers (Constellation)
A Constellation for queer neurodivergents to be gay, build community and do *alleged* crime...Based on Discord with monthly Zoom meetings. 14+
Monday, July 18, 2022, 6:00 PM - 7:00 PM (UTC+00:00)
About
---
What are Constellations?
Constellations are non-judgemental Peer Solidarity groups facilitated by the NEUROMANCERS team. They might be support-based drop in groups, educational cohorts, or workshops and some facilitators also offer additional 121 support on a discretionary basis. Like the stars in constellations, we aim to connect neurodivergents across space and time. Learn more
here
.
 About Neuroqueers


Neuroqueers is a Constellation for queer neurodivergents to be gay, build community and do *alleged* crime...by crime we mean anti-patriarchal gender expression, radical explorations of sexuality, and care-filled community building. The things that the state does not encourage or want us to do. Madness and neurodivergecy has always been connected to queerness through shared criminalisation and pathologisation.
Participants are encouraged to bring their own experiences, struggles, questions, activities, and resources to discuss each session. Neuroqueers is primality a space to build and find queer community. The space is collaborative and loosely structured on the *vibes* of the moment.
Neuroqueers is a "community-facilitated Constellation" : where others have designated, consistent stewards anybody can nominate themselves to facilitate a neuroqueers session. Please join
our Discord
sever and familiarise yourself with our work before contacting us about this.
Budget
---
Transparent and open finances.
Total disbursed
£33.40 GBP