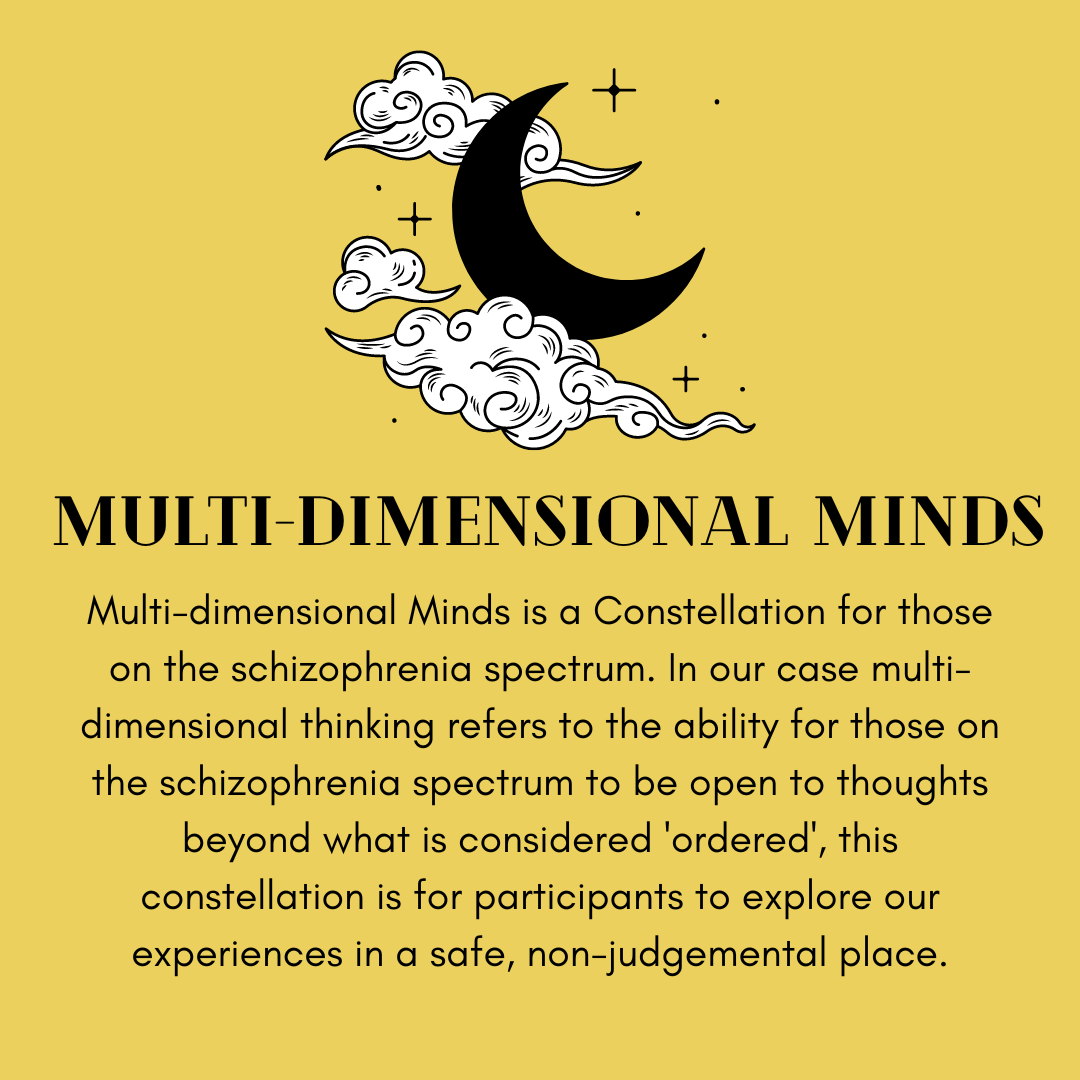 Multi-dimensional Minds (Constellation)
A space for those who experience psychosis and/or hallucinations, focusing on our interpersonal relationships and social interactions. Based on Discord with monthly Zoom meetings. 18+ only.
Thursday, October 20, 2022, 7:00 PM - 8:00 PM (UTC+00:00)
About
---
 What is a Constellation?


Constellations are non-judgmental Peer Solidarity groups facilitated by the NEUROMANCERS team. They might be support-based drop in groups, educational cohorts, or workshops and some facilitators also offer additional 121 support on a discretionary basis. Like the stars in constellations, we aim to connect neurodivergents across space and time. Learn more
here
.
About Multidimensional Minds


Multi-dimensional Minds is a Constellation for those who experience psychosis and/or hallucinations . In our case multi-dimensional thinking refers to the ability for those who experience psychosis and/or hallucinations to be open to thoughts beyond what is considered 'ordered', this constellation is for participants to explore our experiences in a safe, non-judgmental place. 


Multi-dimensional is run by Théma (she/her). I am a [butch] Lesbian, who knocked around the mental healthcare system until I was diagnosed with Schizotypal Personality Disorder. I would like to hold space for those living with psychosis, Schizophrenia, Schizoaffective Disorder, Schizotypal and Schizoid Personality disorders as there is a lot of crossover with the conditions, and as I have found that it is hard to relate to those who do not experience psychosis and/or hallucinations. I would also like to share and exchange ways in which I has learnt to live with the condition and would hopefully like to have others thrive with the condition.

This is an (18+) 'Interpersonal group', focusing on our interpersonal relationships and social interactions, including how much support we have from others and the impact these relationships, have on our mental health.

This is for people living with the named conditions only and not for allies, as I want us to be able to speak freely and not have to educate others. As it is covering relationships there may be talk about sex and sexual or romantic relationships please do so in a respectful way. It is a safe space for all POC and those from sexual and gender minorities, and I ask that everyone follow 'the golden rule' and treat each other with respect.


It is a facilitated, but open discussion, so everyone who wants to talk may do so after it has been indicated they can do so. Participants can engage as little or as much as they would like. There is also a channel on the NEUROMANCERS discord for participants to connect between sessions. See you there!
Budget
---
Transparent and open finances.