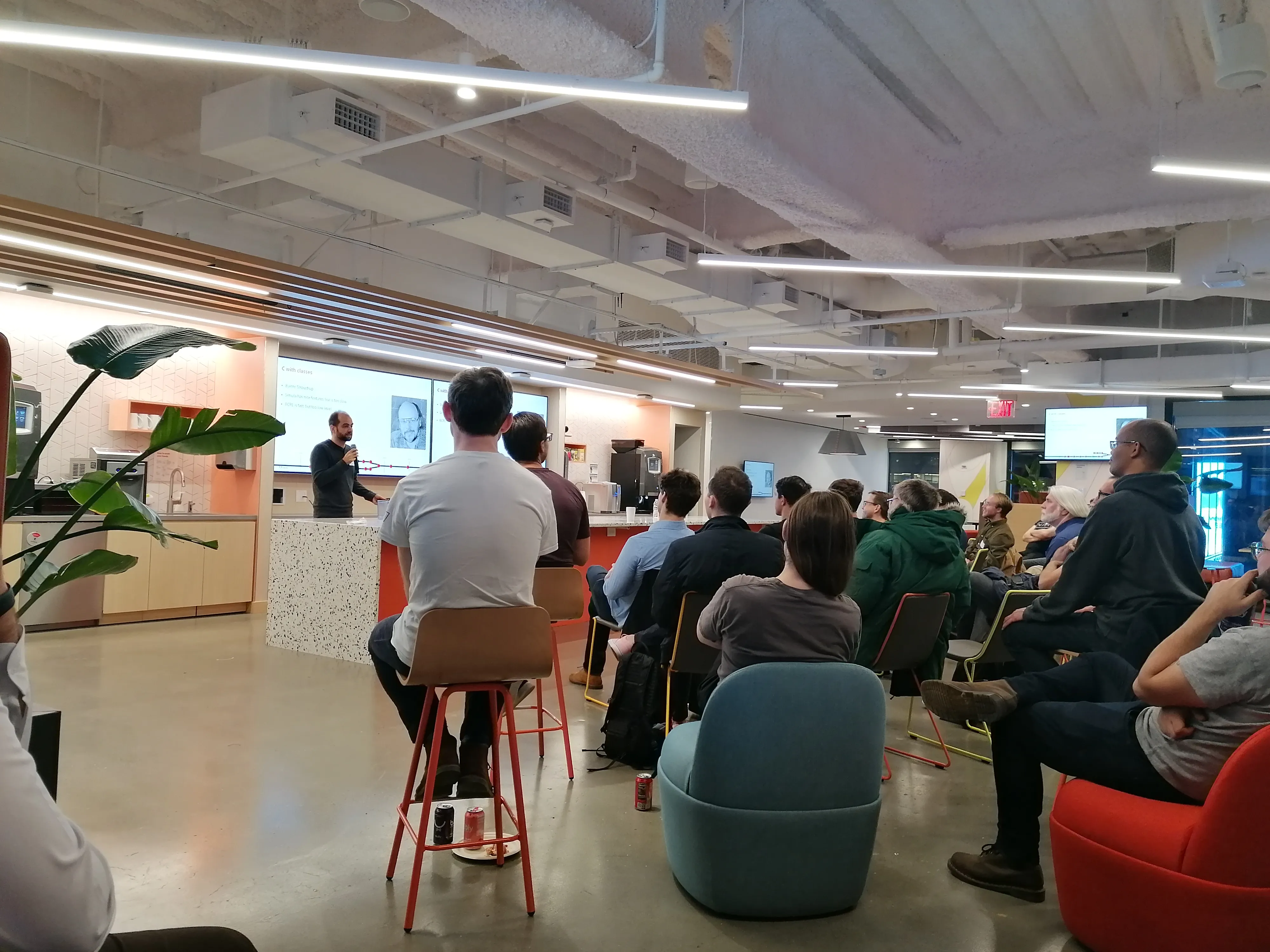 NYC++ Meetup
We are a monthly meetup for New York's C++ enthusiasts to network and learn together. Our events are rotationally hosted by local companies and universities, typically featuring a talk by an invited speaker and catered refreshments.
Contribute
---
Become a financial contributor.
Connect
---
Let's get the ball rolling!
News from NYC++ Meetup
Updates on our activities and progress.
Nov 2022 meetup
Our inaugural meetup couldn't have been more exciting.
Adobe
hosted and sponsored the event, which was well attended by ~45 C++ enthusiasts. Thanks to Adobe, our...
Read more
Published on January 23, 2023 by
Dan Katz
Jan 2023 meetup
Our January 2023 meetup was a great success, attracting an audience ~65 attendees which included everybody from local university students to ISO WG21 committee members....
Read more
Published on January 23, 2023 by
Dan Katz
About
---
NYC++ partners with local companies and universities to host monthly meetups for C++ enthusiasts, which are open to the public at no cost. Our organizers do not receive an income from their work related to the meetup; they all participate as volunteers.

Food is delicious, and our attendees agree; we therefore try to provide catering from local restaurants for each event. This represents the most costly component of each meetup, but it helps to create a welcoming atmosphere and gives our attendees an immediate reason to be glad they came.

Some of our other recurring costs include liability insurance, domain hosting fees, and meetup.com organizer fees. As our meetup grows, some of our aspirations include:
Hiring a video production company to increase the quality of our recordings
Renting our own event spaces for meetups
Covering travel and hotel costs for distinguished speakers who live outside of the NYC area