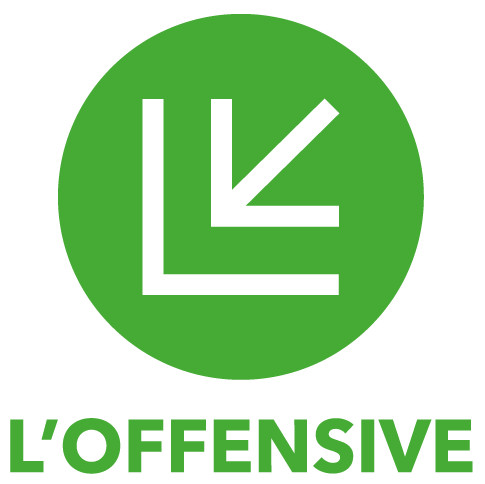 L'Offensive
Regroupons-nous pour bâtir une société démocratique, écologiste, égalitaire, multiculturelle et féministe : Passons à l'Offensive !
About
---
L'Offensive, c'est quoi ?
L'Offensive est une nouvelle initiative politique en rupture avec toutes formes d'organisations traditionnelles faisant le constat du désastre écologique en cours causé par les plus riches, alimenté par cette mascarade qu'est la «démocratie représentative» qui ne garantie aucunement l'égalité. Elle alimente, accroît et multiplie les formes d'exploitations et ses politiciens sont au service de la bourgeoisie. Nous ne pensons donc pas que le capitalisme soit réformable. N'attendons pas l'hypothétique grand soir, organisons-nous dès maintenant !
Comment y arriver ?
Pour cela, Il nous paraît urgent de nous fédérer dans tous les domaines de la société : associatifs, médiatiques, politiques, culturelles, sportifs, lieux autogérés mais aussi des lieux de productions(Scop, Scic...).
Autour de principes fondamentaux que sont : l'écologie sociale, la démocratie directe (1personne=1voix), le féminisme, l'antiracisme, le fédéralisme global et l'antifascisme, refusons toutes postures de « pureté idéologique » et des chapelles doctrinaires. Appelons au respect des diversités tactiques. L'objectif est d'imposer notre vision de la société en bâtissant nos propres structures d'autodéfense sous une bannière commune, tout en préservant l'autonomie de chaque groupe. Ces structure seront des supports pour expérimenter notre modèle de société, accroître notre influence, et finalement pour supplanter l'État et le patronat. 
Budget
---
Transparent and open finances.
Total disbursed
€44,128.81 EUR
Contribute
---
Become a financial contributor.
L'Offensive is all of us
Our contributors
166
Thank you for supporting L'Offensive.
Incognito
Abonnement mensuel
€1,921 EUR
Incognito
Abonnement mensuel
€598 EUR