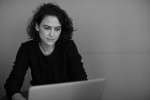 Pia Mancini Collective
I was honored to receive a $5000 flash grant from Shuttleworth Foundation to support my work on Open Collective. I've created this collective to show how I am spending this grant. I will also submit expenses I incur while working towards my mission both through Open Collective and DemoracyEarth and welcome all who want to join me in this journey to contribute financially, with time or in kind.
Team
Meet the awesome people that are bringing the community together! 🙌
Budget
Current balance: $4,371.63
Contributors
1 organization and 0 people are supporting us.