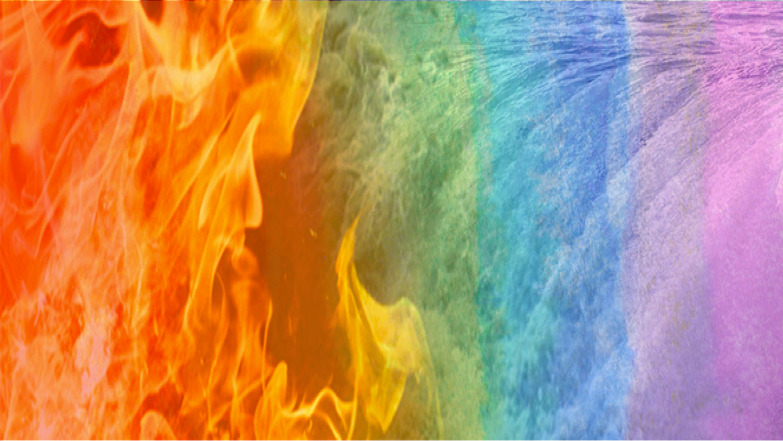 Queer Resilience Mutual Aid
Fund to support queer and trans organizers on the frontlines of climate injustice and the forefronts of building queer ecological futures
About
---
** This fund is currently CLOSED to new requests. / Este fondo se encuentra actualmente CERRADO a nuevas solicitudes. ** 
This fund began with the
"Fire & Flood" documentary project
, and so we are currently focusing on our commitments to the organizers collaborating on the project, which includes mutual aid in Puerto Rico and the counties surrounding Santa Rosa, California **
Este fondo comenzó con el proyecto documental "Fire & Flood", por lo que actualmente nos estamos enfocando en nuestre compromisos con les organizadores que colaboran en el proyecto, que incluye ayuda mutua en Puerto Rico y los condados aledaños a Santa Rosa, California **


What is Mutual Aid? / ¿Qué es la Ayuda Mutua?
Mutual aid networks are the work of communities and their organizers trying to make sure their neighbors have access to what's needed in order to survive given the failures of our government to provide efficient and accessible social safety nets for all their citizens.  It can look like different types of collective actions that  take to support community wellbeing and reaffirm that all lives have inherent value.

Las redes de ayuda mutua son el trabajo de las comunidades y sus organizadores que intentan asegurarse de que sus vecines tengan acceso a lo que necesitan para sobrevivir dado el fracaso de nuestro gobierno para proporcionar redes de seguridad social eficientes y accesibles para todes sus ciudadanos. Puede verse como diferentes tipos de acciones colectivas que se toman para apoyar el bienestar de la comunidad y reafirmar que todas las vidas tienen un valor inherente.


Why is this critical for queer climate justice? / ¿Por qué es esto crítico para la justicia climática queer(cuir)?
Trans and queer communities, especially black and brown and low-income queer and trans people, live on the frontlines of climate change. Many young queer and trans people do not have the resources or ability to leave verbal, emotional, and physical violence in their hometowns. Others are abandoned by family and forced onto the streets with little to no support to survive. What does this mean?  That our communities, friends, and chosen families are particularly vulnerable as rapid changes in climate lead to more natural disasters, environmental instability, and scarcity. Through mutual aid, we are also understanding of how queer wisdom is essential to creating a livable future for all of us.

Las comunidades trans y queer (cuir), especialmente les personas queer (cuir) y trans negres y de color de bajos ingresos, viven en la primera línea del cambio climático. Muchos jóvenes queer (cuir) y trans no tienen los recursos o la capacidad para dejar la violencia verbal, emocional y física en sus lugares de origen. Otres son abandonades por la familia y obligades a vivir en las calles con poco o ningún apoyo para sobrevivir. ¿Qué significa esto? Que nuestras comunidades, amiges y familias elegidas son particularmente vulnerables a medida que los rápidos cambios en el clima conducen a más desastres naturales, inestabilidad ambiental y escasez. A través de la ayuda mutua, también comprendemos cómo la sabiduría queer es esencial para crear un futuro habitable para todos nosotros.


What can I request funds for? / ¿Para qué puedo solicitar fondos?
We trust that you know what you need. Mutual Aid financial assistance can be used for personal, family, living or funeral expenses. Mutual aid payments can be used to respond to a disaster (such as to repair damage to a person's home and to repair or replace the contents of the home), to prepare for community resilience (such as expenses for putting solar and water catchment on a collective house), or for an emergency demonstration related to climate justice.

Confiamos en que sabes lo que necesitas. La asistencia financiera de ayuda mutua se puede utilizar para gastos personales, familiares, de manutención o funerarios. Los pagos de ayuda mutua se pueden usar para responder a un desastre (como reparar daños en la casa de una persona y reparar o reemplazar el contenido de la casa), para prepararse para la resiliencia de la comunidad (como los gastos para instalar energía solar y captación de agua en una casa colectiva), o para una manifestación de emergencia relacionada con la justicia climática.


How can I make a request? / ¿Cómo puedo hacer una solicitud?
Email
[email protected]
with "Queer Resilience Mutual Aid" in the title.
Envíe un correo electrónico a [email protected] con "Queer Resilience Mutual Aid/Fondo de ayuda mutua cuir" en el título.
Please include /
Por favor incluya:
Name / Nombre
Pronouns / Pronombres
Contact information / información de contact
Do you prefer phone, text, or email? / ¿Prefiere llamada, texto, o correo electrónico?
Where are you located? / ¿Dónde se encuentra localizade?
Amount requested / Cantidad solicitada:   
Can you receive funds through Paypal? (this is our preferred system) / ¿Puede recibir fondos por Paypal?

If yes: what is your paypal email / Si la respuesta es sí, ¿cuál es el correo electrónico en PayPal?

Can you receive funds through Venmo or Cashapp? / ¿Puedes recibir fondos a través de Venmo o Cashapp?

If yes: what is your venmo or cashapp handle? / Si la respuesta es sí, ¿cuál es el nombre de usuario de Venmo o Cashapp?


For anything above $100, we ask that you schedule a 30-min phone or video chat. This call is intended as a way to get to know you better and to find out if there are other ways we can support you through our networks.

Para cualquier valor superior a $100, le pedimos que programe una conversación telefónica o por video de 30 minutos. Esta llamada pretende ser una forma de conocerlo mejor y averiguar si hay otras formas en que podemos apoyarlo a través de nuestras redes.


Disclaimer to donors / Advertencia de responsabilidad para los donantes:
This is an entirely volunteer-run resource. We will do our best to ensure best practices regarding safety, but as a collective of volunteers we cannot vet or guarantee the identity or background of any individual offering or requesting aid.

Este es un recurso completamente administrado por voluntarios. Haremos todo lo posible para garantizar las mejores prácticas con respecto a la seguridad, pero como colectivo de voluntarios no podemos investigar ni garantizar la identidad o los antecedentes de ninguna persona que ofrezca o solicite ayuda.



Contribute
---
Become a financial contributor.
Queer Resilience Mutual Aid is all of us
Our contributors
2
Thank you for supporting Queer Resilience Mutual Aid.
Budget
---
Transparent and open finances.
Total disbursed
$7,595.00 USD