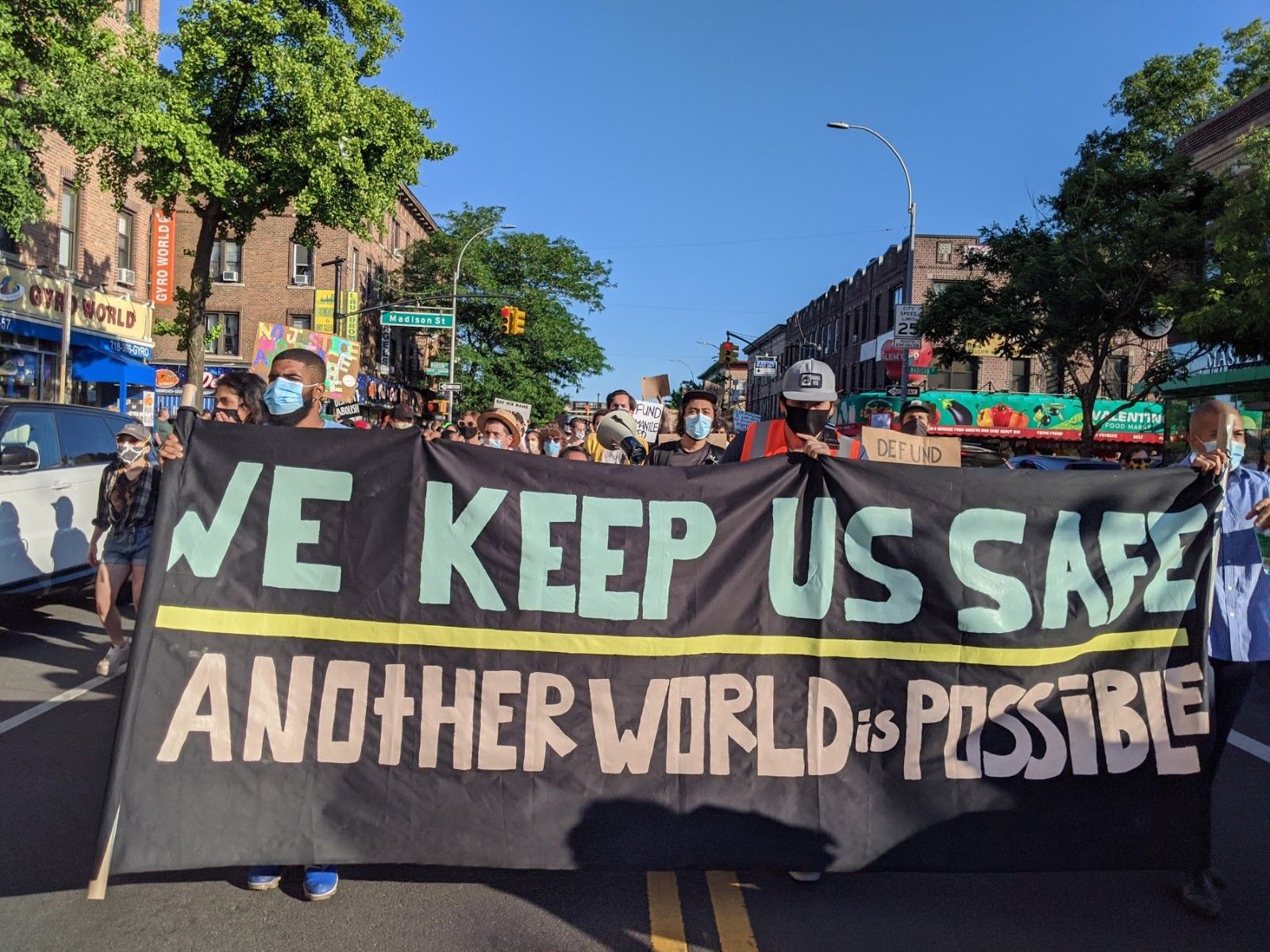 Ridgewood Mutual Aid Project
We provide mutual aid to our neighbors in Ridgewood, Maspeth, Glendale, and Middle Village in the form of food distribution, a community fridge, homeless outreach and eviction defense support.
Contribute
---
Become a financial contributor.
Financial Contributions
Homeless Outreach Project
Our Homeless Outreach Project is raising money to purchase supplies for our neighbors in Ridgewood/Bushwick, Glendale, Maspeth & Middle Village. I... Read more
$10,372.25 USD of $8,000 USD raised (130%)
Starts at$5 USD
Top financial contributors
Individuals
Incognito
$2,070 USD since May 2022
Incognito
$2,025 USD since Nov 2020
Incognito
$1,800 USD since Jan 2021
Ridgewood Mutual Aid Project is all of us
Our contributors
554
Thank you for supporting Ridgewood Mutual Aid Project.
Incognito
Homeless Outreach Project
$1,800 USD
Budget
---
Transparent and open finances.
Total disbursed
$71,366.14 USD
Connect
---
Let's get the ball rolling!
News from Ridgewood Mutual Aid Project
Updates on our activities and progress.
About
---
Update Report - Our Work During the Pandemic


December 30, 2022
Note: The Ridgewood Tenants Union created the Ridgewood Mutual Aid Project in March of 2020.  The funds collected through the mutual aid project are used to help meet the material needs of our members and neighbors and are not used for political or legislative lobbying. This report, aside from providing a glimpse into our mutual aid project, is an overview of our overall work which seeks to build tenant power in our part of Queens.
AN OVERVIEW
The Ridgewood Tenants Union is an anti-gentrification, independent, and tenant-led housing rights organization run solely by volunteers that was formed in 2014 with the mission of building tenant power and fighting displacement in a neighborhood long controlled by homeowners and the politicians that advocate for them.  We are NOT a non-profit.  Even though tenants are a majority in the neighborhoods the group works in, which is Ridgewood, Maspeth, Glendale, and Middle Village, there is no strong and organized tenant voice advocating for our right to safe, truly affordable, and stable housing, especially for working class tenants of color, those that are undocumented, and our homeless neighbors.  
The Ridgewood Tenants Union has been filling a long and overdue void, especially during the pandemic.  Our part of Queens is not highly served by non-profit or service organizations that provide services to community members and during the pandemic, many of our neighbors did not have access to immediate support to meet their survival needs.  Due to the lack of service provision in our neighborhood, we created the Ridgewood Mutual Aid Project in March of 2020 at the onset of the coronavirus pandemic.  Mutual aid has always been an aspect of our organizing work but with this particular project the group was able to collect monetary donations for the very first time to directly serve the material needs of our neighbors.  
With the mutual aid funds we collected we were able to provide groceries for our neighbors through food distributions, home deliveries, and our community fridge.  We provided small grants during the beginning of the pandemic and organized a winter coat drive in year two of the pandemic.  We purchased and secured COVID 19 masks and test kits that we've been distributing since the start of our project.  We were able to do this and much more with the support of over 600 members that joined our mutual aid project and the donations of our neighbors and extended network of supporters.  
This report offers a glimpse into our work during the pandemic and how the generous donations from our friends, neighbors, and our extended network of supporters have been used from March 2020 to the present.
SUPPORTING OUR NEIGHBORS
Our mutual aid project has been trying to fill a need in our neighborhood which is lacking in survival resources.  Many of our neighbors and members lost work during the beginning of the pandemic and many of them continue to face unprecedented survival challenges.  Our group cannot meet the needs of our neighbors alone, but we have been able to do our small part for those in our network and neighbors that have reached out to us.
Grocery Deliveries and Ongoing Support
507 families received groceries through direct grocery deliveries to their homes during year one of the pandemic.  The majority of families seeking support for groceries have been monolingual Spanish speakers with an average of four family members in their household who weren't eligible for traditional forms of government assistance, meaning unemployment or public benefits such as SNAP.  
In 2020 we were able to distribute over 300 hot meals prepared by Friend of a Friend and 50 turkeys through the generous donation of the FridgeGirls.  We were also able to organize three large food distributions in 2020 and one large food distribution in 2021 with our donated funds.  This helped provide groceries to over 1000 families in our neighborhood.
In December 2021 we organized a winter resource fair that distributed winter clothing, coats and toys to over 150 families.  We purchased coats with our donated funds and our neighbors donated items as well.
In August 2020 our friends with Hungry Monk helped us pick up a used refrigerator in New Jersey which we purchased with donated funds.  With the fridge, we created our Community Fridge Project which we launched in September 2020 and that has helped provide fresh vegetables, canned food, and other nonperishable food items to our neighbors.  We partnered with our friends at St. John's Bread and Life and received ongoing donations from them and other local sources, as well as purchased groceries for the fridge from our own donated funds. 
In May 2020 we launched our Homeless Outreach Project (now our Homeless Organizing Project) when the city shut down the subways at 1am and police started to harass our homeless neighbors out of the stations which many used as a refuge from the cold.  We started to do nightly and weekend outreach to provide our homeless neighbors with necessary survival supplies such as clothing, food, toiletries and referrals to necessary services.  When we saw firsthand how difficult it was for many of the individuals we kept meeting to access these services, we started advocating for better services alongside them.  We've been able to work with over 50 individuals.  Unfortunately, several of them have since passed away due to not having a safe and stable home. 
This support continued throughout 2022 and continues to the present day as we strategize on the best ways to support all our neighbors who are in need. We will be able to provide this support until we exhaust our current mutual aid funds.
MUTUAL AID FUNDS
We launched our first ever grassroots crowdfunding campaign through a platform called Chuffed.org in March 2020 and through this campaign we raised a total of $57,980.56.  In July of 2020 we launched our second crowdfunding campaign through another online platform called
Open Collective
.  Open Collective offers our mutual aid project a fiscal sponsorship which ensures that mutual aid donations can be tax-deductible.  We had also been tracking our initial donations through a public Google sheet to ensure transparency of all our donations--
the public document can be found here
.  Instead of tracking donations manually through our Google sheet, Open Collective provides us with built in transparency so that everyone can see where donations come from and where they go.  Up to this date, we have received a total of $83,000.68 (before fees) in mutual aid donations. 
Read more on our website:
https://www.ridgewoodtenantsunion.org/update/