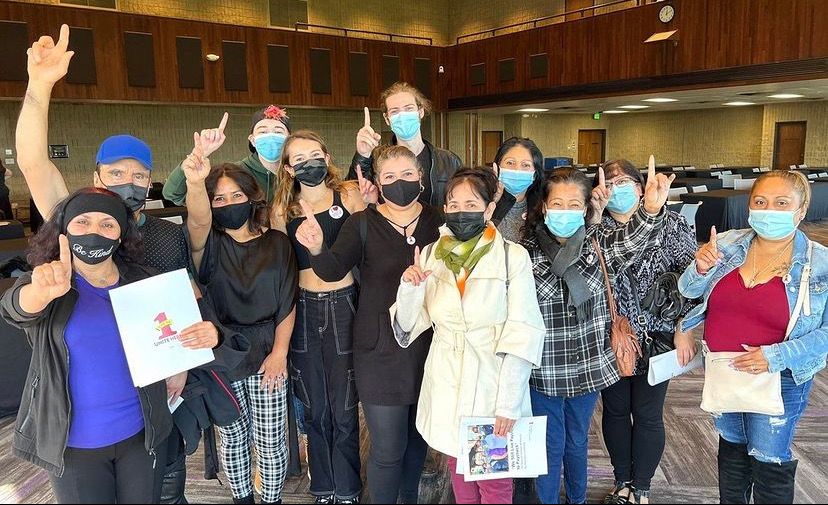 Students Organizing for Labor Rights: Mutual Aid
In solidarity with Northwestern campus workers, building community and conducting mutual aid work
Contribute
---
Become a financial contributor.
Budget
---
Transparent and open finances.
About
---
Students Organizing for Labor Rights (SOLR) is a coalition of unpaid undergraduate and graduate students at Northwestern University. We aim to build solidarity with campus workers through campaigns, actions, mutual aid, and direct communication with a vision towards collective liberation.
We aim to hold NU to its moral responsibility to support all members of its community; leverage the social, financial and intellectual resources offered to us as students to demand workers are valued; and hold NU administration and the Board of Trustees accountable to the violence and exploitation they enact on low income, Black, Indigenous, POC, queer, trans, students.

Currently
We are in our fifth year of mutual aid work! Our model has shifted over time, according to workers' needs and our organization's capacity. From entirely virtual mutual aid during the coronavirus pandemic, to in-person distribution of resources, SOLR strives to meet workers' immediate needs and redistribute community funds. We hold mutual aid distribution events every academic quarter, each of which supports over 100 campus workers. During the 2022-23 year, we are focusing on providing needed items such as warm clothing, cleaning supplies, groceries, and personal hygiene items. Collaborations with other campus organizations make our work possible! 

How it works
SOLR engages in fundraising for the majority of the academic quarter, asking students, faculty, local residents, and other community members to be in solidarity with campus workers through financial contributions. Toward the end of each quarter, we hold our mutual aid distribution event. Our members go shopping for requested items, assemble care packages for as many workers as possible, and then distribute them to our worker friends. This is with the help of other social justice-oriented organizations on campus, who host our events. 

History
SOLR was founded in 2018, when Northwestern University hired Compass Group as its subcontractor for campus food service employees. We canvassed, wrote a petition, and met with administration to ensure a smooth transition for workers. 

In 2019, we raised over $2,500 to provide transportation for workers during the polar vortex. When workers' contract with Compass Group expired in August 2019, their union, Unite HERE Local 1, begins negotiations for a living wage and health insurance. We begin to lay the groundwork for a living wage campaign.

When the pandemic hit in 2020, Northwestern closed campus and abandoned its workers. We set up our mutual aid fund for workers, which is entirely reliant on community donations. Over the summer, Northwestern permanently lays off 230 workers who had been temporarily laid off since March. Workers are told their health insurance coverage will end on September 30. Workers are supported by community donations through this time. In the fall, we hold several tabling events, in which resources such as clothing, PPE, household supplies, and groceries were distributed to workers. We release a second petition demanding that the University and Compass support workers through the pandemic, which is ignored. SOLR also leads a protest in collaboration with NU Community Not Cops (NUCNC)

In 2021, we continue our mutual aid events, raising and redistributing community funds, and continue advocating for workers as they negotiate their contract. SOLR worked with Unite HERE Local 1 to organize student support at two rallies on Northwestern's campus and increase local media coverage. We released a third petition, demanding that NU and Compass meet workers' demands for a living wage and guaranteed health insurance. When unionized workers authorize a strike after negotiations stall, SOLR prepares for a possible strike. We plan a student ally meeting with union representatives, use our social media to advocate for workers and increase community support, distribute "I ♡ Campus Workers" buttons, host a dialogue between a Compass employee and students, and prepare picket signs. In October, workers finally won their contract with Compass Group. Workers now make $19.88/hour and have guaranteed health insurance.