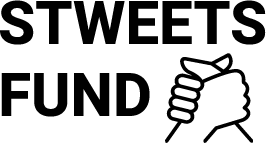 The Stweets Fund
The Stweets Fund is a mutual aid fund for UK residents who have been affected by COVID-19. You can donate any amount or request funds of up to £250
Contribute
---
Become a financial contributor.
Top financial contributors
Akil
£130 GBP since Dec 2021
miada hassan
£90 GBP since Dec 2021
Natasha Henry
£45 GBP since Dec 2021
Guest
£30 GBP since Dec 2021
Guest
£10 GBP since Dec 2021
Guest
£10 GBP since Aug 2023
Guest
£5 GBP since Jul 2022
The Stweets Fund is all of us
Our contributors
15
Thank you for supporting The Stweets Fund.
Budget
---
Transparent and open finances.
Total disbursed
£869.66 GBP
About
---
The Stweets Fund is a Twitter-based community pot which exists to offer some support to people who have lost work during the pandemic. 
This is not long-term support or funding, but rather a small amount of money to cover, for example, a bill that may be racking up late fees or a food shop.
My name's Sallie and I started this fund in March 2020 at the start of the pandemic. I realised how much of a blessing it was that I still had work and also how I would be saving a chunk of money on a travelcard each month. I wanted to see if I could use that money to help someone who had been put out of work. 
I was mindful that sometimes missing just one bill payment can lead to late fees, which can quickly become overwhelming and hard to recover from. While there are other sources of funding, they often require lots of paperwork or a referral. I just wanted people to be able to get a bit of money, with no forms and no strings attached.
After putting out a tweet offering the help and sending money to a handful of people who DMd me, a friend messaged me to ask if there was anyone who I didn't help. There were several people who there wasn't enough money for. I asked my friend if she wanted to be put in touch with them, but she said she was happy to send me money and for me to facilitate.
From there, I thought I could ask others for donations and together we could support even more people. After putting more tweets out, lots of people gave so generously, and we were able to help more people.
To date, we have raised and distributed close to £4k. I'm so grateful to everyone who's given for their generosity. It is a community pot so we're here for each other, anyone who has given can take if they need, and vice versa.
We need each other now more than ever, so whether you give here or elsewhere, please keep looking out for ways you can support someone else, and if you need something, always reach out and ask for help.