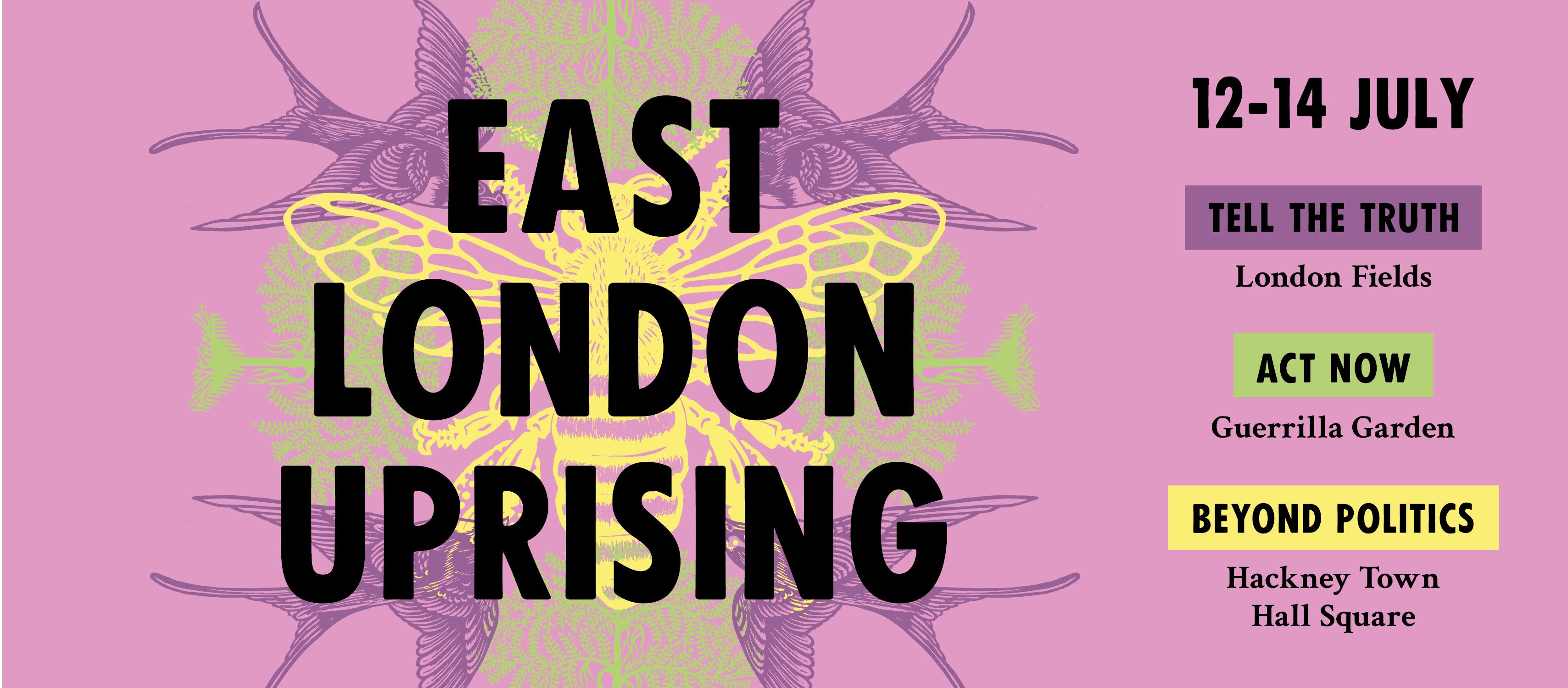 Extinction Rebellion Hackney
Part of an international apolitical network using non-violent direct action to persuade governments to act on the Climate and Ecological Emergency
Contribute
---
Become a financial contributor.
Hackney Guerrilla Garden Fund
XR Hackney have created a Garden of Earthly Delights. Contribute to this green oasis and base for XR Hackney. https://instagram.com/gardenearthlyde... Read more
XR East London Uprising
Between the 12 - 14th July East London will join forces to demand that the climate and ecological crisis be taken seriously and to offer a creative... Read more
XR Hackney Uprising Festival (6th & 7th July)
Top financial contributors
Extinction Rebellion Hackney is all of us
Our contributors
26
Thank you for supporting Extinction Rebellion Hackney.
Alastair Binn...
Financial Contributor
Total contributions
£40 GBP
Great work reclaiming land for the common good. Rebel for life and fight extinction one seed at a time!
incognito
Financial Contributor
Total contributions
£20 GBP
Gersande Col...
Financial Contributor
Total contributions
£15 GBP
Go for it, for the planet, for the communauty, for extinction rebelión and all the volunteers, for the next generations and so on!!!
Alessia Abbate
Financial Contributor
Total contributions
£15 GBP
Happy to contribute towards the Guerrilla Gardening fund! 🎉
Budget
---
Transparent and open finances.
Financial contribution to Extinction Rebellion Hackney
from Incognito •
£
Today's balance
£13.56 GBP
Total disbursed
£301.47 GBP
Estimated annual budget
£13.56 GBP
Connect
---
Let's get the ball rolling!
News from Extinction Rebellion Hackney
Updates on our activities and progress.
Welcome to XR Hackney's new finance hub
We are now using Open Collective, an Open Source, transparent funding platform to manage our finances. Anyone is welcome to contribute to our actions and support the aim of acting on the climate and ecological emergency.Welcome to the Re...
Read more
About
---
Extinction Rebellion is an international apolitical network using non-violent direct action to persuade governments to act on the Climate and Ecological Emergency. Hackney Extinction Rebellion is a local group that welcomes all to get involved in creative action and make our voices heard.
At the core of Extinction Rebellion's philosophy is nonviolent civil disobedience. We promote civil disobedience and rebellion because we think it is necessary- we are asking people to find their courage and to collectively do what is necessary to bring about change.
We have three demands in the UK:
Tell the truth Government must tell the truth by declaring a climate and ecological emergency, working with other institutions to communicate the urgency for change.

Act Now Government must act now to halt biodiversity loss and reduce greenhouse gas emissions to net zero by 2025.

Beyond Politics Government must create and be led by the decisions of a Citizens' Assembly on climate and ecological justice.