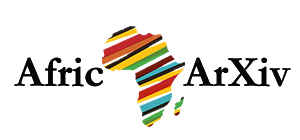 AfricArXiv - the African preprint repository
AfricArxiv is a community-led digital archive for African research communication. We provide a non-profit platform to upload working papers, preprints, accepted manuscripts (post-prints), presentations, data sets to any of our partner services.
Thanks to your financial contributions, we are operating on an estimated annual budget of €504
Become a contributor
AfricArXiv will be hosting the Open Access track at this year's Africa Open Science Hardware summ...
Read more
Top financial contributors
Individuals
Incognito
€50 EUR since Feb 2020
What's new with AfricArXiv - the African preprint repository
Stay up to dates with our latest activities and progress.
Quick recap: how it all began
We launched AfricArXiv in June 2018 envisioning a pan-African preprint repository with several goals in mind:Increased visibility for African research output - free of charge for the researchersEncouraging submission in traditional Afric...
Read more
Budget
See how money openly circulates through AfricArXiv - the African preprint repository. All contributions and all expenses are published in our transparent public ledger. Learn who is donating, how much, where is that money going, submit expenses, get reimbursed and more!
Financial contribution to AfricArXiv - the African prepri...
from Wolfram Seidler • 8/7/2020
Financial contribution to AfricArXiv - the African prepri...
from Ignazio Ziano • 8/7/2020
Financial contribution to AfricArXiv - the African prepri...
from Daniel Lakens • 8/7/2020
Today's balance
€363.18 EUR
Estimated annual budget
~ €504.18 EUR
AfricArXiv - the African preprint repository is all of us
Our contributors
14
Everyone who has supported AfricArXiv - the African preprint repository. Individuals and organizations that believe in –and take ownership of– our purpose.
University of...
Financial Contributor
Total contributions
€142 EUR
Thank you (MERCI!) for hosting our 1st preprint (Y. Amarouch and H. Abriel) 10.31730/osf.io/zt439
Ignazio Ziano
Financial Contributor
Total contributions
€100 EUR
Please donate to help Open Science efforts in Africa!
incognito
Financial Contributor
Total contributions
€50 EUR
OSF hosting 2020
About
Contribute to the AfricArXiv preprint repository and the people behind the scenes. 

In order to sustain the AfricArXiv services, maintain and grow the community and platform, we provide individuals as well as institutions with the following means to financially contribute to our work.
Our expenses include:
building and maintaining the AfricArXiv platform
community engagement
marketing
service fees (web hosting and other service partnerships e.g. with ORCID, OSF, …)
traveling and presenting at conferences – incl. related expenses for Visa and accommodation
partnership building
…
All financial contributions we receive will be spent to one or more of the above-mentioned purposes.
To discuss what exactly your given amount shall contribute to please contact us at
[email protected]
.
Please note: We are not (yet) registered as an institution but work remotely as a team with no dedicated office space. Therefore, we currently cannot issue donation receipts.



Contributors, challenges and opportunities
Since our launch, we have invested our personal resources (time and money) for building the platform, including our website and outreach to the target audiences. We think that researchers should not be the ones paying for our services and instead, we are reaching out to institutional libraries, governments, foundations, and donors – both African and international. For crowdfunding, we have set up a contribution page at
info.africarxiv.org/contribute/
and are developing a financing strategy and roadmap for 2020 and years to come.
Due to the complex situation on the continent, we have first looked into learning about the stakeholders and had discussions with various experts. We want to partner with African stakeholders primarily and complement financial contributions internationally. In March 2020, we aim to launch our crowdfunding campaign and expect steady uptake of contributions so that we will be able to cover our ongoing expenses including the OSF fee for 2020.


Funds are limited especially in Africa and globally tied to outdated structures. As scholarly communication shifts towards more transparency and Open Science practices on a global level we are aiming for a strong and unified voice from Africa to realign funding structures – e.g. via IOI –
investinopen.org.
Challenges in covering expenses
Marketing is a lot of work and involves a lot of money for travels and many hours invested to ensure that the Research stakeholders learn about the benefits preprint repositories provide to the research community. That is not only the case in Africa, Latin America, and Asia but globally. Other challenges in the region include funding constraints, low salaries for HE staff and infrastructure deficits. Most of the community leads work voluntarily on the preprint repositories and have only limited resources to do the work necessary for fundraising, which in itself and elsewhere is a full-time job for much bigger teams. 


Our sustainability strategy so far
Additionally to our ongoing partnership with the Center for Open Science to use their OSF preprints infrastructure, we have diversified our platform by partnering as well with Zenodo and ScienceOpen. This allows African researchers to choose the preprint repository of their preference and based on their requirements:
Thereby, we will continue working on ensuring our preprint services remain available for the African Research community. 


The specific and additional services and benefits provided by each platform are listed in
africarxiv.org/submit/.
In Zenodo, we use a community account that is free of charge to set up and maintain by anyone around any topic. 
With ScienceOpen we have an agreement that we can use their preprint infrastructure for free in 2020 and reassess towards the end of the year. On top of the submission portal, the preprint system at ScienceOpen has a standardized peer review integrated which adds another service level. 
OSF provides for data storage of the whole research cycle of a project. It is up to the scientists to choose which platform they prefer. 
On the onset of AfricArXiv's operations, our long term vision was always to create a platform that is hosted on the African continent, decentrally at various research institutions in every region, to ensure ownership of the African research output and empower African research stakeholders in engagement, collaboration, and exchange of knowledge on a global level. 


We are reaching out to other initiatives, organizations, and partners to make this a reality soon. Contact us to be involved. Are you interested to work with us for Open Access and Research in Africa?
Email us:
[email protected]