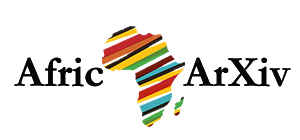 AfricArXiv - the pan-African Open Access portal
AfricArXiv is a community-led digital archive for African research communication. We provide a non-profit platform to upload working papers, preprints, accepted manuscripts (post-prints), presentations, data sets to any of our partner services.
Contribute
---
Become a financial contributor.
Projects
Support the following initiatives from AfricArXiv - the pan-African Open Access portal.
Fostering the development of ORCID Communities of Practice in Africa
Events
AfricArXiv - the pan-African Open Access portal is hosting the following events.
Quality assurance in scholarly communication requires close collaboration amongst scholars of rel...
Read more
Top financial contributors
Individuals
Nadia Sam-Agudu
€150 EUR since Feb 2021
Incognito
€100 EUR since Aug 2020
Incognito
€100 EUR since Aug 2020
Brian A Nosek
€100 EUR since Feb 2021
Incognito
€50 EUR since Feb 2020
amcasari
€50 EUR since Feb 2021
AfricArXiv - the pan-African Open Access portal is all of us
Our contributors
63
Thank you for supporting AfricArXiv - the pan-African Open Access portal.
University of...
OSF hosting & maintencance
€298 EUR
Thank you (MERCI!) for hosting our 1st preprint...
Budget
---
Transparent and open finances.
Total disbursed
€4,246.30 EUR
Connect
---
Let's get the ball rolling!
News from AfricArXiv - the pan-African Open Access portal
Updates on our activities and progress.
Quick recap: how it all began
We launched AfricArXiv in June 2018 envisioning a pan-African preprint repository with several goals in mind:Increased visibility for African research output - free of charge for the researchersEncouraging submission in traditional Afric...
Read more
Conversations
Let's get the discussion going! This is a space for the community to converse, ask questions, say thank you, and get things done together.
About
---
About three years into our work with AfricArXiv here an overview of our work. 
You find all details and information at 


Cite as: Ahinon, J. S., Ksibi, N., Havemann, J. et al. (2020, September 25). AfricArXiv – the pan-African Open Scholarly Repository. https://doi.org/10.31730/osf.io/56p3e 
Why do we need a scholarly repository for Africa?
The vision and mission of AfricArXiv include fostering community among African researchers, facilitate collaborations between African and non-African researchers, and raise the profile of African research on the international stage. 
We are making African research visible globally, thereby increasing collaboration across the continent as well as triggering interdisciplinary research. This is achieved by
partnering with established and renowned organisations
inside and outside Africa that specialize in science communication, capacity building, scholarly tech development and networking – all of which serve the discoverability of African research results and achievements as well as the reputation building of African researchers' profiles. 
Roadmap 2021-2023
Through the building of an open, transparent, reliable, efficient and decentralized discoverability infrastructure, it is our aim to support the connectivity of African scholars – and African scholarship – to a wider audience.  As part of the near future plans, we intend to further diversify tools and applications to work along innovative, globally applicable standards and methodologies to accomplish our mission to ensure African ownership of African data. In the next three years, we want to further increase networking and partnership building in the growing African Open Science ecosystem and establish AfricArXiv as a self-hosted, cross-continental decentralised Open Access platform. We envision the various scholarly repositories that host African content to become interoperable and work with various stakeholders towards that goal. The full roadmap can be found on
africarxiv.org/roadmap
.
Contribute, support and engage
Building and managing AfricArXiv involves expenses for human resources, technology development, partner services, third-party services like web hosting, digital communication tool fees etc. From 2018 to 2020, these expenses were covered by direct financial contributions mostly by the core team members, conference participation and partner service fee waivers and a highly dedicated in-kind workforce by the wider AfricArxiv team and users. 


We are working towards keeping submissions affordable for individual researchers and this is why we need support.
Our planned revenue streams include institutional partnerships, crowdfunding, training, consultancy services and capacity building
Financial contributions to AfricArXiv can be made via PayPal, mPesa, direct debit, and online transfer. For details, see
https://info.africarxiv.org/contribute/
. 
Contribute to the AfricArXiv preprint repository and the people behind the scenes. 

In order to sustain the AfricArXiv services, maintain and grow the community and platform, we provide individuals as well as institutions with the following means to financially contribute to our work.
Our expenses include:
building and maintaining the AfricArXiv platform
community engagement
marketing
service fees (web hosting and other service partnerships e.g. with ORCID, OSF, …)
traveling and presenting at conferences – incl. related expenses for Visa and accommodation
partnership building
…
All financial contributions we receive will be spent to one or more of the above-mentioned purposes.


+ + + + + 


On the onset of AfricArXiv's operations, our long term vision was always to create a platform that is hosted on the African continent, decentrally at various research institutions in every region, to ensure ownership of the African research output and empower African research stakeholders in engagement, collaboration, and exchange of knowledge on a global level. 


We are reaching out to other initiatives, organizations, and partners to make this a reality soon. Contact us to be involved. Are you interested to work with us for Open Access and Research in Africa?
Email us:
[email protected]