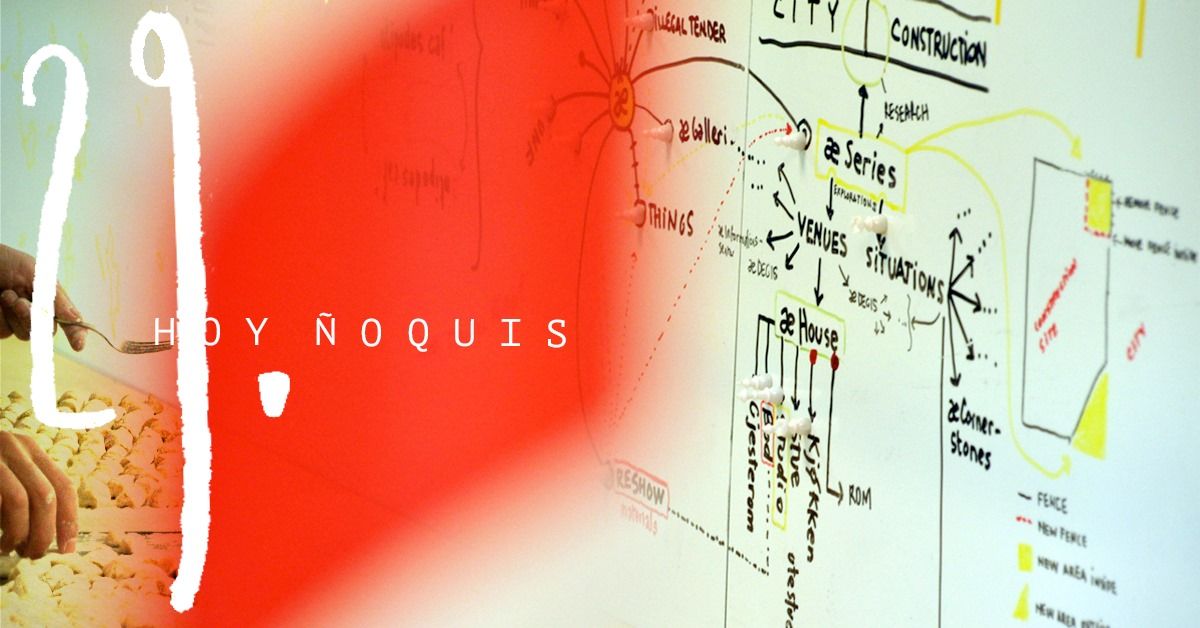 HOY ÑOQUIS: farewell æHouse!
finnisage of antipodes café House
Friday, May 29, 2020, 3:00 PM - 9:00 PM (UTC+02:00)
About
---
Due to COVID-19 we have anticipated the closure of antipodes café House, and let's celebrate it with one special edition of "Hoy Ñoquis" at Sofienbergparken, right outside æKjøkken.
Gnocchi will be served on a take away modality, and GRATIS as usual. 
Following recommendations by health authorities, please keep physical distance with others, both while collecting and while eating in the park, and please dispose paper dishes and wooden forks in trash bins.
And do not feed birds with gnocchi or they become combat aircrafts!

Gnocchi includes flour, potatoes, salt and perhaps egg. Will be served with butter and cheese. Nothing fancy but you are welcome to bring your sauce and bread or whatever you like for your dish... if you bring something for dessert please let us know ;-)


THANKS
• All neighbors
• OSU
• Oslo Kommune - Bymiljøetaten & Vann- og avløpsetaten
• Statsbygg 
• AF Gruppen
• Isachsen 
• Avantor
• Vedal
• Skaaret
• Agro Anlegg
• Thorendahl
• Reblock
• Norema
• Electrolux
• Flügger farve
• Flokk
• Settem Stenindustri
• Solberg & Hansen
• Café Libertad
• Eltempo
• Institut français de Norvège
• Nasjonalbiblioteket (Det flerspråklige bibliotek)
• Sørenga Barnehage
• Barcode Barnehage
• Gamlebyen Skole
• Oslo Fjord Sauna
• Pfelder
• VIF Hockey
• Hiroshi Hara and references
• Friends, family.
• and you ??? (feel free to support us in this page :-)
+
GRANTS
• Sparebankstiftelsen DNB (2016)
• Kulturrådet (Project Support 2017)
• KORO (Uro 2018)
• Oslo Kommune Bydel Gamle Oslo (Frivillig aktivitet 2018, 2020)
• Cultura Gavefond 2020 (for Hoy ñoquis)


And last but not least, thanks to to each and every visitor of our discrete house, and to all the people we worked together for mounting and maintaining it.


There is always room for more.