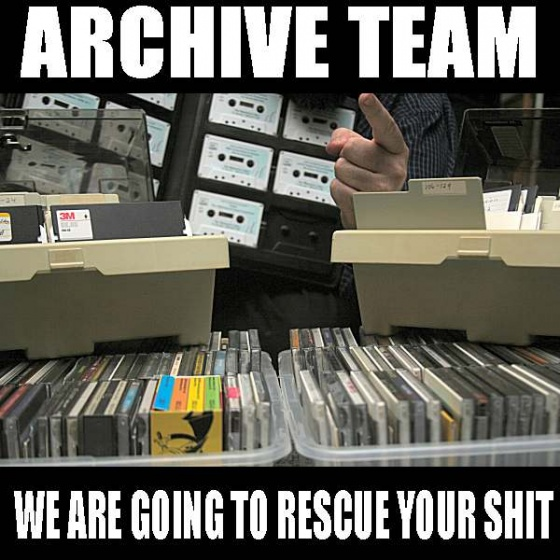 Archive Team
We are going to rescue your shit
Become a contributor
Top financial contributors
What's new with Archive Team
Stay up to dates with our latest activities and progress.
Paying for Archiveteam Hosting
For years now, I've been paying, out of pocket, for the Archive Team hosting site. (There's a fileformats.archiveteam.org as well, but that is covered by the hosting company as a gratis effort.)I use this host because they've been very g...
Read more
Budget
See how money openly circulates through Archive Team. All contributions and all expenses are published in our transparent public ledger. Learn who is donating, how much, where is that money going, submit expenses, get reimbursed and more!
Monthly financial contribution to Archive Team (Sponsor a...
from anonymous • 10/1/2020
Monthly financial contribution to Archive Team (Sponsor a...
from Paul Lindner • 10/1/2020
Today's balance
$2,425.01 USD
Estimated annual budget
~ $1,476.21 USD
Archive Team is all of us
Our contributors
20
Everyone who has supported Archive Team. Individuals and organizations that believe in –and take ownership of– our purpose.
About
Archive Team is a loose collective of rogue archivists, programmers, writers and loudmouths dedicated to saving our digital heritage. Since 2009 this variant force of nature has caught wind of shutdowns, shutoffs, mergers, and plain old deletions - and done our best to save the history before it's lost forever.
Along the way, we've gotten attention, resistance, press and discussion, but most importantly, we've gotten the message out: IT DOESN'T HAVE TO BE THIS WAY.
More info: http://archiveteam.org/
Contribute
Right now, we're fundraising for two primary needs:
We have a big backlog of bugs, technical debt, and feature requests. We want to hire our coders in 5-hour chunks to churn through some of this work.
We want to run more servers for ArchiveBot.