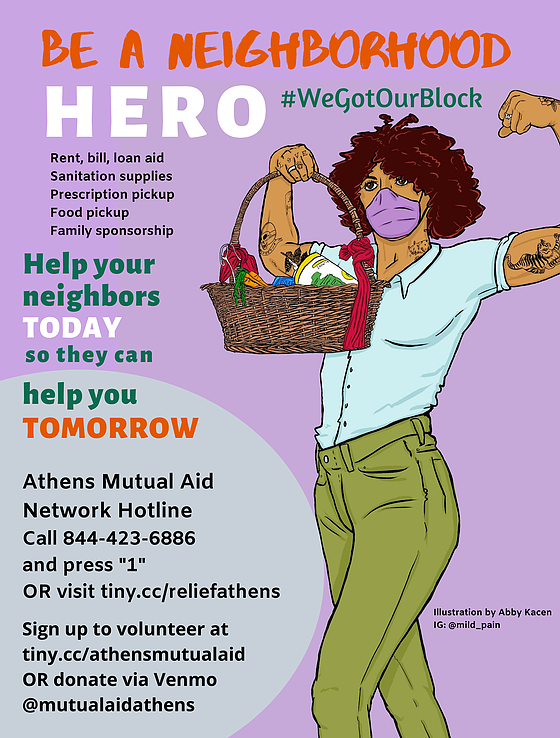 Athens Mutual Aid Network
Solidarity not charity by and for resilient communities in Northeast Georgia
About
---
As of July 8th, 2020, AMAN had redistributed over $31,500 of wealth in our community! At that point we moved from venmo to opencollective!
Athens Mutual Aid Network (AMAN) is a horizontal network of community members and local organizations that bonded together in the midst of the multiple health, economic, and political crises that were exacerbated by the COVID-19 pandemic. We are immigrant rights, racial justice, LGBTQ+ organizations, unions, and political groups that stand in solidarity with the medically, economically, and socially vulnerable communities of Athens. By coordinating the sharing of resources and promoting communication between local advocacy organizations, AMAN strives to support our community by advancing equity and the dignity, agency, and well-being of its members.
NEED AID?
- Call the AMAN hotline: 844-423-6886 and press "1"
- Contact your
Neighborhood Leader
GIVE AID:
- Donate!
- Email
[email protected]
to get involved
Our group's founding mission and principles of alignment are here in this open letter:
http://bit.ly/athensmutualaidletter


ABOUT OPEN COLLECTIVE:

After analyzing the use of Venmo to collect funds, the Athens Mutual Aid Network has decided to move to a fiscal sponsorship called Open Collective. First and foremost, Open Collective allows us to be democratic with the use of funds, allowing us to continue developing collective governance. We are able to be transparent with receiving and giving out funds. No one person holds or owns funds. With Venmo, there is a large tax liability for the person whose name is under the account, which means that we lose a cut of our donations to the federal government via taxes, but all that burden falls on one person. With Open Collective, they take a small cut up front to pay their staff and to keep their secure servers running so that our transactions are safe, taxes are filed correctly, and so that we keep everyone secure in their interactions with us. We will be able to refrain from becoming a 501(c)3 non-profit, so we can keep the flexibility and fluidity of our grassroots network.
Contribute
---
Become a financial contributor.
Projects
Support the following initiatives from Athens Mutual Aid Network.
Accessibility support for disabled folx in Athens
Mutual Aid & Community Organizing
Top financial contributors
Individuals
Incognito
$2,250 USD since Jul 2020
Incognito
$1,850 USD since Aug 2020
Paul Sutter
$1,500 USD since Dec 2020
Tessa Andrews
$1,500 USD since Jan 2021
ASHWC
$1,040 USD since Apr 2021
Margaret Brownstone
$1,000 USD since Nov 2020
Budget
---
Transparent and open finances.
Total disbursed
$46,521.22 USD
Connect
---
Let's get the ball rolling!
News from Athens Mutual Aid Network
Updates on our activities and progress.
Cash Assistance Program - We Got Our Block
Hello everyone! I hope you have all been fully supported by our community during the past year and have found ways to thrive despite the challenges we have faced. I know it has been awhile since we've updated but, rest assured, the work of...
Read more
Eviction Defense & Rent Support Team
Housing Justice Support Needed!At our weekly AMAN meeting yesterday, we counted that we have been contact about rent from OVER 40 FAMILIES. This is an overwhelming amount of need right now, and we recognize that at this point, we will no lo...
Read more
July Rent Fund
Many Athens neighbors cannot pay rent this month and utilities expenses keep coming. The GA eviction moratorium expired on June 14th, so families who have been struggling are now under threat of eviction, even as COVID cases continue to ris...
Read more