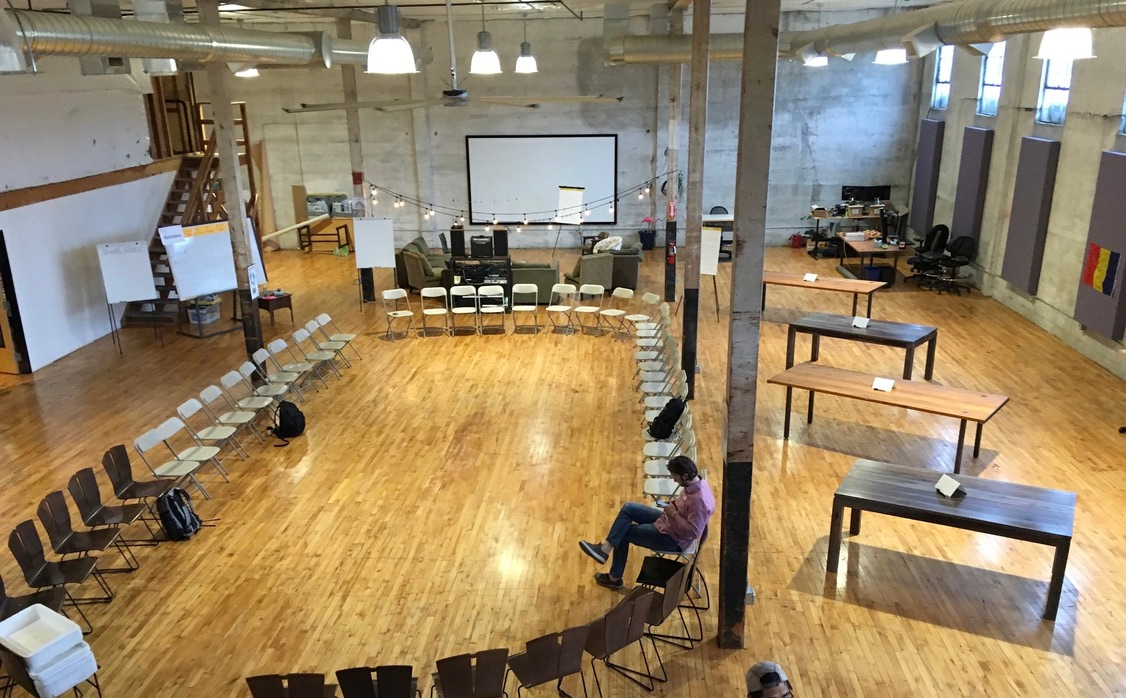 Bridgespace Commons PDX
Multi-purpose office and warehouse commons for emergence and discovery in Portland, OR. Our goal is to bridge gaps between different types of creative communities, generating knowledge, resource share and fun in the process.
Contribute
---
Become a financial contributor.
Events
Bridgespace Commons PDX is hosting the following events.
https://www.facebook.com/SaraToneMusic/ https://www.samarajademusic.com
Are you ready for a vegan culinary experience like no other? Get ready for a good night with some...
Read more
Top financial contributors
Individuals
Howard
$200 USD since Mar 2023
Sara Tone
$80 USD since Mar 2023
Yessia
$45 USD since Mar 2023
Quinn
$20 USD since Feb 2023
Antje
$10 USD since Feb 2023
Bridgespace Commons PDX is all of us
Our contributors
9
Thank you for supporting Bridgespace Commons PDX.
Budget
---
Transparent and open finances.
About
---
Bridgespace Commons is a 10,000 square foot building with office and warehouse space in SE Portland. Our goal is to offer and maintain event and meeting space to a variety of groups working for the public good, with an emphasis on mutual aid and community organizing, support and proliferation of the arts, and the expansion and protection of ecological diversity. These objectives weave together in complex and exciting ways, and Bridgespace hopes to be an experimental site for projects to cross paths, share ideas and resources, and build community.
We are working toward a sustainable model of community use, so that groups making use of the space can run and maintain it on a largely self-managed basis. Our early model for achieving this goal is to give participating orgs and individuals the option of donating money or labor to maintain the space - this helps us provide access to those that are low on financial resources while making sure all participants feel real stake in the commons. This is an evolving process as we take on new groups and the community develops its skills and capacities in self-management and placemaking.
We believe that "third spaces" and non-retail sites for fun, collaboration and community building are an important and scarce resource in the city landscape, not only for the security and safety that true community fosters, but for the meaning and sense of mutual power it helps generate for those who participate. This kind of mutual competence and can-do energy in our city is crucial now, and will become more so in coming years.
Some of the current goings-on happening in the space on a weekly basis include:
Meetings and training sessions for non-profit organizations, like the long operating social permaculture group City Repair
Work sessions on building community finance tools, community land trusts and other community-oriented urban infrastructure
Storage, cooking and work sessions for several mutual aid groups
Permaculture trainings and education, including the youth oriented education group CoRe and a seed learning library
Use by the Participatory Arts Coop, including meetings and Sunday Shakedown dance sessions.
General co-working among individuals working on nonprofits and other public goods projects. 


We are operating on a strictly nonprofit basis, so every bit donated helps to facilitate this important community resource! Watch for updates and contact us if you are a local org and would like to be involved.