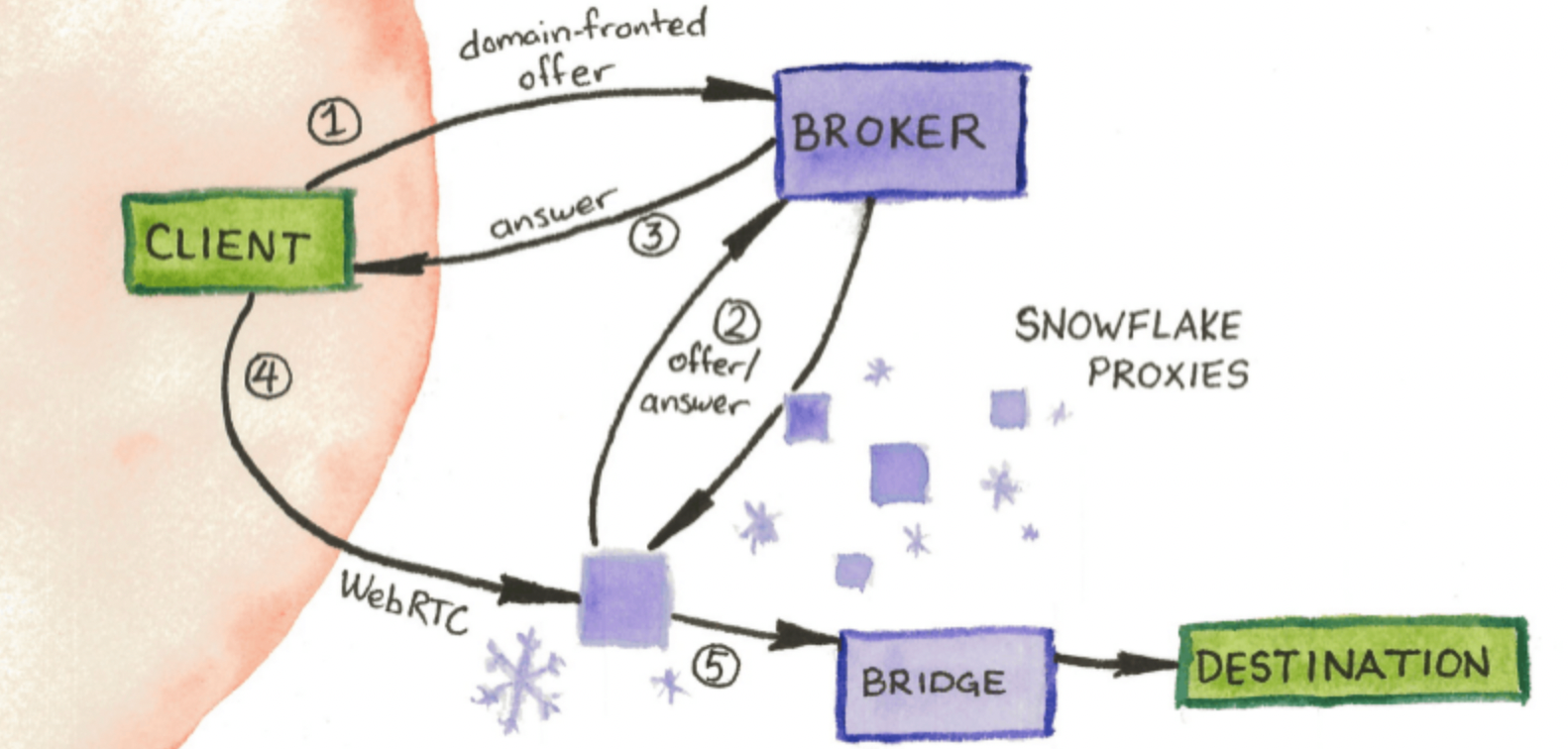 Snowflake Daily Operations
This Project provides funding of Snowflake operational costs.
About
---
Several technologies are available for reaching the internet in a safe way, the Tor project being a prominent example.


But reaching the Tor network is in turn sometimes problematic, due to censors' aim to block open access. Snowflake is one tool designed and implemented to circumvent the blockade.


Snowflake provides thousands of short-lived connections to the Internet that are difficult for government censors to block. These proxies are run by volunteers and the software has been created by volunteers.

Further information, and instructions for how you can help by running a Snowflake proxy:
Recent events in different parts of the world show that this tool for avoiding censorship is essential for possibilities to communicate via the internet and to report to the outside world, while the authorities block ordinary Tor communication.


Snowflake is free to use -- but operating the infrastructure costs money.
Snowflake Daily Operations is providing funding for the operational costs of running the bridge component of Snowflake.
Snowflake Daily Operations is not part of The Tor Project.

Operational expenses are anticipated to be buying, upgrading, and repairing hardware - added up in the budget post Yearly Hardware Depreciation
To this adds paying for Bandwidth and basic system administration, Hosting base cost.
There will also be need for hands-on preventive maintenance, routine inspections or trouble-shooting - so-called "smart hands".

Estimated yearly expense budget                    EUR
Hardware depreciation                                  1 250
Bandwidth                                                      7 500
Hosting base cost                                             750
Smart hands                                                   1 500
Yearly total                                                             11 000


Anything you can contribute to sustain this critical service will be much appreciated!


Our team is made up of volunteers who work to raise funds for the operational costs of running the bridge component of Snowflake.
We do this independently of any links to The Tor Project.
Budget
---
Transparent and open finances.
Total disbursed
€773.58 EUR
| Tags | # of Expenses | Amount (EUR) |
| --- | --- | --- |
| hosting | 1 | €769.62 |
Amount collected
€9,238.23
| Tiers | # of Contributions | Amount (EUR) |
| --- | --- | --- |
| one-time | 19 | €8,990.00 |
| recurring | 6 | €248.23 |
Contribute
---
Become a financial contributor.
Snowflake Daily Operations is all of us
Our contributors
24
Thank you for supporting Snowflake Daily Operations.
Connect
---
Let's get the ball rolling!
News from Snowflake Daily Operations
Updates on our activities and progress.
2023 August update
(David Fifield) The number of users of the snowflake-01 bridge remained stable throughout August 2023—until a small change near the end of the month....
Read more
Published on September 7, 2023 by
Al Smith