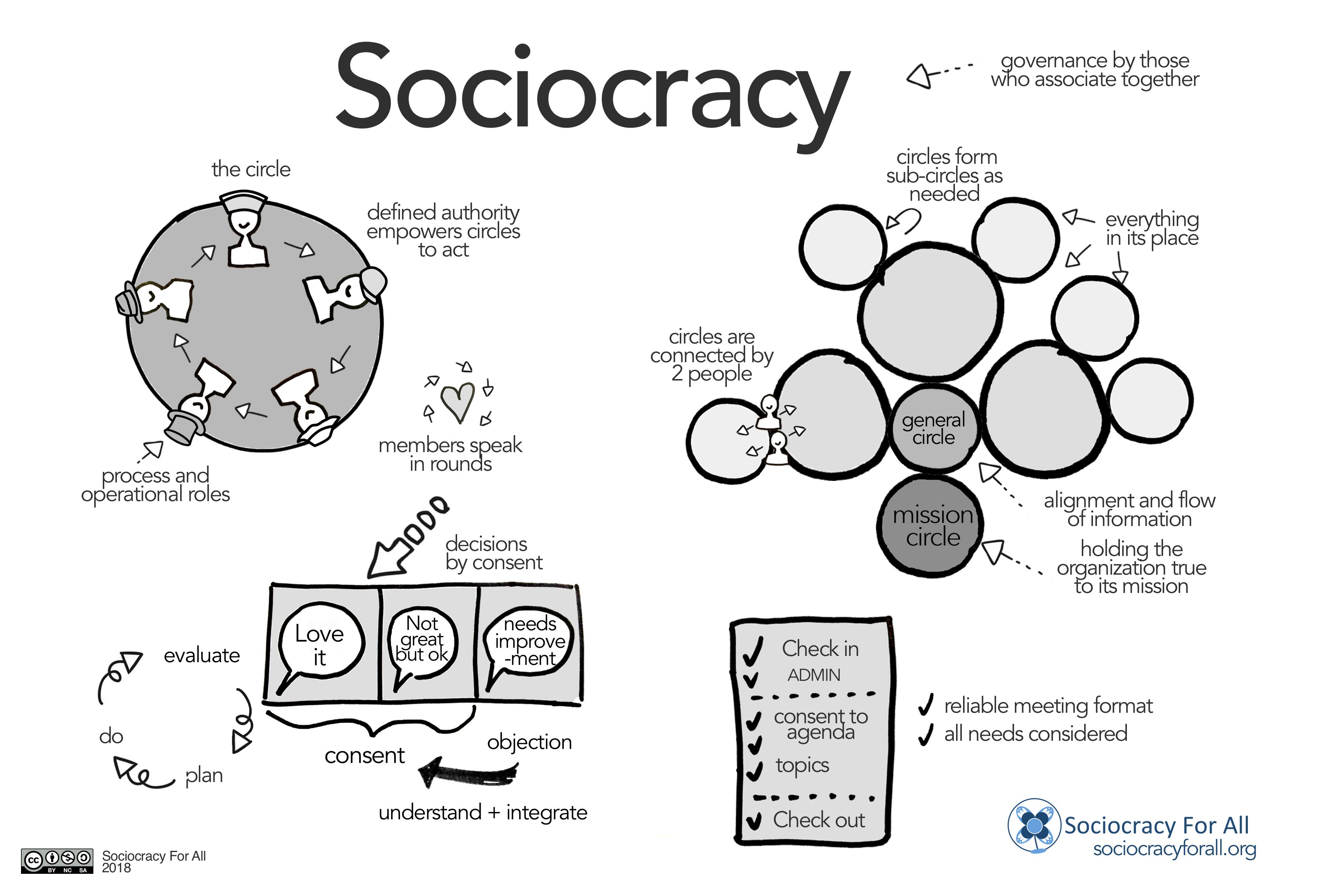 Dynamic Governance Through Sociocracy
A two-part introduction to sociocracy with Ted Rau where we explore the tools needed to design a governance system and practice making decisions together especially when we disagree
Saturday, July 9, 2022, 3:00 PM - 6:00 PM (UTC-06:00)
Connect
---
Let's get the ball rolling!
News from Dynamic Governance Through Sociocracy
Updates on our activities and progress.
About
---
The goal of governance is to improve our connection and our clarity. It helps to know how we make decisions and who decides what. Sociocracy is a set of tools and principles that brings practical guidance on how to go about it. It distributes decision-making to make sure everyone is a decision-maker and offers decision-making by consent, an inclusive and doable decision-making method where each voice matters beginning to end!
This workshop has two parts. In the first part, we will give an overview of the tools needed in governance
how to decentralize and distribute power
how to facilitate inclusive decision-making and meetings
how to get the conversation started
In the second part, we will practice decision-making, in particular, what to do if someone doesn't agree. 
Join this participatory workshop and get inspired by how collaboration in your group could be improved! 
Trainer Bio
Ted is an advocate, trainer and consultant for self-governance with sociocracy. After his degree in linguistics, he encountered peer-oriented governance system and became curious about ways of organizing grassroots groups effectively yet equitably. He is co-founder of Sociocracy For All, a nonprofit with a mission to equip people with the skills and knowledge to self-govern and self-organize. Ted identifies as a transgender man; he has 5 children between 9 and 18. Born in Germany, he lives in an intentional community in Massachusetts. He has written many articles and two books on the topic, the sociocracy manual Many Voices One Song (2018) and a how-to-start guide for new groups, Who Decides Who Decides (2021).


Budget
---
Transparent and open finances.
Total disbursed
$252.04 USD