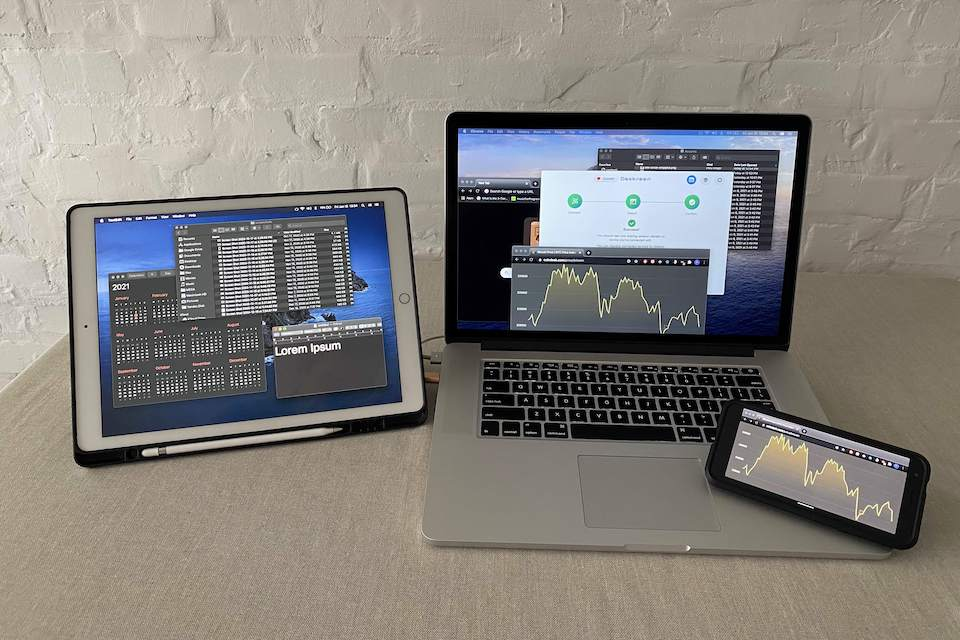 Deskreen
Making Deskreen even better | Deskreen is an opensource desktop app that turns any device with a web browser into a secondary screen for your computer
Contribute
---
Become a financial contributor.
Financial Contributions
Business Partner
Do you use Deskreen in your company? Then this is your chance to make it better for the benefit of your colleagues in your organization. Have a si... Read more
Starts at$300 USD / month
Top financial contributors
Guest
$50 USD since Jan 2021
Florian Krammel
$30 USD since Mar 2021
Ben Geiger
$20 USD since Feb 2021
James Phillips
$20 USD since Mar 2021
harish pillay
$20 USD since Jun 2021
V Widmer
$20 USD since Jun 2021
Thomas Müller
$10 USD since Jan 2021
Igor Barsanti
$10 USD since Feb 2021
Guest
$10 USD since Jun 2021
Guest
$10 USD since Dec 2021
Guest
$5 USD since Jan 2021
Bernhard Üllenberg
$5 USD since Feb 2021
Guest
$5 USD since Mar 2021
Guest
$5 USD since Jan 2022
Incognito
$1 USD since Jan 2021
Deskreen is all of us
Our contributors
20
Thank you for supporting Deskreen.
Budget
---
Transparent and open finances.
Total disbursed
$208.00 USD
Connect
---
Let's get the ball rolling!
News from Deskreen
Updates on our activities and progress.
About
---

Deskreen - is a blend of words 'desktop' and 'screen'.

Deskreen is a free and open source desktop app that turns any device with a web browser into a secondary screen for your computer over WiFi. Deskreen can be used to mirror entire computer display onto any device screen that has a web browser. Also you can limit Deskreen to select only one application window view to share - very useful for presentation purposes. The best feature of Deskreen is to use any device as a secondary screen! To have a true extended desktop experience Deskreen should be used with Virtual Display Adapter. Also without any need for Virtual Display Adapter you can have a teleprompter with Deskreen using your tablet or smartphone. For that Deskreen has Flip Screen Mode that mirrors screen (aka. flip screen horizontally).

"It all started with me wanting to use my iPad as a second screen for my Macbook. But I found that it is already outdated to use a MacOS built in feature called 'Sidecar' and I have to buy a new iPad. I also have a Windows PC and sometimes I needed to use my iPad as second screen for it as well. I tried to look for FREE solutions out there, but I could not find anything that would fit my requirements. Besides, all methods and software I found were different for Windows, Mac and Linux. I got very confused about it. Then I got an idea of creating Deskreen. I decided to make it free and open-source to help people to solve this problem. Deskreen works the same for Windows, MacOS and Linux.
...
People nowadays are buying new devices very often and may have an old tablet, phone or laptop that they stopped using. If your old tablet, phone or laptop is still able to run a browser, Deskreen can help you to bring a new life to your old digital buddy, and you can start using it as a second monitor for your laptop."