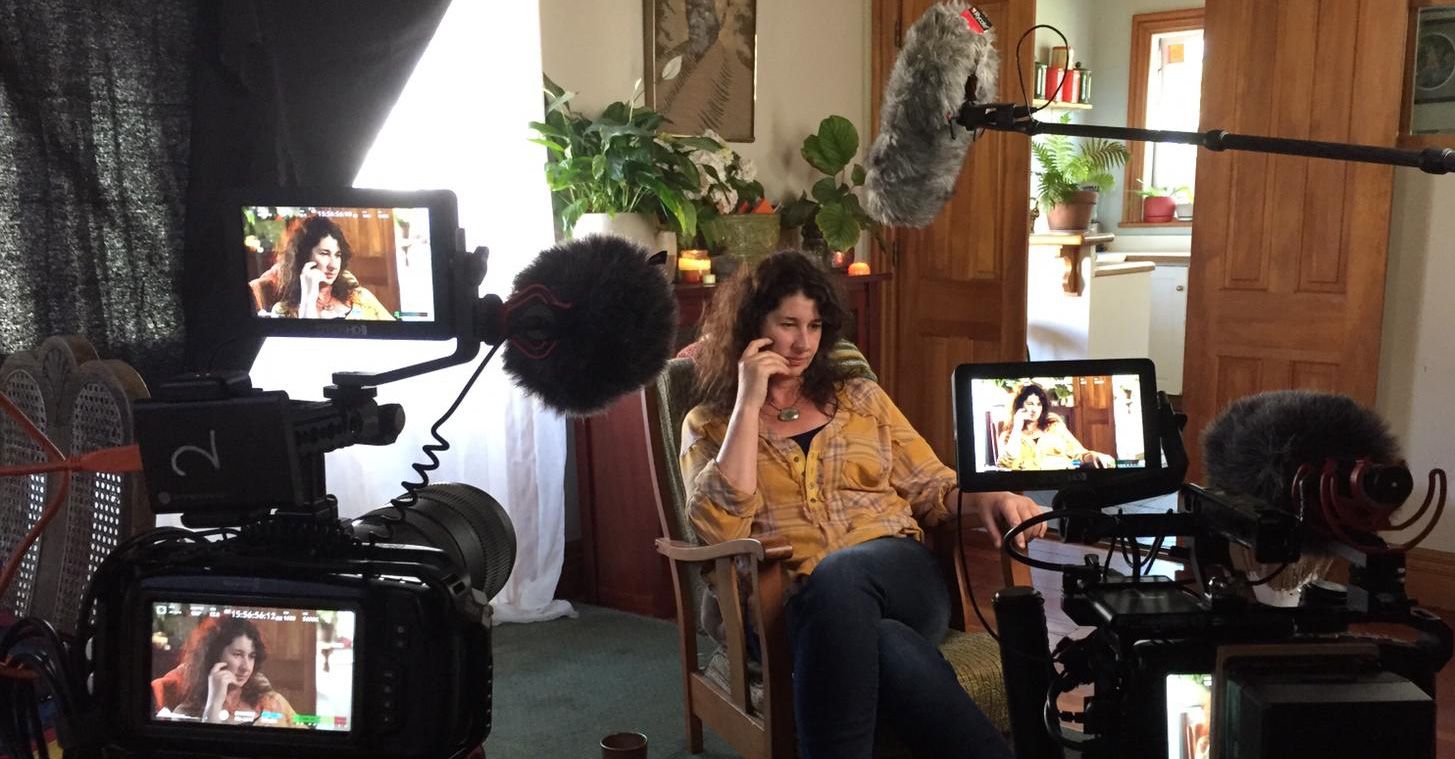 Together We Grow (FUNDED!)
The story of Common Unity – a community hub making a huge difference!
About
---
This 40-minute documentary has now been released.
Our gratitude to Namaste Foundation for fully funding it!
We released this film in February 2022. You can watch the trailer here - click on the image to play it:
Together We Grow tells the story of Common Unity, a community hub in Aotearoa New Zealand with a focus on creating food, housing, and social resilience. Founder Julia Milne is intensely passionate about her community work, with an innate expression of joy in all she does. 



"I'm interested in a world where we all believe in better stories of one another."
– Julia Milne

Why this film?
We first heard about Common Unity in 2018 and the aspect of this many-fold hub that came to our ears was Sew Good, the sewing collective offering community sewing lessons from gifted machines and materials and working with men at the nearby prison to make saleable upcycled goods to help fund meals for local families in need. Sounded like something we should know more about!
When we learned the hub also helps to establish gardens in the back yards of NZ Housing tenants, in a youth facility, the prison, and in a local school, that they were feeding 2000 families a week from those gardens, that they had a recycled bikes workshop, a solar-powered commercial kitchen, a food co-op, and a bustling low-priced organic food cafe, we knew we had to visit.
A bit of background
In 2014, while recovering from cancer, as a solo mum raising three kids, Julia Milne began working with children at Epuni School, teaching them to grow food and knit blankets. Today, Common Unity Project Aotearoa and its home base, The ReMakery, are helping the local community to become resilient at a time when our society's structures tend to do the opposite. 

The person behind it all is an inspiration in herself – a strong, resilient, passionate woman with her community's wellbeing at the heart of everything she does. 


"Common Unity's approach to giving to the community is all about the alongside ... We didn't want to parachute any services in from other places, this is simply something that we create for ourselves, with one another, responding to what it is that we see in this community. "
– Julia Milne

Our hopes for Together We Grow
We've made this film because we hope Julia's story will motivate others to get involved in creating community resilience in one of the many ways described here, or in their own unique way. As with all our films, our aim is to inspire joyful action in response to the many challenges humanity is facing.
In time for the release of the film, CUPA launched an open source resource kit, The Common Unity Grow Kit, to share their skills and knowledge with people everywhere who feel inspired to become active in their community. This is the ultimate scenario for us here at Happen Films – a toolkit people can grab straightaway after being inspired by the film. We're so excited to see what impact this combined effort could make!
Find out more about the Grow Kit
.
Production details
This was a larger-than-usual production for Happen Films due to the generous funding contributed by Namaste Foundation in 2020. The wonderful folk at Namaste allowed us to use the funds for the projects of our choice and initially we planned to divvy the money between various short films in pre-production at the time. However, we also loved the idea of making a long-form film where we could delve deeper into a story, and the Common Unity Project felt like the perfect project for that.
We were able to plan a 10-day shoot in December 2020 with our sound recordist joining us for the entire shoot, and a second camera person on the team for four critical days. Because we couldn't film everything we needed in that 10 days – weather! – and because funds made it possible, we returned as two crew in January for three days and as three crew in August for a last dash when we were given permission to film the CUPA gardens at Rimutaka Prison. The film is now in post-production and due for release in October 2021.
As always, our crew have been paid standard industry rates, and the production has been very low waste.
Time frame
Filming took place during December 2020, January and August 2021 – 16 days total
Editing took place over June–August 2021
Release is planned for October 2021 with a national screening tour (Covid situation allowing)
Budget
Production
– director, producer, camera operators, writers, sound recordist: $28,000.00 NZD
Post-production
– transcription services, editor, colourist, composer, sound mixer, graphic design, publicity, subtitles: $25,000.00 NZD
Production overheads
– travel, accommodation, food, insurance, gear hire, hard drives: $12,000.00 NZD
TOTAL: $65,000 NZD (fully funded by Namaste Foundation in December 2020)Location
Awakairangi Lower Hutt, Aotearoa New Zealand
Release
The film released in February 2022 and is now available to purchase for US$5 from our website
Store
. Community and organisation screening licences are also available. Help us share this film by arranging a screening for your own community – who knows what you might inspire to Happen!
.
Budget
---
Transparent and open finances.
Total disbursed
$63,603.77 NZD