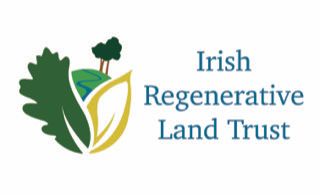 Irish Regenerative Land Trust
The Irish Regenerative Land Trust [IRLT] is a network of people in Ireland who want to regenerate land and communities simultaneously.
Contribute
---
Become a financial contributor.
Top financial contributors
Incognito
€20 EUR since Feb 2021
Irish Regenerative Land Trust is all of us
Our contributors
4
Thank you for supporting Irish Regenerative Land Trust.
Budget
---
Transparent and open finances.
Connect
---
Let's get the ball rolling!
News from Irish Regenerative Land Trust
Updates on our activities and progress.
IRLT joins Open Collective
The Irish Regenerative Land Trust has joined Open Collective. We're here to help build the organization by receiving financial support and linking with allies. We're using this site to 'hack the land' and regenerate land and communities sim...
Read more
About
---
What are we up to?
The Irish Regenerative Land Trust [IRLT] is a network of food producers, healthcare professionals, landowners, community development workers, academics, professionals, land 'seekers' and other citizens. We are brought together by our mission to create a new-commons approach to land-access for new-entrants in order to facilitate direct climate action through a regenerative land use approach. We aim to establish a Community Land Trust for ecological regeneration as a democratic and participatory organisation that can hold land and assets in charitable trust and lease lands directly, or as a facilitator or partner for regenerative use, including farming, food production, mixed native woodland and forestry, wetland restoration, conservation, and sustainable community-led housing.

What's the 'regenerative' aspect about?
Regenerative practice entails making changes on the land that are good for the soil and biodiverse species, including humans and their minds, bodies and communities. Regenerative practice counteracts and reduces extractive practices that mine the soil and exhaust diverse species, including humans. In agriculture specifically, regenerative practice sequesters carbon within healthy soils, via above-ground biomass, and through habitat/biodiversity that improves watersheds and enhances ecosystem services. With respect to housing, regenerative practice requires buildings with low environmental impact with responsible resource consumption of robust long-term natural materials and design elements that encourage food production and promoting biodiversity. We can regenerate land and communities, simultaneously. Let's go!

Why is this needed?
Ireland needs an enterprise like the Irish Regenerative Land Trust. There is a gap needing to be filled: an opportunity exists to create an enterprise that can hold land and assets in charitable trust and lease lands for regenerative use, thereby addressing climate change by reducing greenhouse gas (GHG) emissions, capturing carbon, and demonstrating the potential and value of green land leases that facilitate ecological regeneration, in the first place, but also social and community regeneration, for example by creating opportunities for new land users to pursue and achieve ecological regeneration. 
We have been approached by people who wish to farm land for food production at market-gardening scale and other uses but have a problem accessing land, and we have been approached by land-owners who wish that their land is managed "more ecologically" but they do not have the skills themselves to do so. IRLT will connect these people.

Again, what? 
The key underlying issue here is that a shift is underway globally as more and more land users begin to foreground climate action planning. A new suite of organic and/or regenerative land use practices is emerging, which demonstrates significant bio-sequestration capacity. In Ireland, the land use sector – dominated by 139,000 farms – is responsible for over one third of national greenhouse gas (GHG) emissions, yet there has not been a sufficient shift toward climate action planning, nor enough adoption of bio-sequestration practices. There are, however, some early signs of change. Inter-agency alignment is taking place between local authorities, semi-state bodies, farmers and farm advisory, non-governmental organizations (NGOs), and other emerging project development networks with land use as a key focus. Government departments engaged in the land use sector have been advised that Ireland has all of the ingredients required for land use innovation at scale, although an obstacle is the siloed nature of knowledge. For example, there are no models for "green land leases" that facilitate basic ecological protections for leased land in use in Ireland. Nor are there project development structures that span multiple land packets across varied ownership or lease structures that mandate ecological protection. Moreover, in the light of the EU's Common Agricultural Policy (CAP) mandating that 20% of a farmer's Basic Payment will be linked to ecological schemes from 2021 onward, questions of ecological regeneration are coming to the fore like never before.

So what will we do? 
- We will provide a secure and clear roadmap for landowners (including public authorities) to lease land for regenerative purposes. 
- We will offer bespoke, long-term 'green land leases' to new land users, thereby helping groups / communities to identify and access land for regenerative land use projects. 
- We will help groups/communities/farmers/estates/etc develop 'regenerative' plans across a variety of settings: agriculture, conservation, urban/municipal, housing, allotments etc. 
- We will engineer, facilitate and drive a network of ecological service providers to assist in training and advising groups / communities as well as farmers and/or estates on 'regenerative' land use practice. 
- We will leverage partnerships to monitor and audit ecological indicators such as water quality, condition, and soil organic carbon, thereby helping groups / communities to record and improve their 'regenerative' practices. 
- We will work with social enterprises and / or the private sector to establish the basis for receiving and extending solidarity tithes. 

Can you help?
Yes you can! You can donate, if you want. You can tell us about your skills and we can find ways to integrate you into our activities. Or you can help us find land or tell others about what we're doing, including those who want land. Get in touch!

Do we work with others already?
Yes. We have good ties with Green Restoration Ireland; Hope and Homes; Talamh Beo; Community Land Trust, UK; European Access to Land Network; and Kulturland in Germany. We're keen to connect to others, so please get in touch.