The New School Mutual Aid Fund has been archived.
The New School Mutual Aid Fund has been archived and is no longer active.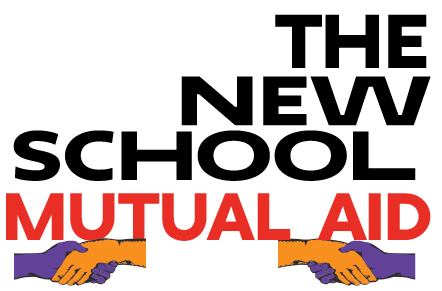 The New School Mutual Aid Fund
The New School faculty and staff coming together with the intention to support the TNS community now and in the future.
About
---
This funding platform was created by a small group of The New School faculty and staff to address the needs of The New School Community since the advent of COVID-19. Our primary purpose was to identify ways to collectively care for one another. 

Given the rapid pace of change and the challenges around campus-wide communication, we felt compelled to respond to the immediate and urgent needs of our community. Many have experienced termination, reduced employment, separation from the university, or experienced an increase in household needs. As staff and faculty of The New School, we embrace the justice and care components of our university mission and quickly responded by forming a mutual aid working group. Our aim was to establish a proactive rather than reactive response to evolving needs on our campus so that we may continue to thrive in times of crisis.

As of September 22, 2022, we have raised $34,378.66 from 188 contributors, with recurring monthly contributions of $660.00.  We have distributed over this balance to date to support the cost of living, healthcare, food, child care, elder care, and more.  All donations are tax deductible. 

On October 31, 2022, we will archive the Collective and disband our membership. Archiving will automatically terminate all future contributions. If you prefer to halt your contribution now, feel free to do so.

This platform and the TNS Mutual Aid Form was built on the radical origins in mutual aid stemming to the "University in Exile," when the institution opened its doors to scholars fleeing Nazi persecution. We have hosted MLK and Du Bois. We have been a place for New Yorkers of all walks of life to continue their education and find hope in ideas and transformation. 
Thank you for your support.
In Community,
The New School Mutual Aid Fund Team
(See "
Contributors
" section and select "Team" for more on our community members)
Contributors
---
The New School Mutual Aid Fund is all of us
Our contributors
189
Thank you for supporting The New School Mutual Aid Fund.
Connect
---
Let's get the ball rolling!
News from The New School Mutual Aid Fund
Updates on our activities and progress.
TNS December Mutual Aid Update
As of December 18, we have disseminated $6,371.10 of aid. We have raised $8.123.83 from 94 contributors. With that, we have helped 12 TNS community members, however, we were unable to fill everyone's full financial requests. Our community m...
Read more
Fund Update Dec 4, 2020
As of December 4, 2020, The New School Mutual Aid Fund has raised $4,965.08, with an average donation of about $50. Those who have chosen to provide recurring monthly contributions total $554.25, and many in our community have provided one-...
Read more
Conversations
Let's get the discussion going! This is a space for the community to converse, ask questions, say thank you, and get things done together.
Thank you!
Published on November 17, 2020 by Natalie Gross
Thank you to our early donors for supporting this cause! With support like this we know we will reach our goals soon. In Community, The TNS Mutual Aid Fund Team
Budget
---
Transparent and open finances.
Reimbursement #99270
transportation
other aid
Total disbursed
$35,284.46 USD