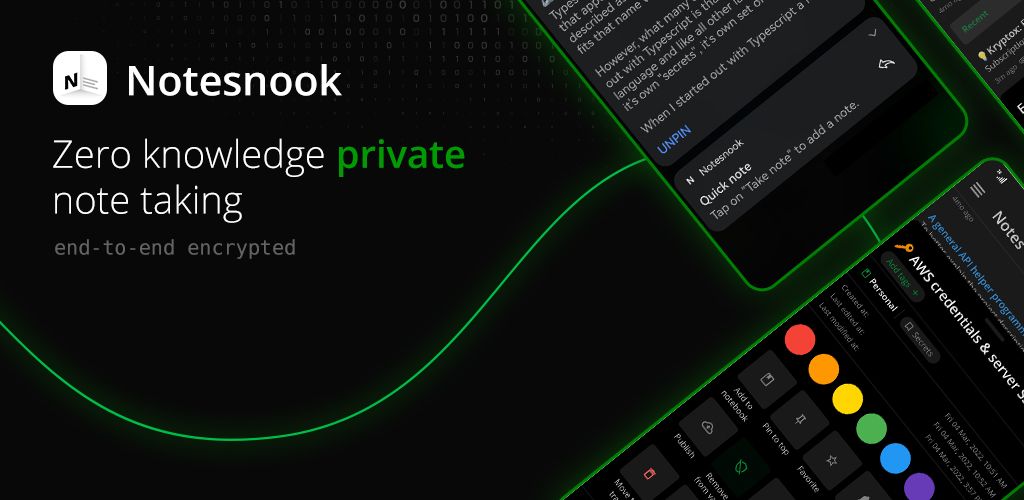 Notesnook
An end to end encrypted note taking alternative to Evernote.
Contribute
---
Become a financial contributor.
Financial Contributions
Become a sponsor & support Notesnook development & growth. Read more
Starts at$1 USD
Top financial contributors
Notesnook is all of us
Our contributors
4
Thank you for supporting Notesnook.
Budget
---
Transparent and open finances.
Connect
---
Let's get the ball rolling!
Conversations
Let's get the discussion going! This is a space for the community to converse, ask questions, say thank you, and get things done together.
Looking for security companies for a 3rd party audit
Published on September 5, 2022 by Abdullah Atta
Hello everyone! Notesnook just went open source and I think this is a great time to start a 3rd party audit. I have heard such an audit can take multiple months so we want to start early. However, before we do that we need a reliable &...
About
---
Notesnook is a free (as in speech) & open source note taking app focused on user privacy & ease of use. To ensure zero knowledge principles, Notesnook encrypts everything on your device using XChaCha20-Poly1305 & Argon2.


Notesnook is our proof that privacy does not (always) have to come at the cost of convenience. Our goal is to provide users peace of mind & 100% confidence that their notes are safe and secure. The decision to go fully open source is one of the most crucial steps towards that.


Open Source License
Notesnook would not be here today without the efforts of the open source community; starting from the lowest layer (Linux) to the highest (React). For this very reason, we have decided to go with an (A)GPLv3 license. Freedom is a part of open source & we do not want to restrict you in any way.


Independent & self funded
Development on Notesnook started out in 2019. We released the first version in April 2021 which included our subscription based Pro plan. Ever since Notesnook has only been funded through the subscription fees paid by our wonderful subscribers. This allows us to make independent decisions that are best for your privacy.


Frankly speaking, we don't have the resources or the know how to start a funding round nor do have any intention to do so. VC backed start ups are great & all but they lose their freedom & independence in order to stay relevant and profitable.


What makes Notesnook different from other privacy-friendly note taking apps?
Notesnook is a user focused note taking tool meant to offer a fully end-to-end encrypted note taking experience for everyone. This includes the majority of our less tech savy users who just want to take notes without all the hassle.


In short, Notesnook aims to offer a complete replacement for other insecure note taking tools like Evernote & Notion. Because let's be honest, these tools offer great productivity but at the cost to your privacy.


— May privacy reign