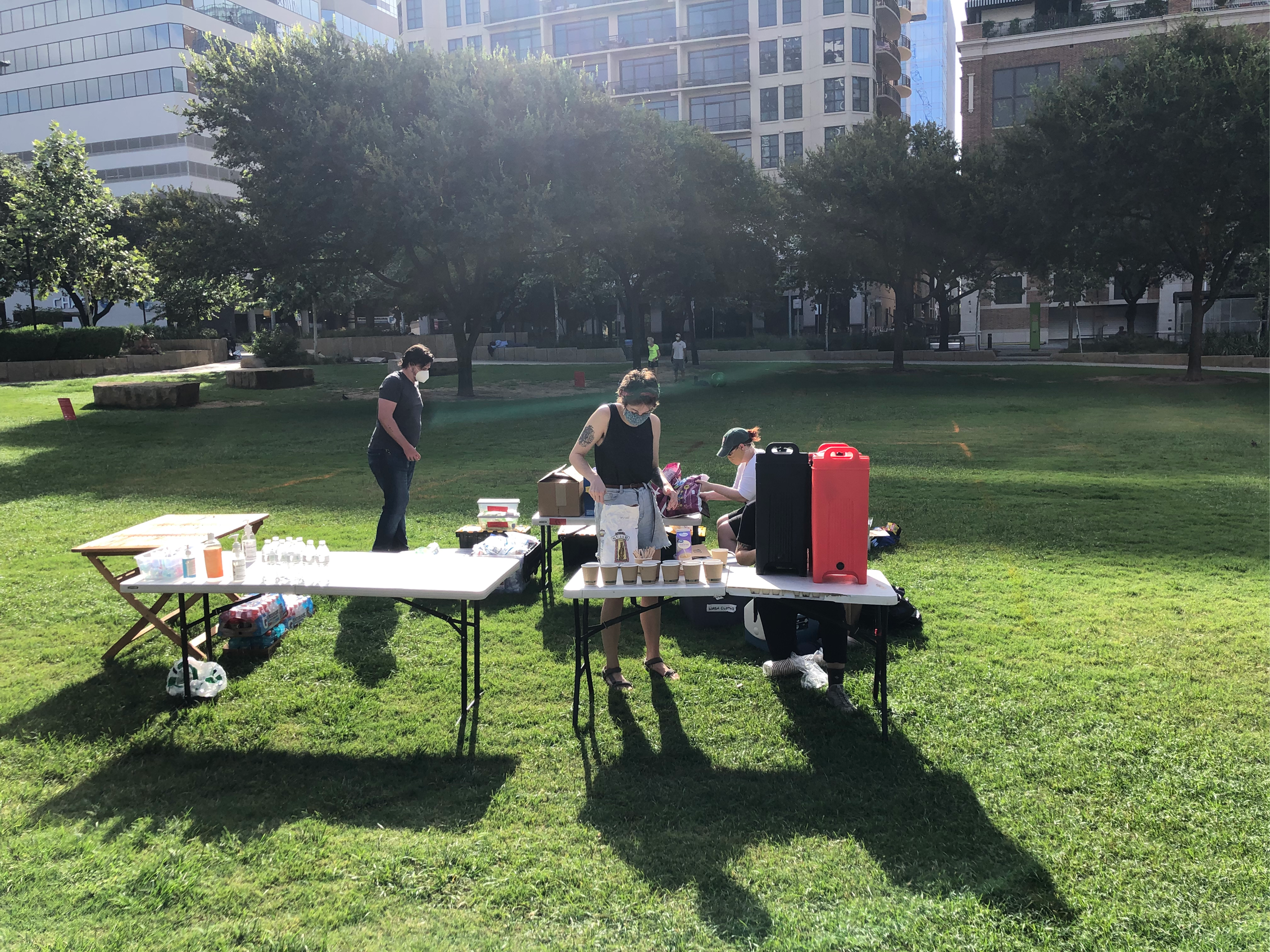 Street Forum
Mutual aid centering unhoused Austinites since 2019. Check us out on instagram @streetforumatx for updates on our current projects.
Contribute
---
Become a financial contributor.
Events
Street Forum is hosting the following events.
Street Forum is all of us
Our contributors
474
Thank you for supporting Street Forum.
Budget
---
Transparent and open finances.
Total disbursed
$98,194.69 USD
Amount disbursed
$97,440.00
| Tags | # of Expenses | Amount (USD) |
| --- | --- | --- |
| posted | 205 | $63,440.89 |
| no tag | 89 | $33,999.11 |
Contributions received
518
Amount collected
$91,331.97
| Tiers | # of Contributions | Amount (USD) |
| --- | --- | --- |
| one-time | 380 | $50,736.46 |
| recurring | 138 | $40,595.51 |
Connect
---
Let's get the ball rolling!
News from Street Forum
Updates on our activities and progress.
It's Getting Scary Cold! Let's Keep Austin Warm
We've made it through the summer here in Austin. Our unhoused neighbors have faced even more violence and harassment from the police as the enforcement of the camping ban is ramped up, and the need for a more permanent housing solution for...
Read more
Published on October 30, 2021 by
Kim V
Incoming: Cold Weather Accessories!
Hey y'all! Thanks so much to folks who have donated to our Stay Warm Drive - our first shipment arrived this week! so far, we've got 48 of these excellent beanies, gloves, warm socks, and Mylar blankets. Add in a few boxes of hot hands from...
Read more
Published on November 21, 2020 by
Kim V
About
---
Street Forum was formed in Spring of 2019 as part of a local grassroots movement to decriminalize homelessness in Austin, TX. Our original mission was to gather feedback and rally support for the repeal of no sit/no lie, no camping, and anti panhandling local ordinances which punish people in need and have no benefit other than to placate those who want to see homelessness hidden away, far from needed resources. We began by providing hot breakfast and know your rights literature and we've evolved into providing many more services. We have set up our pop up cafe in Republic Square Park every Sunday for 3 years (we missed one week when quarantine first began). The Covid-19 pandemic has forced us to dramatically adapt our format and routines to ensure we can safely continue providing essential services. Culturally, Street Forum aims to be distinct from institutional care orgs serving our local unhoused community. We operate on a solidarity driven model and train our housed volunteers in navigating privilege gaps. We believe that housing is a human right and that being housed has nothing to do with being deserving but everything to do with being lucky. We understand wealth redistribution as the enactment of justice and reject the othering of recipients that often comes with "charity" driven work. We have no connection to the carceral system and no confidence in policing as a concept. We recognize that colonialism, a complex made of white supremacy and capitalism, is the root cause of homelessness. The safety and comfort of people sharing spaces where we serve is at the core of our mission. We provide volunteer trainings in mental health first aid, crisis deescalation, Covid safety, and filming the police. We encourage volunteers to slow down and focus on the human connections that happen during our events. We welcome all the anger and despair that comes with homelessness and make space for them to be expressed safely. We serve food and supplies because people need them and it brings people in. We sit down and listen because people need that too.