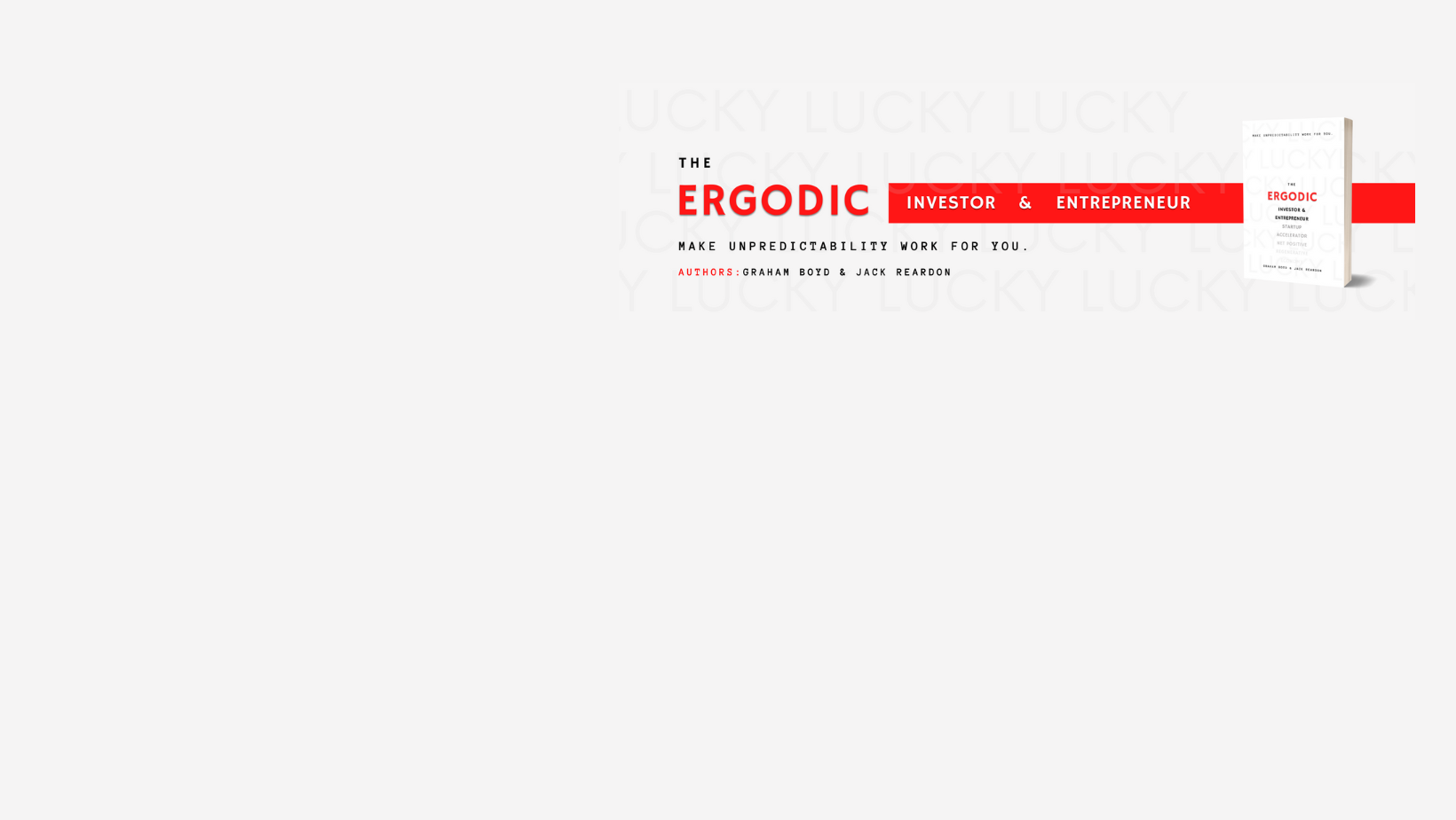 The Ergodic Investor and Entrepreneur
This book is an invitation to unlock the future of investing and to join us in delivering better outcomes. Visit the Author's website: https://graham-boyd.biz/lucky-the-ergodic-investor-and-entrepreneur/
Budget
---
Transparent and open finances.
About
---
Are you looking for a way to not just grow your wealth, but also make a positive impact on the world? Are your investment strategies not delivering the results you need, in today's world of ever more rapid, ever less predictable change?

Introducing The Ergodic Investor and Entrepreneur, the new book by Graham Boyd and Jack Reardon, authors of the award-winning Rebuild: the Economy, Leadership, and You. Based on extensive research, this book exposes a little-known flaw in current business and economics practices that causes investors and founders to systematically overestimate upside potential while underestimating downside risks.

Through The Ergodic Investor and Entrepreneur, you'll learn how to make unpredictability work for you.  Navigate the unpredictable dynamics of business, reduce your risk of failure, and increase your chances of success. Whether you're an entrepreneur, angel or VC investor, or managing a large fund, this book will give you powerful way to maximize outcomes and make a real difference in the world.

Don't just take our word for it. Graham is a start-up founder and corporate innovation manager with extensive experience in leading businesses, and Dr Jack Reardon is the founding editor of the International Journal of Pluralism and Economics Education, and a professor of economics at the University of Wisconsin - Eau Claire.

By supporting this crowdfunding campaign, you're not just getting your hands on a game-changing book, you're supporting a movement toward a regenerative and net-positive future. So why wait? Invest in your future and in the future of our planet by contributing today!

Target breakdown: 
Base target: to cover the basic costs of editing, publishing, and initial marketing: €5,000 
Plus first stretch: to get the book published faster and better: +€5,000 
Anything beyond €10,000 will go towards easing the application of ergodic investment strategies for investors and entrepreneurs enabling them to continuously stay ahead of the game. Funds will also be used to fund the practitioner's companion guide, expanding on the how-to's or ergodicity, and featuring invited contributions from the world's vanguard economists. All this novel insight will reach our ecosystem's recurring contributors first!

Don't miss out on this once-in-a-lifetime opportunity.

Invest in The Ergodic Investor and Entrepreneur and share it with every community of like-minded people you know!
                                                                          What will be the impact of your donations?
The campaign will help us get a high-quality book, as fast as possible, to those that need this knowledge the most: investors, entrepreneurs, leaders, and decision-makers. In short, everyone who can apply the strategies in it in such a way that their efforts have a positive impact on people, planet, and profit. Be part of getting us all one step closer to multi-solving the most complex, interlinked, and multi-layered urgent issues of our time.
Not convinced yet? We can guarantee your donations will be put to good use.
The Ergodic Investor and Entrepreneur
will be the second ground-breaking crowdfunded book published by the authors. Their first?
Rebuild - The Economy, Leadership, and You, A toolkit for builders of a better world. Check out our previous successful fundraising campaign
here
!
Interested in Rebuild? Learn more
here
.
~~~~~~~~~~~~~~~~~~~~~~~~~~~~~~~~~~~~~~~~~~~~~~~~~~~~~~~~~~~~~~
Start benefitting today: download a teaser version of "The Ergodic Investor and Entrepreneur" now by following this
link
!

If not now? When?
If not you? Who?
We are the ones we've been waiting for.
Contribute now!

What workshops are offered for your contributions? Check it out below!
Contribute
---
Become a financial contributor.
The Ergodic Investor and Entrepreneur is all of us
Our contributors
19
Thank you for supporting The Ergodic Investor and Entrepreneur.
Philippe Schm...
(Ergodium) Patron of Unpred...
€1,250 EUR
Bernhard Possert
(Gold) Ecosystem Pioneer
€550 EUR
Robbie Stamp
(Bronze) Ergodic Experience
€100 EUR
Connect
---
Let's get the ball rolling!
News from The Ergodic Investor and Entrepreneur
Updates on our activities and progress.
Join us for Graham's Live Q&A on 24/2/2023
Be among the first to harness the power of ergodic investment strategies and make unpredictability work for you! Join Graham on Friday 24th of February at 17:00 CEST for a Live Q&A on "The Ergodic Inves...
Read more
Valentine's Update <3 !!!
We want to wish our dear supporters and friends a happy Valentine's day! Receiving your contributions towards our new book, and our shared regenerative future, is, in earnest, the finest gift we could ask for. In gratitude, we want to share...
Read more