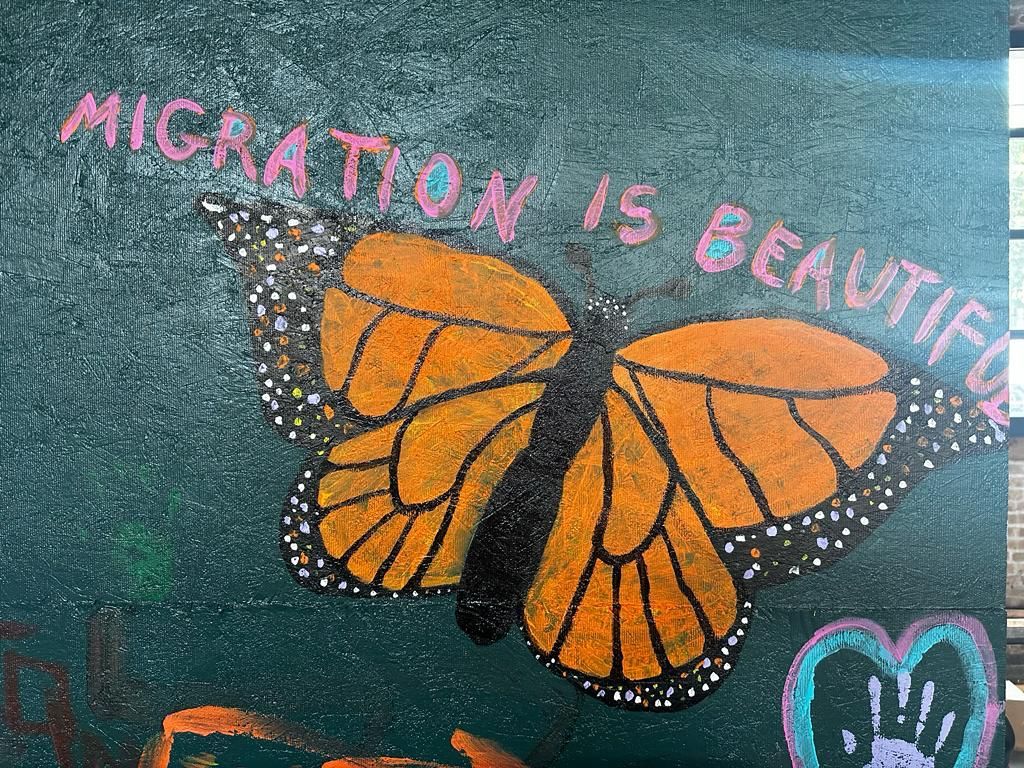 Todo Para Todos
Building a home through mutual-aid alongside newly-arrived migrants + asylum seekers in Pilsen, Chicago
About
---
Todo Para Todos - meaning "Everything for Everyone" in Spanish - is a community home organized by a collective of volunteers working alongside 220 newly arrived asylum seekers and migrants. 


Todo Para Todos provides more than just shelter. Our robust and longstanding coalition of neighborhood organizations, social services and bilingual advocacy groups have partnered with Todo Para Todos to serve the many needs of our residents including: 
Detailed immigration case management through the Binational Institute of Human Development
Know Your Rights trainings from Pilsen Neighbors Community Council
Onsite medical assessments and support from the Chicago Hispanic Health Coalition
Bilingual school enrollment and family case management through Chicago Public Schools Network 7, including wraparound family services such as Parent University 
Onsite mental health support groups facilitated by local professionals
Complete daily onsite meal support from New Life Ministries, The Greater Chicago Food Depository, Chicago Food Sovereignty Coalition, and sustained/ongoing partnerships with surrounding local businesses and restaurants. 
While Todo Para Todos was created to address the crisis of migrants arriving in Chicago without food, water, shelter, or any support, the influx of asylum seekers is not the root of the issue. The real crisis is a misallocation of resources by global capitalist systems. Our mission at Todo Para Todos is to show each other that we can take care of each other. We have the ability to organize ourselves, provide material resources, and co-create joy and community with nothing but people-power and intentionality.
We need your support to help us keep this place of joy, understanding, and radical community building alive while we work to transition our residents into permanent housing. With your help, we can create a society that embraces our new neighbors and empowers them to build a life of dignity and purpose here in Chicago.

Funds will be used directly and immediately to fund the needs of our residents. These needs include but are not limited to food, clothing, medications, hygiene supplies, bedding, transport to court dates, Ventra cards, SIM cards. Our vision is that our group's mission is temporary: any funds that are raised beyond immediate needs at Todo Para Todos will be used to support our residents in moving into permanent housing.


Solidarity Links


We stand in solidarity with our comrades at the
Chicago Police Station Response Team
- a network of volunteers meeting the needs of recently arrived asylum seekers sheltering in police stations. Please consider supporting their efforts as well:
https://opencollective.com/chipolicestationresponse
Contribute
---
Become a financial contributor.
Todo Para Todos is all of us
Our contributors
2
Thank you for supporting Todo Para Todos.
Budget
---
Transparent and open finances.
Total disbursed
$44,620.12 USD
Connect
---
Let's get the ball rolling!
News from Todo Para Todos
Updates on our activities and progress.