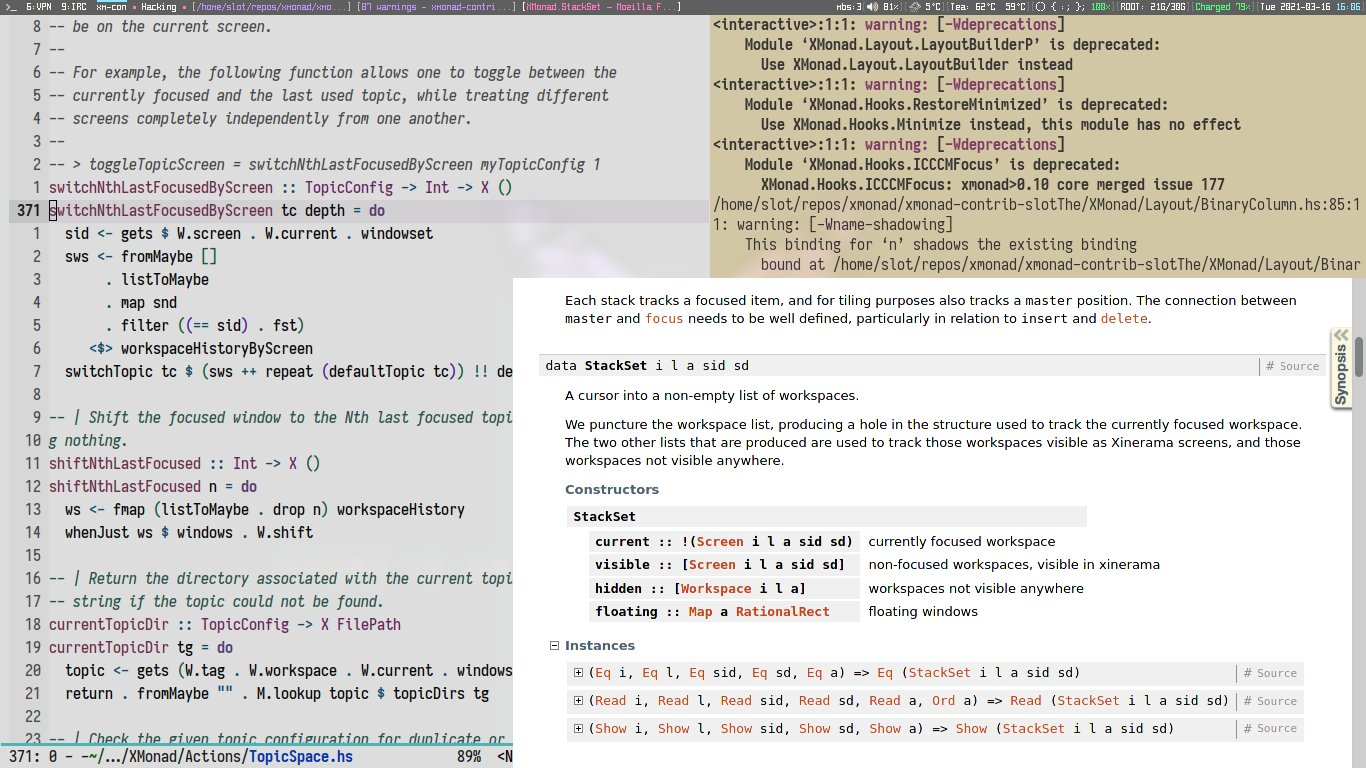 xmonad
Dynamically tiling X11 window manager that is written and configured in Haskell.
Contribute
---
Become a financial contributor.
Top financial contributors
Individuals
glw
$550 USD since Dec 2021
Guest
$100 USD since Nov 2021
ntc2
$85 USD since Feb 2022
Hendrik Süß
$50 USD since Nov 2021
Jezza
$40 USD since Nov 2021
Nestor Arocha
$20 USD since Nov 2021
William
$20 USD since Aug 2022
kronn
$20 USD since Mar 2023
xmonad is all of us
Our contributors
28
Thank you for supporting xmonad.
Budget
---
Transparent and open finances.
Total disbursed
$6,489.45 USD
About
---
It's been around since 2007 and has a great track record in stability. There's an active, vibrant community of users and developers who help each other and contribute fixes and extensions. Keeping this community organized, reviewing and merging contributions and responding to bug reports is almost a full-time job, however, not to mention doing actual development. We've been struggling to find volunteers to do all this work, especially the less exciting bits like documentation.


Your help is needed to keep the project alive and well. We'd like to raise enough funds to enable at least one core developer to work on xmonad full-time (or several part-time). If the COVID-19 pandemic allows it, we'd also like to use the money for travel to conferences, hackathons or meetups so that we can meet each other and also to meet you, our users, and hack on xmonad together.
What's ahead of us:
We recently released 0.17.0 and we've already started planning features and bug fixes for 0.17.1 and 0.18.0:
There are dozens of issues, features requests and pull requests that we haven't had the bandwidth to deal with yet. Yes, there are projects with thousands open issues, but wouldn't it be nice to not be one of them? :-)
Wayland: It's becoming increasingly clear that the days of X11 are over and some Linux distros are already switching to Wayland. We're committed to keeping xmonad on X11 stable and alive as long as necessary, but if time allows, we should explore the Wayland ecosystem and figure out what it means for xmonad. Do we go all in on waymonad? Shall we try to keep xmonad a pluggable window-management component for another Wayland compositor? Honestly, we don't know yet. This one is a bit of a stretch goal: we might need more than one person full-time to actually make this happen.