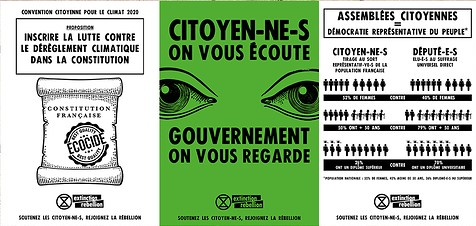 XR Ardeche
Extinction Rebellion est un mouvement qui prône la désobéissance civile pacifique pour exiger des actes qui répondent aux dangers des changements climatiques.
Contribute
---
Become a financial contributor.
XR Ardeche is all of us
Our contributors
4
Thank you for supporting XR Ardeche.
Budget
---
Transparent and open finances.
About
---
Nous faisons face à une urgence mondiale sans précédent. Les gouvernements ont échoué à nous protéger malgré les solutions connues et préconisées. Il est donc de notre devoir d'agir au plus vite.

NOUS EXIGEONS :
1. La reconnaissance de la gravité et de l'urgence des crises écologiques actuelles et une communication honnête sur le sujet.
2. La réduction immédiate des émissions de gaz à effet de serre pour atteindre la neutralité carbone en 2025, grâce à une réduction de la consommation et une descente énergétique planifiée.
3. L'arrêt immédiat de la destruction des écosystèmes océaniques et terrestres, à l'origine d'une extinction massive du monde vivant.
4. La création d'une assemblée citoyenne chargée de décider des mesures à mettre en place pour atteindre ces objectifs et garante d'une transition juste et équitable.