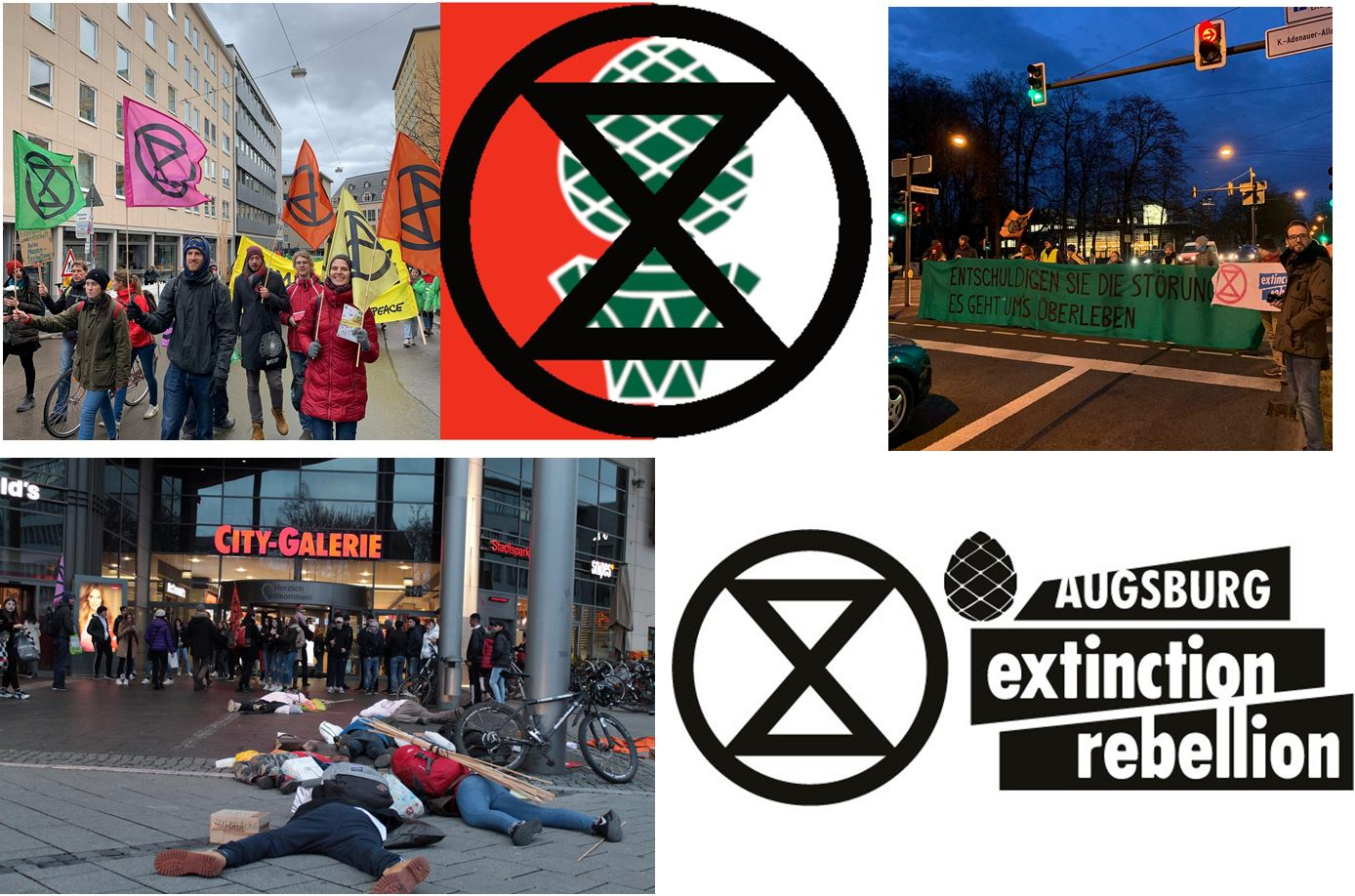 XR Augsburg
Ortsgruppe Augsburg von Extinction Rebellion
Thanks to your financial contributions, we are operating on an estimated annual budget of €75
Become a contributor
XR AUX Ressourcen Rebell:in
Deine monatliche Unterstützung gibt unseren Aktions-Rebell:innen die Möglichkeit, ihre kreativen ... Read more
Augschburger Schbonsor:in
Wer uns eine einmalige Unterstützung gibt, einfach weil er/sie gerade etwas übrig hat, der kann d... Read more
Top financial contributors
What's new with XR Augsburg
Stay up to dates with our latest activities and progress.
Wie spendet man uns ?
Man muss seine E-Mail eingeben. Dann erhält man eine Mail mit den Zahlungsdetails (s.u.) und kann eine Online-Überweisung tätigen. OpenCollective hat seine Bankverbindung in Belgien, daher die IBAN mit BE54 am Beginn.
Published on March 9, 2020 by Gregor Beck
Budget
See how money openly circulates through XR Augsburg. All contributions and all expenses are published in our transparent public ledger. Learn who is donating, how much, where is that money going, submit expenses, get reimbursed and more!
Financial contribution to XR Augsburg
Incognito |
3/10/2020
|
View Details 
Financial contribution to XR Augsburg
Incognito |
3/10/2020
|
View Details 
Today's balance
€57.01 EUR
Estimated annual budget
~ €75.00 EUR
XR Augsburg is all of us
Our contributors
4
Everyone who has supported XR Augsburg. Individuals and organizations that believe in –and take ownership of– our purpose.
About
Liebe:r Unterstützer:in,
die Augsburger Ortsgruppe von Extinction Rebellion (XR) ist eine aktive, stabile Ortsgruppe geworden. In regelmäßigen Aktionen üben wir zivilen Ungehorsam in und um Augsburg, um dafür zu sorgen, dass wir Bürger:innen und vor allem die Entscheider:innen in Politik und Verwaltung sich der Klimakrise stellen: die Wahrheit sagen, jetzt handeln, und Politik neu leben.


Wir engagieren uns auch in Bündnissen und werden die Rebellion Wave im Mai in Berlin, wo sich tausende XR-Rebell:innen versammeln und auf die Klimakrise aufmerksam machen werden, friedlich, ungehorsam und gewaltfrei mit Aktionen unterstützen. 


Das machst DU möglich, wenn Du unseren Teil der Rebellion mit Geld unterstützst! Wir garantieren Dir, dass jeder Cent Deiner Unterstützung in die Rebellion geht. Wir sind viele Leute, die sich freiwillig, ehrenamtlich und mit sehr viel Zeit, Liebe und auch Wut engagieren. Einige von uns bringen sich mit unglaublichem Einsatz in die Arbeitsgruppen und Aktionen ein. Einige von uns machen die Administration, kümmern sich um Strukturen und Prozesse und organisieren die Dinge. Du kannst die Augschburger Klimarebellion als Ressourcen-Rebell:in oder Schbonsor unterstützen, wenn Du keine Zeit hast, Dich selbst aktiv einzubringen und/oder dadurch ein Teil von XR AUX sein möchtest. Sei dabei - egal wie, auf Deine Weise ! Wir freuen uns auf Deinen Beitrag, und vor allem auch, Dich persönlich kennenzulernen. Du findest uns auf unserer Homepage
https://extinctionrebellion.de/og/augsburg/
, auf facebook und Instagram, und vor allem AUF DER STRASSE.
Dafür sagen wir im Namen des Klimas DANKE. Wir glauben an zivilen Ungehorsam als Recht, Pflicht und Verantwortung, wenn Politik und geltendes positives Recht versagen. Das "Klimapaket" des "Klimakabinetts" und die laufende Politik von Wirtschafts-, Umwelt-, Finanz- und Verkehrsministerien und -Behörden machen unseren zivilen Ungehorsam nötig. Die Zeit, in der wir die Klimawende schaffen können, läuft aus. Wir müssen JETZT handeln. Wir stellen uns unserer Verantwortung für die Welt und die kommenden Generationen und gehen in Aktion!
Sei dabei in Augschburg - aktiv oder als Spender - rebellieren wir miteinander für das Klima!