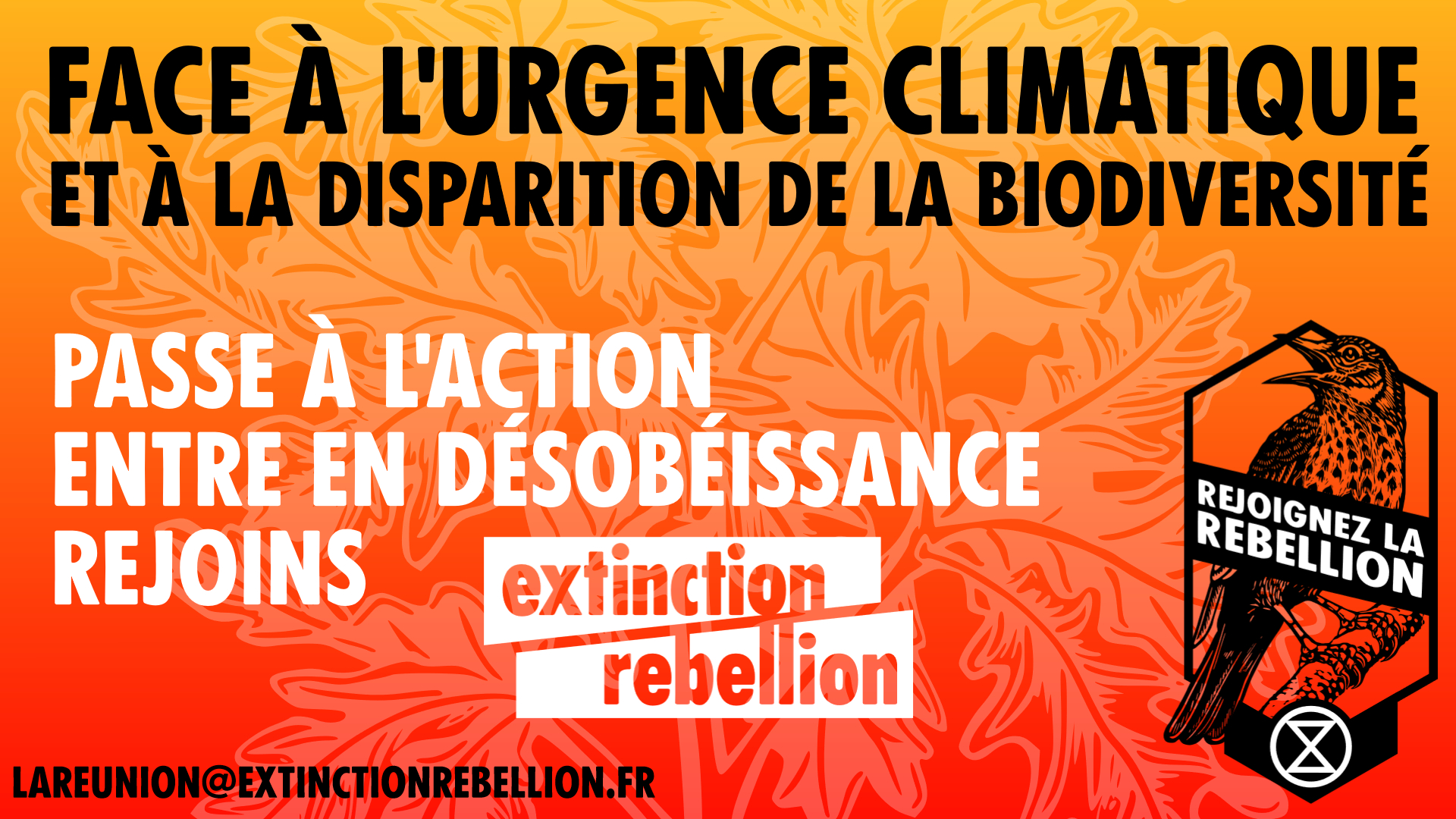 XR Réunion
Extinction Rebellion est un mouvement qui prône la désobéissance civile pacifique face aux dangers du changement climatique
Become a contributor
DON PONCTUEL
€1,000 EUR goal
€345.07 EUR raised (35%)
Pas le temps pour agir sur le terrain ? Vous pouvez quand même participer en faisant un don ! Read more
DON MENSUEL
€50 EUR / month goal
€0.00 EUR / month raised (0%)
Vous pouvez si vous le désirez, programmer un don mensuel au mouvement Extinction Rebellion sur l... Read more
Top financial contributors
Individuals
Incognito
€30 EUR since Oct 2020
What's new with XR Réunion
Stay up to dates with our latest activities and progress.
Budget
See how money openly circulates through XR Réunion. All contributions and all expenses are published in our transparent public ledger. Learn who is donating, how much, where is that money going, submit expenses, get reimbursed and more!
Financial contribution to XR Réunion (DON PONCTUEL)
from Incognito • 10/11/2020
Today's balance
€323.53 EUR
Estimated annual budget
~ €323.53 EUR
XR Réunion is all of us
Our contributors
9
Everyone who has supported XR Réunion. Individuals and organizations that believe in –and take ownership of– our purpose.
Incognito
Financial Contributor
Total contributions
€30 EUR
DON PONCTUEL
Lucas Naudin
Financial Contributor
Total contributions
€10 EUR
Un début pour soutenir les membres d'XR ... ! Force à nous tous!
About
Dans notre logique de décentralisation et d'autonomie des groupes Extinction Rebellion en France, notre groupe Réunion a besoin de constituer sa propre cagnotte qui sera utilisée pour acheter ou louer le matériel nécessaire à nos campagnes et actions, à la location éventuelle de certains lieux pour des réunions, conférences, formations. 
 
PARCE QUE NOUS AVONS LES PREUVES DU DÉRÈGLEMENT TRAGIQUE ET SANS PRÉCÉDENT DES ÉCOSYSTÈMES, 
Parce que la science nous dit que l'urgence est extrême et que nous n'avons plus aucun délai, 
Parce que le gouvernement, les élu·e·s, les grands acteurs économiques, les grands médias n'agissent pas à une échelle suffisante pour informer objectivement les citoyen·ne·s et les mobiliser, pour limiter le désastre climatique et l'effondrement de la biodiversité, et pour protéger équitablement les populations, 


Nous sommes des citoyens conscients, engagés et déterminés qui adhérons aux valeurs de non-violence et de désobéissance civile.