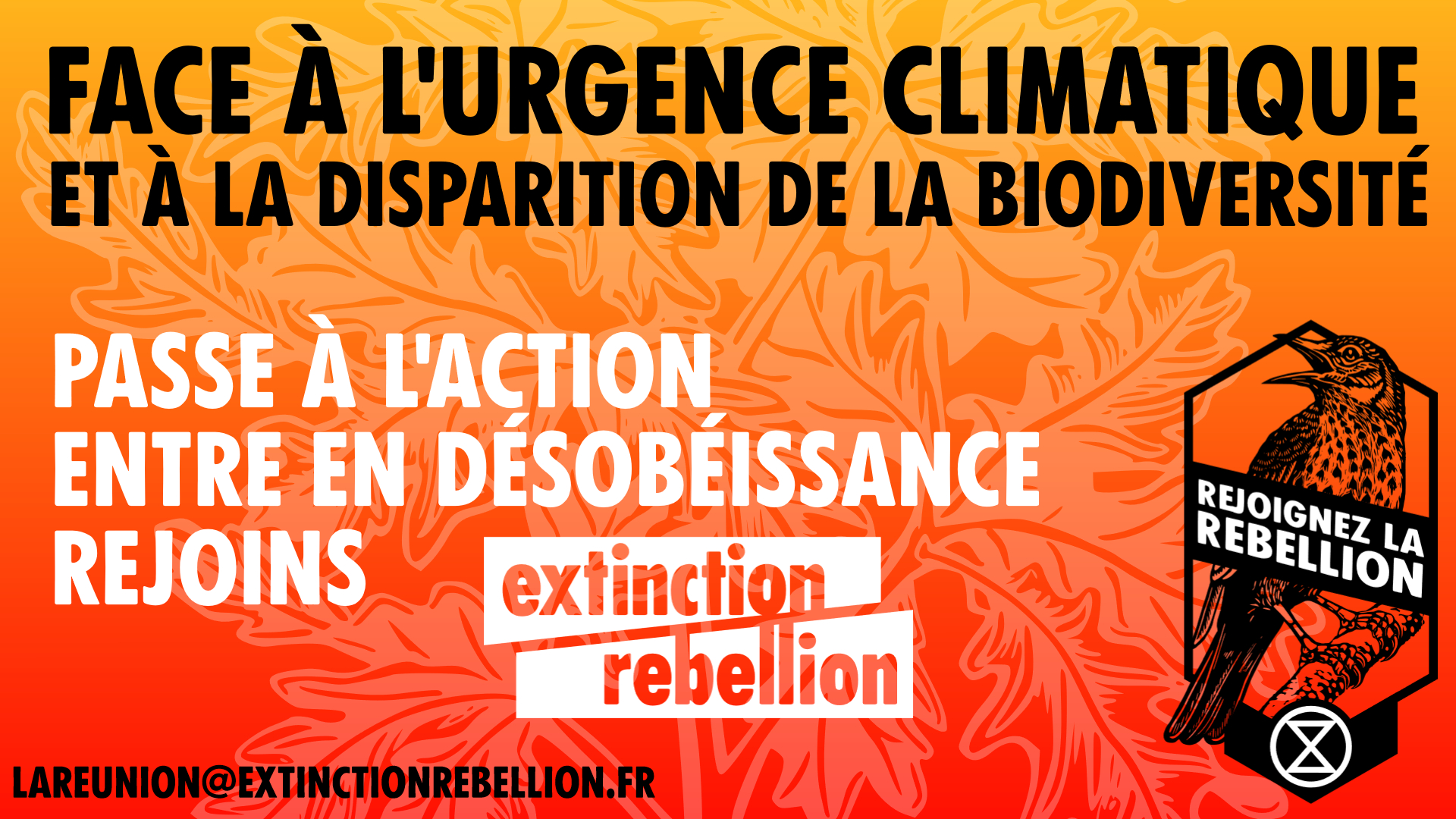 XR Réunion
Extinction Rebellion est un mouvement social international qui vise à susciter un changement radical, par le biais d'actions directes et d'une résistance non violente, afin de limiter le réchauffement climatique et la destruction de la biodiversité
Contribute
---
Become a financial contributor.
Financial Contributions
Pas le temps pour agir sur le terrain ? Vous pouvez quand même participer en faisant un don ! Read more
€2,833.15 EUR of €5,000 EUR raised (57%)
Starts at€1 EUR
Vous pouvez si vous le désirez, programmer un don mensuel au mouvement Extinction Rebellion sur la Réunion Read more
€21.25 EUR of €150 EUR / month raised (14%)
Events
XR Réunion is hosting the following events.
Action qui cible un projet qui participe à détruire l'environnement !
Top financial contributors
Individuals
Thomas
€1,350 EUR since Mar 2021
Al.
€150 EUR since Nov 2020
paulin nathalie
€130 EUR since Nov 2020
Adrien Langlois
€100 EUR since Feb 2021
HOARAU
€55 EUR since Feb 2021
Charles MOYAC
€55 EUR since Feb 2021
Marie Brandt
€50 EUR since Feb 2021
François Girard
€50 EUR since Mar 2021
wafa
€50 EUR since May 2021
XR Réunion is all of us
Our contributors
82
Thank you for supporting XR Réunion.
Budget
---
Transparent and open finances.
Total disbursed
€105.00 EUR
Connect
---
Let's get the ball rolling!
News from XR Réunion
Updates on our activities and progress.
About
---
Dans notre logique de décentralisation et d'autonomie des groupes Extinction Rebellion en France, notre groupe Réunion a besoin de constituer sa propre cagnotte qui sera utilisée pour acheter ou louer le matériel nécessaire à nos campagnes et actions, à la location éventuelle de certains lieux pour des réunions, conférences, formations. 
 
PARCE QUE NOUS AVONS LES PREUVES DU DÉRÈGLEMENT TRAGIQUE ET SANS PRÉCÉDENT DES ÉCOSYSTÈMES, 
Parce que la science nous dit que l'urgence est extrême et que nous n'avons plus aucun délai, 
Parce que le gouvernement, les élu·e·s, les grands acteurs économiques, les grands médias n'agissent pas à une échelle suffisante pour informer objectivement les citoyen·ne·s et les mobiliser, pour limiter le désastre climatique et l'effondrement de la biodiversité, et pour protéger équitablement les populations, 


Nous sommes des citoyens conscients, engagés et déterminés qui adhérons aux valeurs de non-violence et de désobéissance civile.