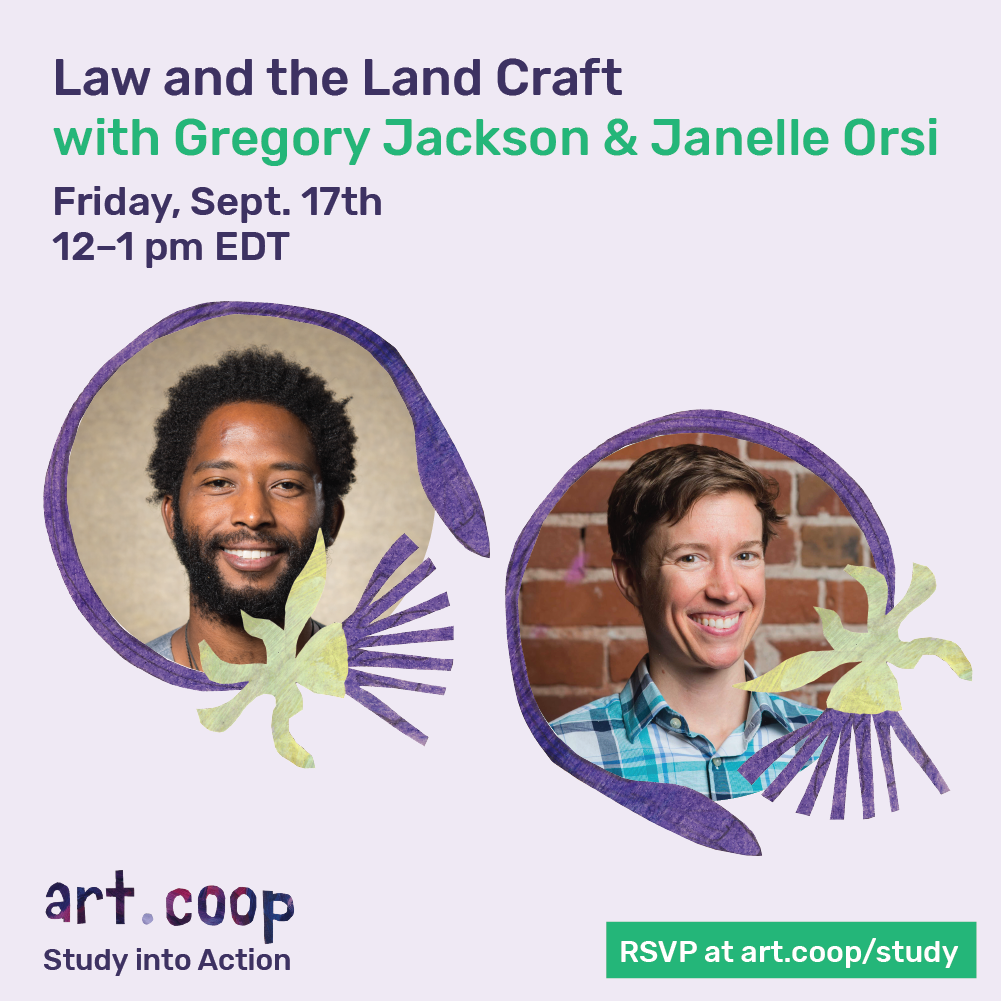 Law and the Land Craft
A presentation about permanent real estate cooperatives and the arts, presented by the Sustainable Economies Law Center and Greg Jackson and Janelle Orsi 9:00 PT / 12:00 ET
Friday, September 17, 2021, 9:00 AM - 10:00 AM (UTC-07:00)
Connect
---
Let's get the ball rolling!
News from Law and the Land Craft
Updates on our activities and progress.
See you soon!
Hello! Thank you so much for registering for Law and the Land Craft. We are so exited for today's session with Greg Jackson and Janelle Orsi of the
Susta
...
Read more
About
---
9:00 am Pacific Time // 12:00 pm Eastern Time

                 
Join the
Sustainable Economies Law Center
and Greg Jackson and Janelle Orsi
                    for a presentation about permanent real estate cooperatives and the arts.
Greg is a native of Oakland with deep family roots who feels fortunate to live within blocks of his family that now spans three generations. He is deeply committed to achieving economic equity in the East Bay through collective ownership and democratic decision-making. Recognizing the many social problems rooted in the unequal distribution of wealth and decision-making power, Greg focused his law school research on international cooperatives. Greg envisions a cooperative corridor in East Oakland where the historically disadvantaged are given autonomy to self-determine the development of their neighborhoods. Greg knows that youth are the future, and believes the stewards of today must learn to co-create with the inheritants of tomorrow.During early internships with Sustainable Economies Law Center he created a pilot program for youth-led cooperative development. As a 2018 Equal Justice Works Legal Fellow, Greg aims to increase collective decision-making and cooperative-ownership in East Oakland. He holds a B.A. in Philosophy from San Diego State University, and a J.D. from Golden Gate University School of Law.
Janelle Orsi is a cartoonist, lawyer, and advocate focused on cooperatives, land trusts, housing justice, community-owned energy, and democratizing finance. She co-founded and works for the cooperatively-structured nonprofit,
Sustainable Economies Law Center.
Most of her time is spent learning and creating with inspiring groups who are advancing permanent community stewardship of land (check out the
Radical Real Estate Law School
) and channeling investments (especially retirement savings) away from Wall Street and into our local communities (check out
The Next Egg
). She likes to have fun conversations and make cartoons about abolishing private property, abolishing the legal profession, and abolishing private wealth accumulation.
Budget
---
Transparent and open finances.
Total disbursed
$748.07 USD