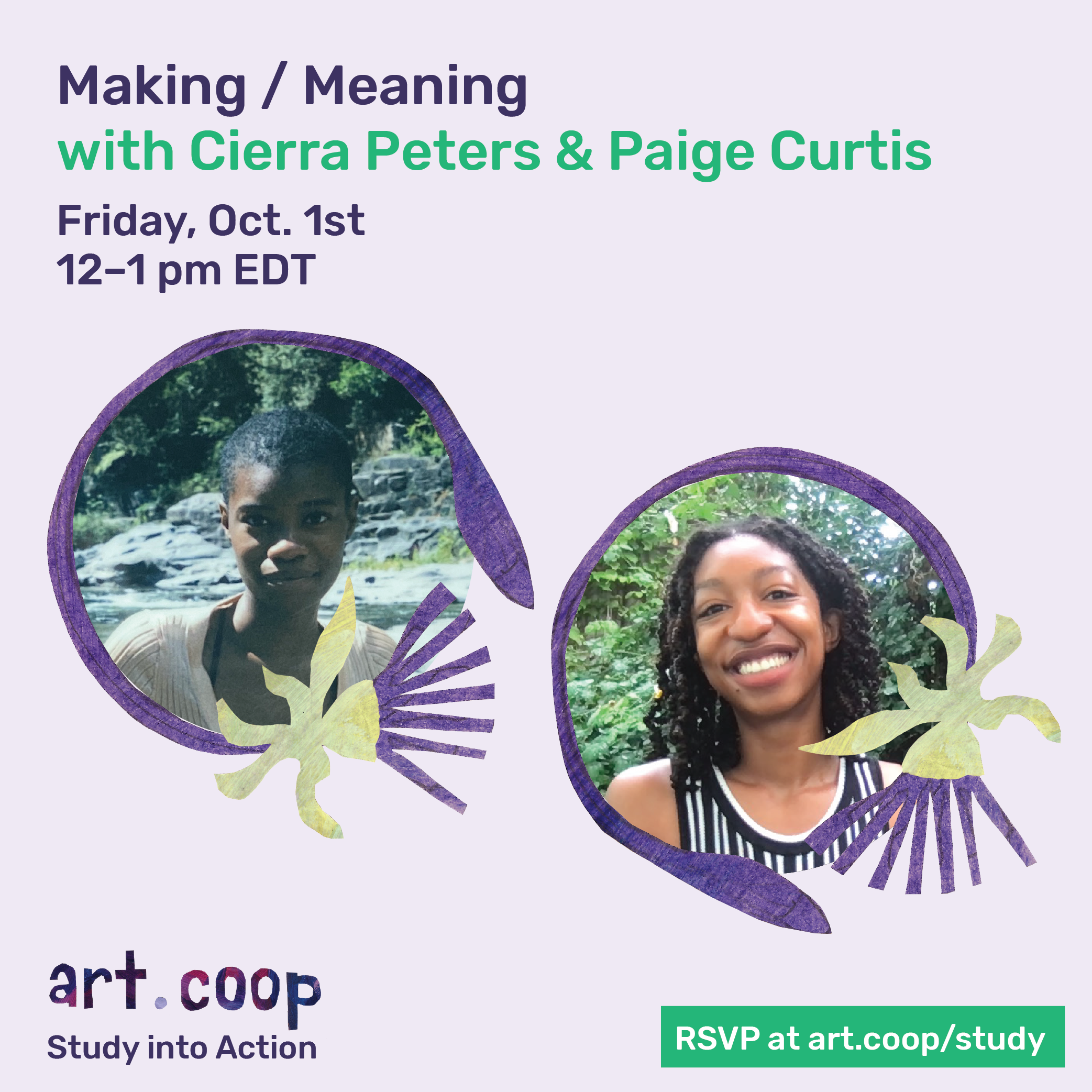 Making / Meaning
A live DJ set / jam session / zine making workshop with Cierra Peters & Paige Curtis of the Boston Ujima Project to brainstorm and create music, media, and printed materials together 9:00 PT / 12:00 ET
Friday, October 1, 2021, 9:00 AM - 10:00 AM (UTC-07:00)
Connect
---
Let's get the ball rolling!
News from Making / Meaning
Updates on our activities and progress.
Grateful for you and your support!
Hello! We hope this finds you, your loved ones, and community feeling safe and connected. The Art.Coop team wanted to take a moment to acknowledge and thank you for the different ways that each of you supported us this year: participated/at...
Read more
Closing session gratitude and resources
Thank you all for joining us last week for our closing public session of Study-into-Action! We appreciate the energy and collaboration you brought into the session. If you'd like to refer back to the amazing...
Read more
About
---
9:00 am Pacific Time // 12:00 pm Eastern Time


Join Cierra Peters & Paige Curtis of the
Boston Ujima Project
for a live DJ set / jam session / zine               making workshop with  to brainstorm and create music, media, and printed materials together. 
Cierra Michele Peters
(she/they) is the Communications Director of the Boston Ujima Project, and an artist working across video, installation, text, and cultural organizing. Her recent projects include Print Ain't Dead, Converging Liberations Residency, and Black Feminist Study Hall.
Paige (she/her) is the Culture & Communications Manager
at the Boston Ujima Project. An Atlanta native, daydreamer, rabble-rouser, and third culture kid, she believes a more equitable future is possible. Formally trained in Environmental Management from the Yale School of Environment, she's most excited by community-based solutions to climate and economic issues. When she's not writing or biking around the city, she's reminding folks that pineapple pizza is not only good but oh so necessary. She's currently based in Cambridge, MA.
Budget
---
Transparent and open finances.
Total disbursed
$154.62 USD