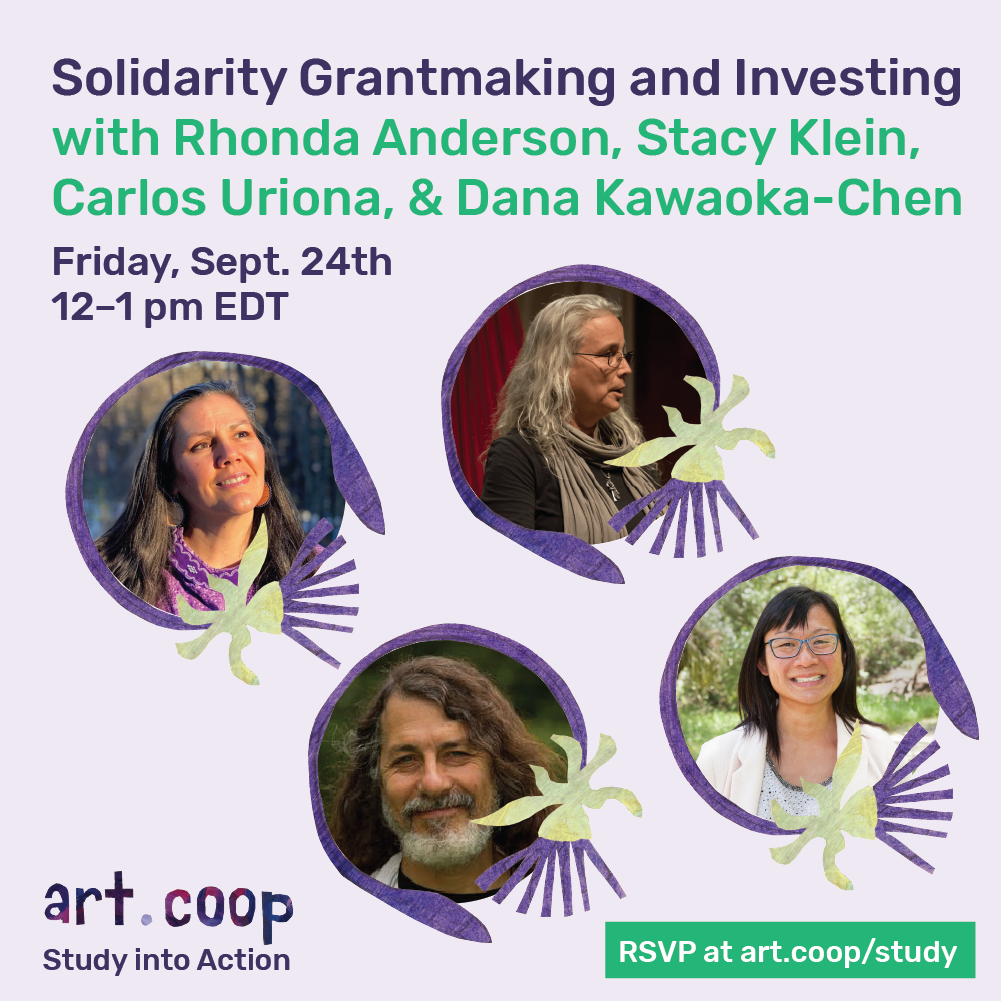 Solidarity Grantmaking and Investing
Case studies in solidarity grantmaking and investing to support grantmakers in deepening their commitment to systems-change, cultural restoration and land back 9:00 PT / 12:00 ET
Friday, September 24, 2021, 9:00 AM - 10:00 AM (UTC-07:00)
Connect
---
Let's get the ball rolling!
News from Solidarity Grantmaking and Investing
Updates on our activities and progress.
About
---
9:00 am Pacific Time // 12:00 pm Eastern Time
 
           
Join Dana Kawaoka-Chen of
Justice Funders
, Rhonda Anderson of
Ohketeau Cultural
         Center
, Carlos Uriona, and Stacy Klein of
Double Edge Theatre
for a presentation on case
         studies in solidarity grantmaking and investing to support grantmakers in deepening their                                                  commitment to systems-change, cultural restoration and land back.
As founding Executive Director of Justice Funders, Dana grew the organization by aligning its strategy to the visions of movements working for racial, economic and social justice.  Dana's leadership in facilitating a Just Transition for philanthropy by redistributing wealth, democratizing power and shifting economic control to communities has resulted in millions of philanthropic dollars being mobilized and aligned to build infrastructure for frontline communities to govern themselves.  For her work advocating for deeper investments in social movements and grassroots organizing, Dana was recognized by Asian Americans/Pacific Islanders in Philanthropy (AAPIP) in 2015 as one of twenty-five national
"
Leaders in Action.
"
Dana has previously served in executive functions for two other non-profit organizations.  She has a Masters of Science degree in Organization Development from the University of San Francisco, Bachelor of Arts degrees in American Studies and Visual Art from the University of California at Santa Cruz, and Non-Profit Management Certification from San Jose State University.
Born and raised in the Bay Area, Dana currently lives in San Jose with her family.
Budget
---
Transparent and open finances.
Total disbursed
$678.16 USD