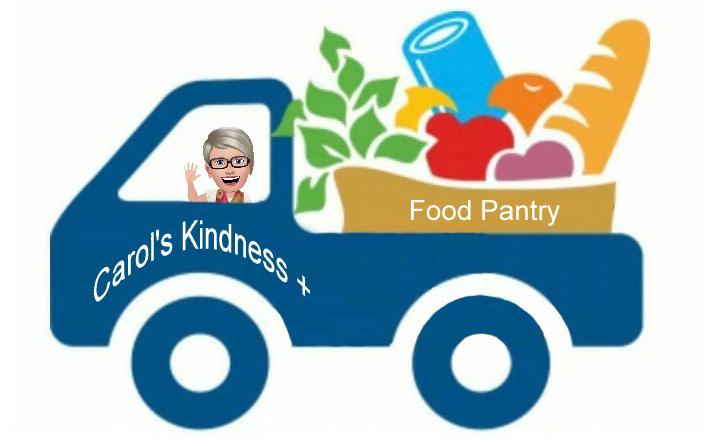 Carol's Kindness
Food pantry
Contribute
---
Become a financial contributor.
Projects
Support the following initiatives from Carol's Kindness.
Storing dry goods, clothing, tents
Coffee and creamer for teachers
Buy healthy food for food insecure people
Top financial contributors
Carol's Kindness is all of us
Our contributors
9
Thank you for supporting Carol's Kindness.
Budget
---
Transparent and open finances.
Total disbursed
$76,564.43 USD
Connect
---
Let's get the ball rolling!
News from Carol's Kindness
Updates on our activities and progress.
U-Haul donation
I received a email from U-Haul we are receiving $250 worth of truck rental. Thank you so much. With the new food donations this will help get the food to its distribution place much faster and hold the temperature of the food much better th...
Read more
Warehouse donations
We have picked up 3 new to us distribution centers. 2 fill vending machine in local offices. Like Tesla and IBM. The third supplies a major convince store. That puts us up to 5 donation pick ups for Friday. We share it with other organizati...
Read more
Food Justice Program grant
Thank you city of Austin for selecting Carol's Kindness for one of your Food Justice Program Grants. The money will be spent on buying food for homeless and under fed people in our neighborhood.
Read more
About
---
Welcome! Carol's Kindness+ is a simple solution, we directly rescue usable food that would have otherwise been thrown away from grocers, restaurants, and other food industry sources and make it available to families and individuals in our community. Food rescue is extremely effective because it simultaneously gets food to those who need it, reduces food waste, and minimizes the number of toxic emissions from food going to landfills. Several days a week, our volunteer-driven team use their personal vehicles to pick up food from locations which have donations. The food is then transferred directly from point A to point B, and in the hands of our neighbors. The food available varies from day-to-day and is healthy food that is either excess inventory or is not marketable at retail due to nearing expiration dates or slight defects such as bruising or misshaping. Our food rescues are designed to be quick so that the food spends minimal time in transport. The process is simple, sustainable, and reliable.

While our focus is on rescuing food, Carol's Kindness+ also provides information to resources in the community including housing information, financial assistance, job postings/fairs, medical care, and other free or reduced-cost help. The information comes from public knowledge, word-of-mouth, and our network of friends.

¡Bienvenidos! Carol's Kindness+ es una solución simple, rescatamos directamente alimentos utilizables que de otro modo habrían sido desechados de tiendas de comestibles, restaurantes y otras fuentes de la industria alimentaria y la hacemos disponible para familias e individuos de nuestra comunidad. El rescate de alimentos es extremadamente efectivo porque simultáneamente lleva alimentos a quienes los necesitan, reduce el desperdicio de alimentos y minimiza la cantidad de emisiones tóxicas de los alimentos que van a los vertederos. Varios días a la semana, nuestro equipo de voluntarios utiliza sus vehículos personales para recoger alimentos de los lugares que reciben donaciones. Luego, la comida se transfiere directamente del punto A al punto B, y en manos de nuestros vecinos. Los alimentos disponibles varían de un día a otro y son alimentos saludables que tienen un exceso de inventario o que no se pueden comercializar al por menor debido a fechas de