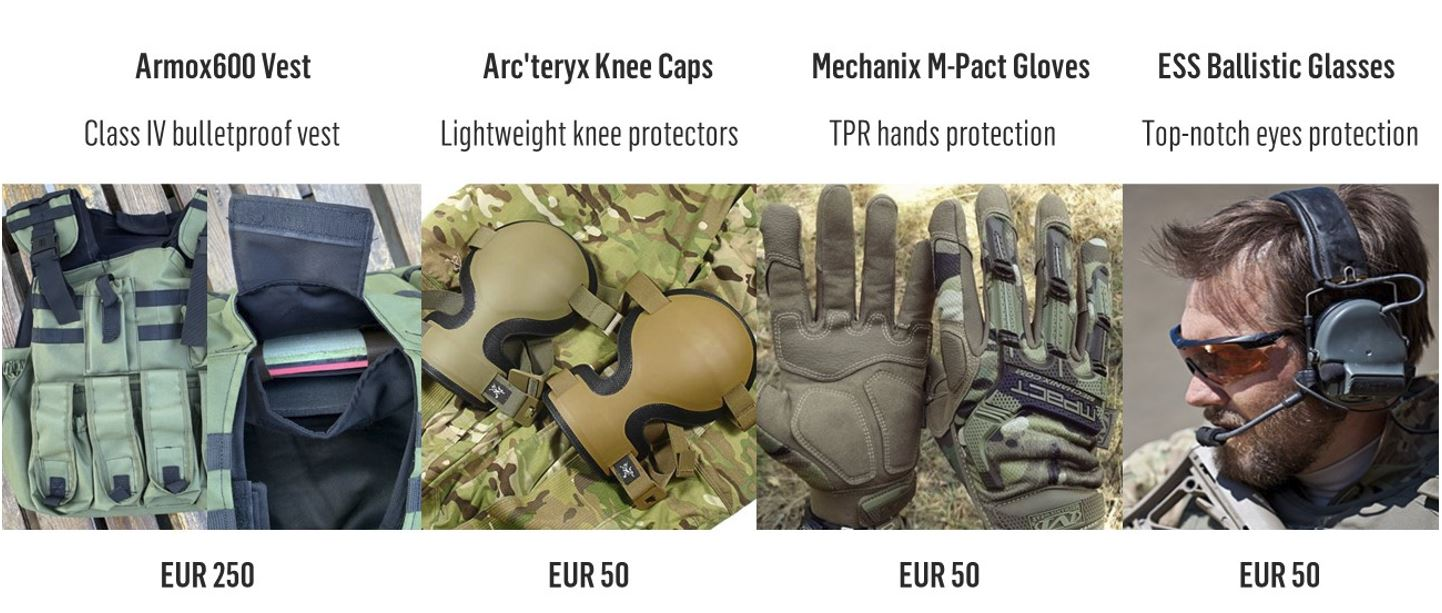 Non-Lethal Protective Sets to Save Lives of Ukrainian Defenders
Outfitting Ukrainian defenders with protective gear to help shield them from Russian fire as they bravely resist the aggressor's oppression; each set is USD 500 and comprises armor vest, knee caps, tactical gloves, and ballistic glasses
Contribute
---
Become a financial contributor.
Budget
---
Transparent and open finances.
About
---
Dear Friends of Ukraine, 


We have been helping our homeland since the start of the
Russian war against Ukraine
. Together with my colleagues and other like-minded Ukrainians, we established the
Children of Heroes Foundation
, which provides long-term support to kids who lost parents due to the war. With my colleagues from the investment industry, we launched the
#TheResponsible50
project aimed at analyzing what side of "responsibility" the top-50 multinationals chose concerning their businesses in Russia. 
You probably know how brave Ukrainian freedom fighters are. Some perhaps heard that our President Zelenskyy continues to urge the world's leaders to actively supply Ukraine with weapons. However, as our country wasn't fully prepared for the attack, there are units of the Ukrainian Armed Forces who are still underequipped. Can you imagine a defender without a basic set comprising a helmet and protective gear? We can't. That is why, together with my wife Alina, we decided to launch DEFENDFREEDOMUA, a project aimed at helping Ukraine to defend not only its own but also Europe's future and freedom by supplying fully-fledged sets of non-lethal critical equipment and ammunition such as thermal imaging devices, drones, protective gear, medical kits, etc. A network of our partners, close friends, and even relatives currently serving in the army allows us to fulfil actual needs and deliver sets directly to the frontlines.
   
We partnered with the Open Collective platform that kindly waived its processing fees and will serve as our fiscal host in Europe, offering a transparent budget (everyone can see donations and official invoice-based purchases). By purchasing in sets, we are able to obtain meaningful discounts from vendors across the EU and Ukraine. We invite you to join us and contribute to the fundraisers for each set so that the freedom of Ukraine will be a bit closer. 
 
We
started with
optical sets
comprising thermal imaging riflescopes, drones, and thermal imaging spotters, and now are ready to
expand our support
to
protective
gear
as well. The sets, each cost EUR 400, would be enough for one defender and will help him or her stay protected from Russian fire
. 
Sincerely, 
Andrew
and the DEFENDFREEDOMUA Team 
FAQ
1. What is going to be purchased? 
- Armox600 Vest: made out of two ultra-high hardness ballistic Armox600 steel plates (Level IV), has bends in two planes and is impact resistant. Protects against fragments and bullets from powerful kinetic energy and completely eliminates armor injury (successfully tested with 5.45mm and 7.62mm calibres).
- Arc'teryx Knee Caps: lightweight and anatomically-shaped knee protectors, which are vital for keeping knees protected while moving around the battleground.
- Mechanix M-Pact Gloves: thermoplastic rubber knuckle guard and finger guards that safeguard defenders' hands from blisters and mishaps on the battlefield. 
- ESS Crossbow Suppressor One Ballistic Glasses: high-quality ballistic glasses which offer top-notch protection for eyes.


We reserve a right to substitute some of the above equipment if it becomes out of stock but guarantee identical characteristics. 
2. Is the equipment certified? 
Yes. All gear providers (Arc'teryx, Mechanix, ESS) are the leading tactical equipment companies in the world, and all equipment is certified according to impact protection standards and US Federal OSHA. The Armox600 steel that is used in the bulletproof vest is certified and produced by Stockholm-based firm SSAB.
 
3. Who is the target beneficiary? 


We plan to send the protective sets to the units of the Ukrainian Armed Forces. As we already volunteered and directly supported our partners, friends and even relatives who are at the frontlines, it allows us to understand actual needs and have direct access to those awaiting our help. 
4. How do you deliver the equipment to Ukraine? 
The purchase itself is initially expected to be in the EU countries, and then our network of partner organizations passes the set across the border, where our team picks it up and directly manages the logistics process further. 


5. Are these considered weapons? 


No, this is just the opposite -- a protective set aimed at saving the lives of Ukrainian defenders.
6. Will you provide any reports? 
With the transparency principle in mind, we will publish purchase statistics on this page. Additionally, we will do our best to provide photos proving the delivery to the target beneficiaries. 
7. How corporate donors can contribute?
Our partner platform Open Collective is entirely suitable for contributors from the corporate world. These contributors can donate directly on this page, and they will automatically receive a receipt for their donation. The fiscal host's legal entity is based in Brussels. Should you have any specific requests, please reach out to
[email protected]
8. What is your end goal?

Our first ambition is to equip 500 frontline soldiers with this life-saving protective set.