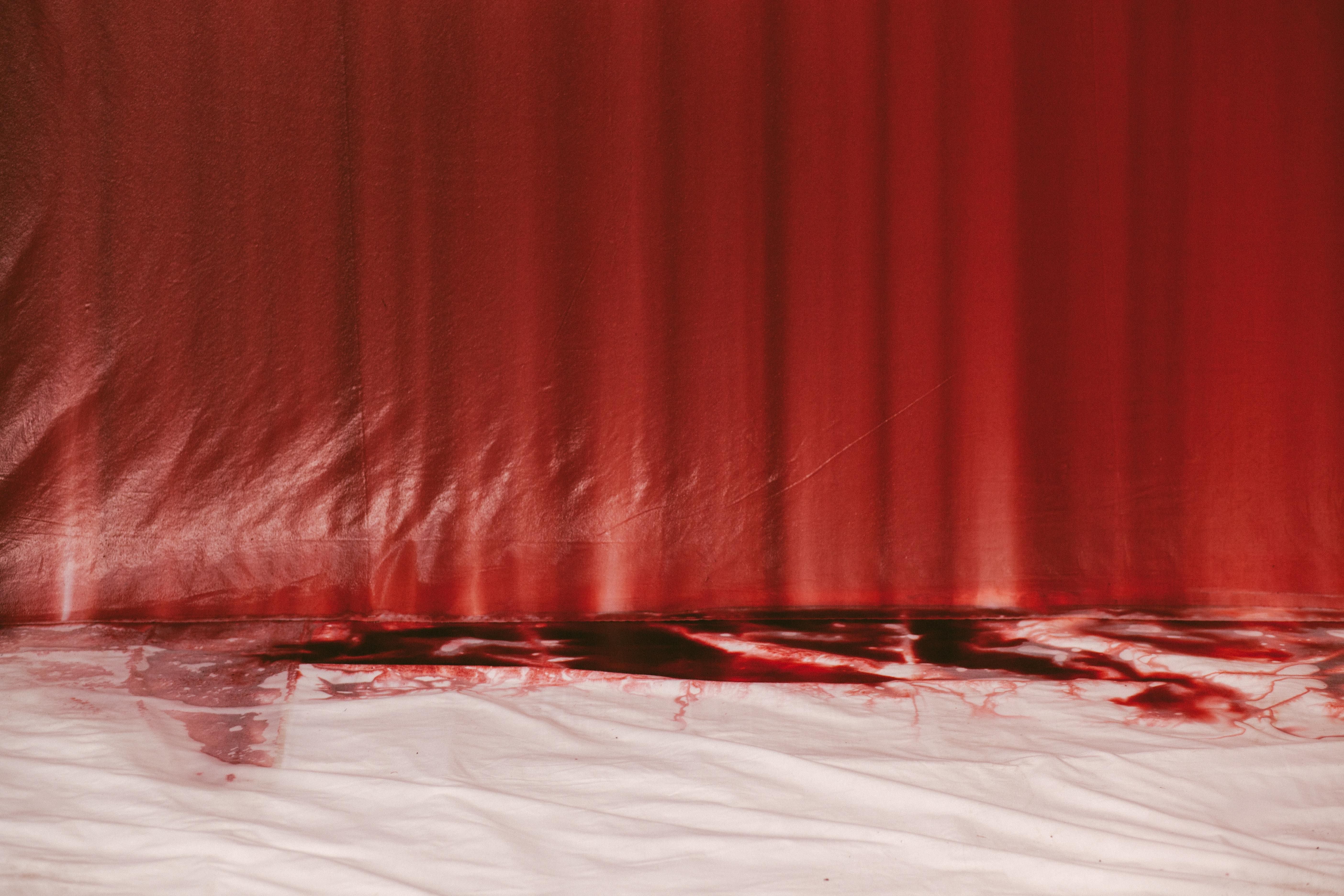 Fake Blood Film
A menstruator's journey of discovering the power in her period after 7 years of being on the pill.
About
---
The Story
Five years after her first period, Maria is put on the pill to help regulate her cycle. After almost eight years of an involuntary bleed and challenging side effects, she decides there must be a better way. On her journey of self-discovery to reconnect with her cycle and herself, Maria gains some important insights that completely change her relationship to her menstrual cycle and how she views herself as a menstruator. Eager to know why her discoveries aren't common knowledge, she starts finding her own way to connect other menstruators with their own menstrual cycle.
Maria realised so many people she spoke to about menstruation were experiencing similar struggles. From these conversations came the inspiration to make Fake Blood.
Why?
The menstrual cycle has been largely left to its own devices. In the west, we have certain perceptions and stories we repeat about periods and menstruation. As menstruators begin to have their period at a very young age, they're often reliant on a very small group of people including their GP, family (or just a single parent/carer), and maybe a teacher.
Conversations often happen in private, there is almost always a lack of information about what's involved in a complete and healthy menstrual cycle and the focus tends to be purely on managing the bleed.
The issue with this is that it doesn't include the conversation about the importance of understanding and working with your menstrual cycle to live a more productive, powerful, and fulfilling life. 
Think of it like sleep. We all know we need sleep but if it is just treated as this thing that annoyingly gets in the way of our waking life, it's not necessarily going to let us thrive. When we understand what contributes to a healthy sleep life, we gain clarity, become more energised and find focus.
A menstrual cycle is the same. Work with it, and you'll see a noticeable shift. This has been Maria's personal experience and as she learned more about her own cycle, she found herself sharing this with friends and colleagues.
The documentary is a natural extension of these conversations as well as a way to reach and engage more people in the conversation.
Listen to Maria discussing her experience with CEO of Kinneir Dufort on their XX Equals Podcast.
Who's who?
We're a small team that cares deeply about menstruators understanding their cycle and feeling empowered by it, not hindered. We'd love for you to meet our core team below and see examples of their work. But first, here's who we've worked with so far...
Core Team
Maria Webb: Writer/Director
​​Maria Webb originally trained as an actor in New Zealand with the well-known and respected TAFS (Theatre and Films Studies) school in Christchurch. During her time there she performed in various stage productions and films. Since moving to the UK in 2013 she has continued acting but has also recently started diversifying her work as a Writer and Director.
Fake Blood is a story Maria has been wanting to tell for over 5 years now. After experiencing firsthand the physical and mental challenges of being on The Pill and believing menstruating was the problem, she is excited to turn the story around to help others.
As well as Fake Blood Maria has worked on independent and blockbuster films in a number of different roles. She brings a unique perspective to her own filmmaking and is passionate about telling stories that give voice to people that are not being heard.


Harry Knight: Producer
Harry is a creative, resourceful, and purpose-driven Filmmaker. Originally from Christchurch, New Zealand, Harry has had over a decade of experience in the creative industries starting to make films as a young High School student, also around the time when he met Maria.
During his career in New Zealand, Harry produced a number of art events and installations. Sitting on the board of trustees for the Festival of Transitional Architecture, running and booking artists for the 'Pallet Pavilion' an outdoor summer music venue, and managing creative hub and maker space 'Exchange Christchurch'.
He has produced creative content for brands such as Barclays, TikTok, and Doordash as well as working with non-profits like City to Sea and WikiHouse promoting solutions to environmental and social issues. His most recent short film is The Light Inside which is a documentary about experiencing and surviving mental-ill health.


Bethany Fitter: Director of Photography
Bethany is an emerging cinematographer who has worked for brands like British Vogue, you can
view her work here
.
Gemma Elliott: Production Design/Art Director
Gemma is a recent graduate from the Screenology school and showcased her talents in the work she produced at the school. She started out her career working on music videos, short films, and stage productions. You can
view her work here
.
Style
The film will consist of impressionistic and recreated scenes that will tell Maria's story growing up as a teenager on her period. Maria narrates the film as we see these scenes play out. As things progress, we eventually see real-life scenes that take us deeper into her journey of what it means for other menstruators.



Visual References
Thank you so much for spending the time to read through and we welcome your contribution x
Contribute
---
Become a financial contributor.
Top financial contributors
Individuals
Margreet CM Vissers
£5,100 GBP since Dec 2021
Olivia Webb
£100 GBP since Dec 2021
Kerry Elkins
£100 GBP since Jan 2022
Nadia Bleaken
£100 GBP since Jan 2022
Jenny Button
£100 GBP since May 2022
Shirley Henry
£60 GBP since Jan 2022
Tarn
£50 GBP since Aug 2021
Mark
£30 GBP since Dec 2020
Alicia Green
£28 GBP since Jan 2022
Josh
£28 GBP since Jan 2022
Eugene Constable
£28 GBP since Jan 2022
Amy Jansen
£28 GBP since Jan 2022
Fake Blood Film is all of us
Our contributors
28
Thank you for supporting Fake Blood Film.
Margreet CM V...
Thank You. Period.
£5,100 GBP
Kerry Elkins
Thank You. Period.
£100 GBP
Nadia Bleaken
Thank You. Period.
£100 GBP
Jenny Button
Thank You. Period.
£100 GBP
Connect
---
Let's get the ball rolling!
News from Fake Blood Film
Updates on our activities and progress.
Day 1: Behind the Scenes
For the first time, the Fake Blood team assembled on set! After assessing that the shoot could be done safely during the COVID-19 Pandemic, we were able to go ahead with production. It was an exciting time for everyone to work on this proje...
Read more
Pre-Production
Feeling the fear and doing it anyway.In the context of the pandemic and recession we're currently facing, it could be easy to fall into a default mode of being cautious. What we've found from creative peers is that there's actually a desire...
Read more
Budget
---
Transparent and open finances.
Total disbursed
£11,450.78 GBP